Architectural Tour of Dokk1, the largest public library in Scandinavia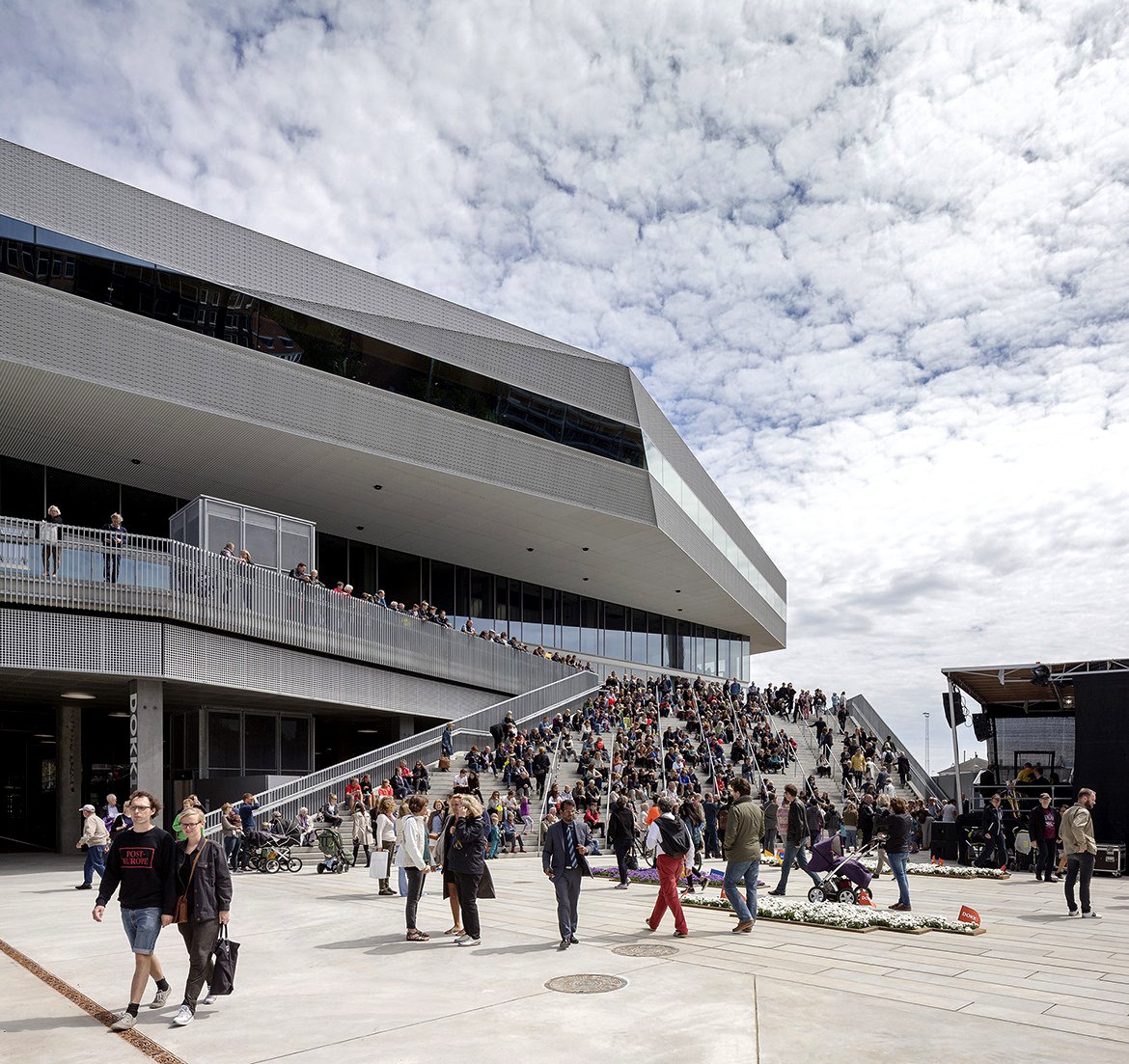 The new urban media space in Aarhus, Denmark, is called Dokk1 (pronounced Dokk-en), lies on the estuary leading into the bay and is one of two bastions at the cross-point between city and harbor. With 36,000 m2 of floor space, it is said to be the largest public library in Scandinavia.
This multi-functional building contains the former central library as well as the municipal archives, city administrative headquarters and office rental space. The ground floor, being at street level, serves traffic and provides access. This is where a stop for the new regional light-railway and automated underground car park is located. Pedestrians seek out public functions in the storeys above by means of internal stairs and lifts via four large, spacious external stairs visible from any orientation. The steps facing west towards the river promenade and the city center are seen to be extending a welcoming gesture toward citizens. The harbor's new esplanade runs around the block at street level; large concrete surfaces fan out like ice floes, inviting one to linger by the river or port.
The first and second upper levels have square floor plans and fully glazed façades. The uppermost storey features a polygonal floor plan projecting above those below. Likewise, the circumferential terrace on the first upper floor is polygonal and cantilevered.
The library is an open space supported by pillars with various levels and ceiling heights, organized in a broad-meshed grid featuring ceiling voids for skylights and confined areas for subsidiary functions. The so-called media ramp is centrally located in the building, beneath a large skylight. This has five different platforms catering to various functions and leads to the second floor, where the children's and young adults' library is found.
The rented office space on the third floor has an unimpaired view of life in the library. The interior of the library also has two event rooms: a smaller one for 70 people and a larger one for up to 300 people. The building has been constructed from robust materials such as concrete, steel, glass and wood. The façades and cantilevered ceilings are clad in expanded sheet metal. The main rooms and areas have been assigned specially chosen colors and surfaces, as is also the case of the wooden cladding for the main hall.
•
Text: © Heiko Weissbach, DOM Publishers, Berlin, 2017, for Scaledenmark, Guiding Architects member in Copenhagen and Malmö.
First image: The Urban Tribune, with its square and several rows of stairs. Copyright: Schmidt Hammer Lassen.
http://time.com/4458185/denmark-library-cutting-edge-dokk1/
https://www.dezeen.com/2015/06/19/schmidt-hammer-lassen-completes-scandinavias-largest-library-aarhus-denmark-metal-clad-volume-dokk1-urban-mediaspace/