Stone, greenery and ocean were the main ingredients. Culture and myth acted as engines. Discover with us the layers of our cities. Get the inspiration!
Welcome to Galicia!
Galicia contains half of the villages of Spain, over 1.400 kilometres of coastline and the second biggest fishing port of the world, Vigo. Santiago de Compostela, ist capital, is one of the best-maintained historic cities of Europe. The last 20 years meant an intense architectural renovation and the 21st century sets up new challenges such as green strategies and developments of coastlines.
GA Santiago organizes architecture and urbanism guided tours all around Galicia. We are architects and we carefully craft each programme to achieve your expectations.
Tours are available in Spanish, English and German.








Santiago de Compostela team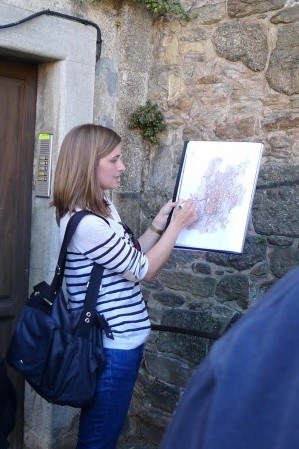 Cristina Ansede Viz
Cristina Ansede Viz was born in Santiago de Compostela. She studied architecture in A Coruña , finishing in 2003 and a Master of Refurbishment and Urban Renewal in 2005. After working in Berlín she returned to Galicia and cofounded Ansede Quintáns Arquitects with Alberto Quintáns. The studio is based in Santiago de Compostela where she lives nowadays. They develop their activity in Galicia in the field of architecture, refurbishment and design. They have been awarded by several institutions such as UIA, Thyssenkrupp or Galician Architects Institute. In 2013 she cofounded Arquitectos en Ruta.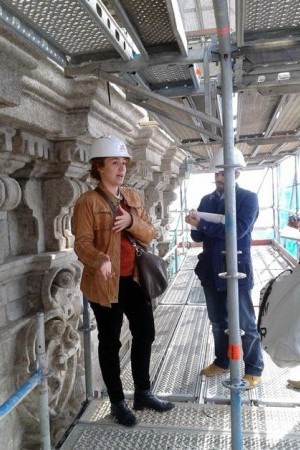 Camino Vilanova Rodríguez
Camino was born in Vigo (Spain) and in 2008, after being trained as an architect in Barcelona and Prague, moved to Santiago where she collaborated in Ansede Quintans Architects . After a Master in refurbishment and urban regeneration, worked in sustainable architecture in A Coruña. In 2013 cofounded Arquitectos en Ruta. She recently has left the city to settle down in the Coast of Death.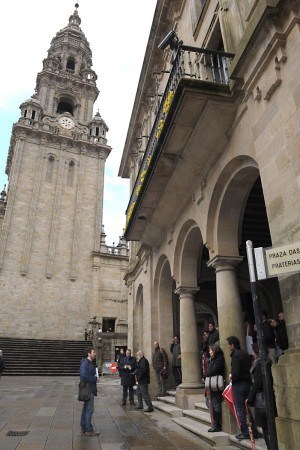 Alberto Quintáns Arrondo
Alberto was born in Vigo (Spain), and moved to A Coruña to study Architecture . When he finished his studies in 2003 he moved back to Vigo and started working in Alfonso Penela´s Architectural Office until 2007. In 2008 he studied a Master in Urban Renovation and Refurbishment. Meanwhile in 2005 he cofounded Ansedequintans Architects in Santiago de Compostela with Cristina Ansede. They´ve developed their practice focusing on new buildings and also on refurbishment works and urban regeneration. Their work has been recognised with several awards. In 2013 they found arquitectos en Ruta together With Camino vilanova.