A landscape as a school: the Aspern Federal School by fasch&fuchs.architekten, in Vienna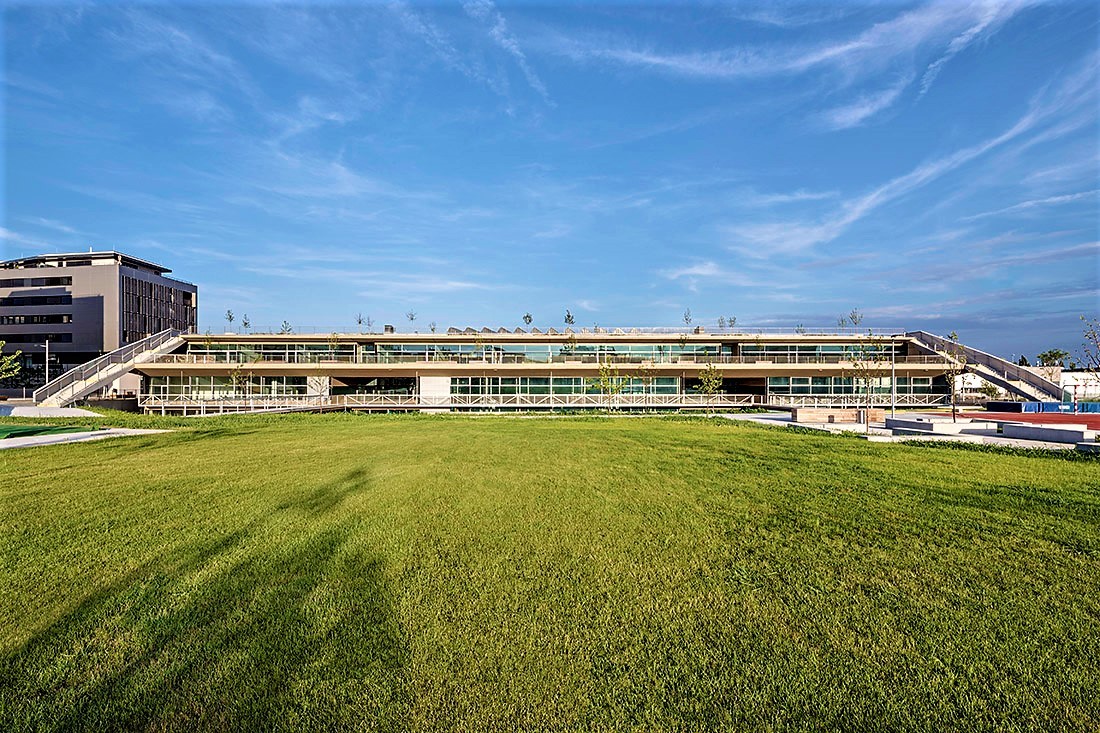 Vienna is growing with approaching two million inhabitants. On the former Aspern airfield at the north-eastern periphery, a new district of 240 hectares is in the making. Thanks to the Metro Line 2, it has good transport connections to the historic city and, in the future, thanks to a rail station, also to Bratislava, Vienna's "twin city".
Neighborhood development
The master plan of Tovatt Architects & Planners (2006) provides differentiated public spaces. The zones for housing, industry, and education are arranged around an artificial central lake and include a circular road. The name "Aspern Urban Lakeside" evokes sustainability and high quality of life.
School and park
The Aspern school campus is designed to combine kindergarten, schools, and leisure education. It is located near Hannah Arendt Park, covering 15,000 square meters. Neighboring its south-eastern edge, the school by fasch&fuchs.architekten, for 10- to 18-year-old students, orientates its open spaces towards the park. Large gateways connecting the school premises and the park still remain a desideratum.
Terraced green landscape
The school building occupies a big part of the construction site. To compensate it, Hemma Fasch, Jakob Fuchs, and their partner Fred Hofbauer conceived it as a terraced green landscape. Generous usable open spaces are assigned to all the interiors. Window parapets, designed as benches, connect the inside with the outside.
Clearly delimited
On three sides, the façade is spanned by a homogenizing membrane that delimits the flat volume from the environment. Behind the membrane, you see, under favorable light conditions, the supporting steel structure and a system of footbridges and staircases, connecting all terraces with the school garden. At the north-eastern façade, facing the city, there is the main entrance.
Interior arrangement
The entrance leads into a three-story open hall with multifunctional staircases; daylight floods through a saw-tooth roof. Openness and transparency are to overcome the isolation of an old-fashioned classroom. The orientation within the new structure is being supported by the coloration concept of Hanna Schimek and Gustav Deutsch. There are open air classes, open study areas, and "home bases" for the senior classes to meet, from where the students swarm out to the subject departments.
Exemplary solution
Social sustainability as promised by "Aspern Urban Lakeside" finds an exemplary solution at this school – this attitude, this impetus, will be the standard for the further development of Aspern.
•
Text: Claudia Rinne for Architectural Tours Vienna, Guiding Architects' member in the Austrian capital.
First image: Aspern Federal School ("Bundesschule Aspern" in its native designation) by fasch&fuchs.architekten, as seen from Hannah Arendt Park. Copyright: Hertha Hurnaus.