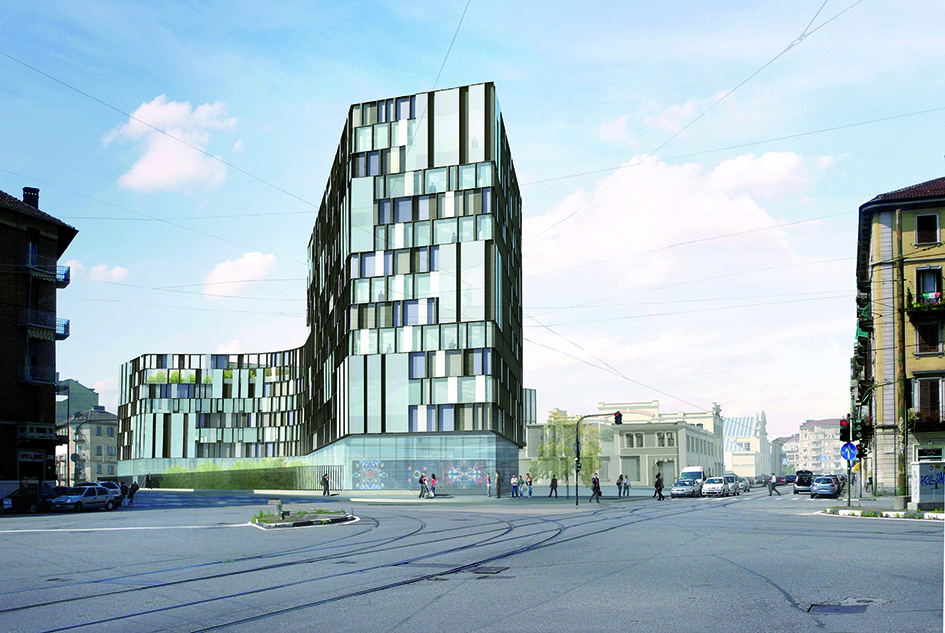 First, by mid-2016 the Turin-based manufacturer of coffee products, Lavazza, will inaugurate the new headquarters by Cino Zucchi Architetti, Ai, Manens-TiFS, Atelier G'Art, Picco Architetti.
The design, winner of the competition, has considered the city's history and culture. The large block set among Via Bologna, Largo Brescia, Corso Palermo and Via Ancona in the rising district of Aurora recently crowned by the magazine Monocle as the new creative district, houses the new buildings designed by the Milan-based Cino Zucchi Architetti, a public underground parking and a pedestrian square.
Introduced by a permeable large glass atrium, the new office building links together the various elements as a large cloud. The ground floor houses public facilities overlooking gardens which mark a new green filter between the building and the city. The façades are characterised by a texture of stone and metal brise-soleil.
According to the integrated programme approved by the City, the existing buildings have been preserved and refurbished in order to accommodate business functions and services of public interest, including the new headquarters of the Institute of Applied Arts and Design (IAAD).
Second reason to visit Turin: The International Federation for Landscape Architects Congress will take place from 20th April to the 22nd April 2016 at the Lingotto Conference Centre. The conference will cover areas like creation of a globally sustainable and balanced living environment from a landscape architectural perspective.

Text by Cristiana Chiorino | Comunicarch Turin
Photo by Cino Zucchi Architetti, Ai, Manens-TiFS, Atelier G'Art, Picco Architetti
For more information please visit our Destination TURIN.