Erste Campus: a gateway to cultural heritage, a statement for building culture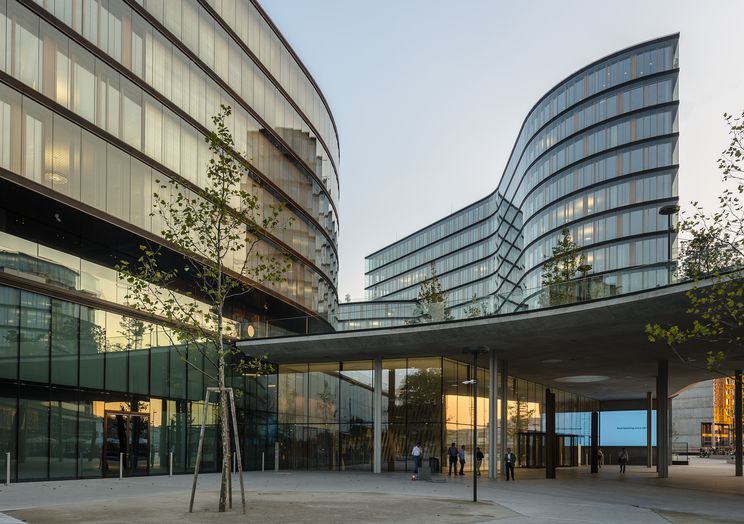 A competition concerning one of the most prominent construction sites in Vienna had an entry that deviated substantially from the master plan specifications. But the risk paid off for the winners, Dieter Henke and Marta Schreieck, although everybody won in the end, because this project offers an urban development solution featuring impressive architecture and qualities that are attractive to its users.
Located on a major intersection between Vienna's new Main Station and the baroque Palace of Belvedere, Erste Campus (the name given to the headquarters of Erste Bank) has a key position as the business card for one of the most exciting urban transformations, a must-see both for local and international expert tours. The quarter taking shape around the station has the full potential of a high-ranking transit hub with extremely varied surroundings and creates around 70 hectares of space for a wide range of uses, including hotels, restaurants and shops, offices, education providers and about 5.000 apartments around a large park.
To link the new quarter with the historic part of the city, the architects divided the volume required by Erste Campus into two tracts that now form a gateway between the parks of Belvedere and Schweizergarten, on the one side, and the built-up Belvedere Quarter in front of the train station, on the other. The slim, curving tracts, with floor to ceiling glazing, provide the employees with maximum light and an expansive view, while in the evening the buildings become transparent bodies of light.
Pertinent to architects and engineers
The spacious foyer on the ground floor is open to the public and definitely a place to visit for architects and engineers. Extending upwards and unsupported over two floors, it welcomes the public with light and openness thanks to the skylights and green atriums. The roof garden above the foyer is intended to provide employees with free space, enhancing the geometric curves of the building with the diversity of plants' shapes and forming a thin bridge to join the two tracts. This is not the only feature where the engineers demonstrate their skill, making joists disappear, reducing the thickness of ceilings to a minimum and letting overhangs float in thin air to meet the creative requirements of this structure. On the other side of the road, the epitome of opulence; on this side, a striving for minimalism. In an elegant composition of architecture, engineering and landscaping, the world heritage site of Belvedere has received a worthy counterpart.
Text: Felicitas Konecny
Top image: Erste Campus, in Vienna. Copyright: Michael Nagl
Architecture: Henke Schreieck Architekten.
Landscaping: Auböck + Kárász Landschaftsarchitekten.
Engineering: gmeiner I haferl zivilingenieure.
Completed: December 2015.
http://www.detail-online.com/inspiration/process-erste-campus-headquarters-in-vienna-113477.HTML