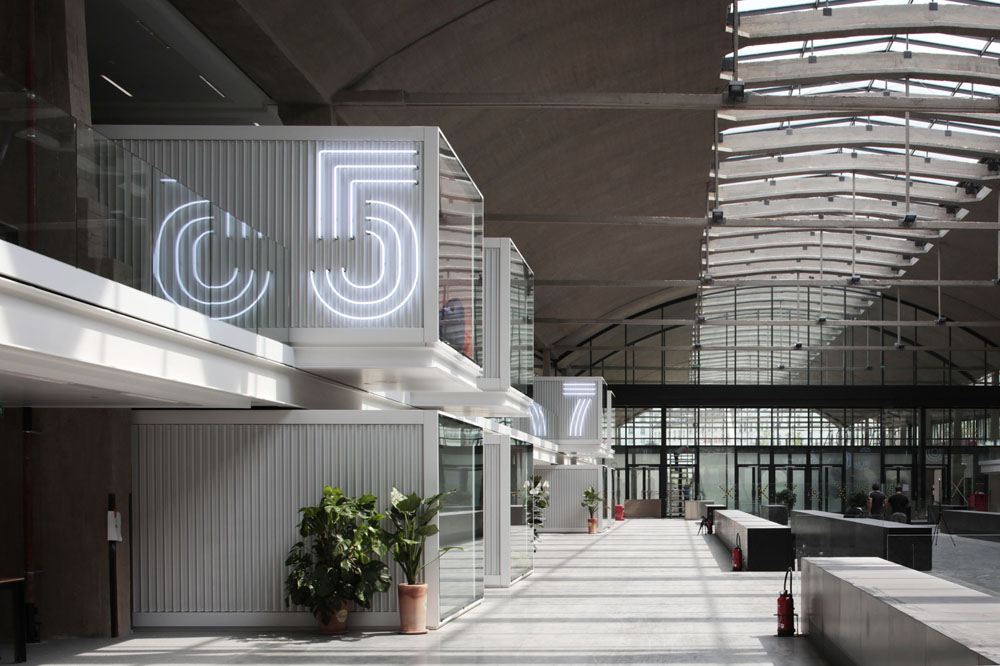 The latest architectural project in Paris' Rive Gauche opened in June 2017: it is the largest start up campus in the world … in an industrial hall transformed by Wilmotte & Associés.
Businessman Xavier Niel acquired the Halle Freysinnet, a pre-loaded reinforced concrete freight station built between 1927 and 1929 by engineer Eugène Freyssinet. The use of concrete made it possible to equip this hall with an exceptionally light load-bearing structure. This witness of the French industrial heritage of the 20th century was about to be destroyed. Xavier Niel entrusted the realization of his project to the architecture agency Wilmotte & Associés. They have designed a contemporary building, preserving the almost hundred-year-old raw concrete structure of the Freyssinet Hall (listed as a historic monument in 2012) and reinforced it with a new metal structure and contemporary aesthetics. GA-Paris organizes guided tours of architecture in the new district of Paris Rive Gauche.
The Station F
The station, located just a stone's throw from the Bibliothèque Nationale, is meant to showcase the best of French high-tech and create a strong image for Paris. With its 34.000 square meters, it is as large as the Eiffel Tower lying down.
It is made up of 3 parallel naves, for a total length of 310 meters and a total width of 58 meters. Thanks to the counterweight created by the awnings that reach out from the building, the concrete vault could be thinned to give an extreme lightness to the whole.
Create, Share and Chill
The large concrete nave was divided into 3 spaces: Create, Share and Chill.
Create offers more than 20 accompanying programs for start-ups, as well as 3 home programs. The central nave is dedicated to communal spaces, the parallel naves to functional programs.
Share, dedicated to event spaces and services, offers an auditorium with 370 seats. This meeting space allows young entrepreneurs to meet public service experts.
Chill has a 1.000-seat restaurant, MAMMA F, which is open 24 hours a day, 7 days a week.
With its covered public passages, its square and gardens, the renovated old station will be perfectly inserted in its new district. Station F is an ambitious answer to those who see Paris as a museum city: the future of Paris is in innovation.
•
Text: Catherine Haas Adler from Guiding Architects Paris.
First image: The result of Station F's renovation by Wilmotte & Associates. Copyright: Patrick Tourneboeuf.