Elbphilharmonie – Hamburg's architectural hybrid by Herzog & de Meuron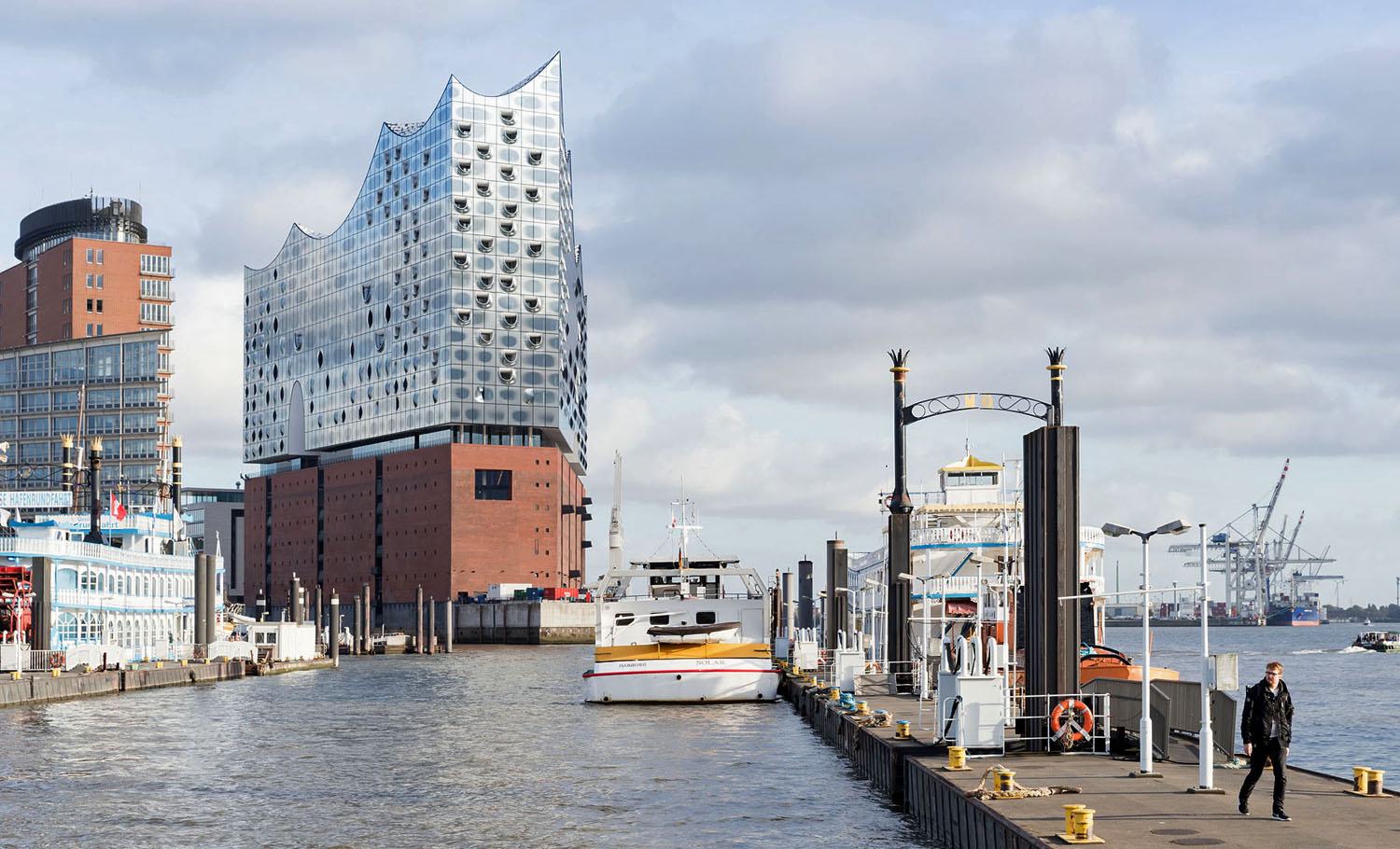 On the western tip of HafenCity quarter, right on the base of the former warehouse Kaispeicher A, built by Werner Kallmorgen in 1963, now rises the new building of the Hamburg Elbphilharmonie. Although the core of the distinctive storage building was completely removed, its cubature and brick façade have been preserved – and thus a unique architectural hybrid has been developed, according to the plans of the Swiss architects Herzog & de Meuron.
The glass top with its curved roofscape hides two concert halls, a hotel and apartments with a spectacular river view. Between the existing buildings and the new glass top, at a height of 37 meters, was built a publicly accessible Plaza with fantastic views of the harbor, the Elbe river, HafenCity and Hamburg in general.
Two-thirds of the hollowed out storage building itself are used as a parking area and right next to it you find the backstage areas and rooms for music education courses.
The construction of the concert hall started in 2008 and, over the years, it was repeatedly interrupted due to disputes between the city and the building contractor. In April 2013, though, the City of Hamburg approved a new organization of the project. After years of controversy, the project opened in January 2017 with a fantastic concert and light show.
•
Text by: A-Tour, Guiding Architects member in Hamburg.
First image: Hamburg Elbphilharmonie in its harbor surroundings. Copyright: Iwan Baan.
https://www.herzogdemeuron.com/index/news/2017/230-special-issue-elbphilharmonie.html
https://www.elbphilharmonie.de/en/
http://www.a-tour.de/en/elbphilharmonie-hamburg/
http://www.archdaily.com/803296/herzog-and-de-meuron-elbphilharmonie-hamburg-finally-celebrates-grand-opening