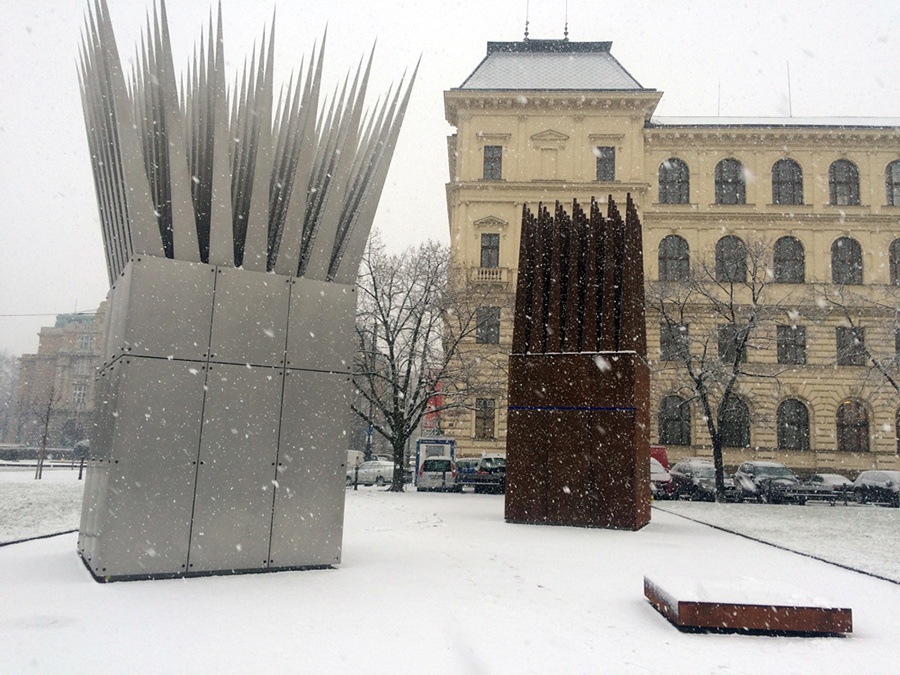 In January 2016 Prague acquired another modern tourist attraction. On the waterfront of the Vltava river, looking towards Prague Castle, are two objects by John Hejduk (1929-2000). The New York Five architect named them the "House of the Suicide" and the "House of the Mother of the Suicide" and together they constitute Jan Palach memorial.
The student at the nearby Prague Philosophy Faculty committed suicide by setting himself on fire in 1969 to protest against the Soviet occupation. The objects were inspired by a poem by the American poet and writer David Shapiro, which is also engraved on a steel plate on the memorial.
In the 1990s, smaller wooden models of the two objects stood at Prague Castle. They formed an integral part of a retrospective exhibition by the American architect of Czech origin in the castle ballroom.
As one of the first important architectural events following the fall of the communist regime, the exhibition, which was opened by former President Václav Havel, had an enormous influence on the Czech architecture scene. Unfortunately, both the "houses" decomposed over time and therefore disappeared from public view. The castle management later attempted to cast the objects in metal but this was unsuccessful because the architect had given the works of art to the Prague municipal authorities.
In the meantime, there were repeated discussions about where the memorial should be placed. Various important locations were proposed, such as the entrance courtyard of the new Faculty of Architecture.
When in 2001 the city announced a competition for the redesign of Palach Square, one of the most impressive modern public spaces in Prague, the work of art by John Hejduk was also considered. In his design, the winner of the competition, Václav Králíček, placed the two objects in the small park in front of the Academy of Arts, Architecture and Design, where they currently stand.
The monument is finally complete, almost a quarter of a century after its creation.
Text by Martin Rusina

For more information please visit our Destination PRAGUE.