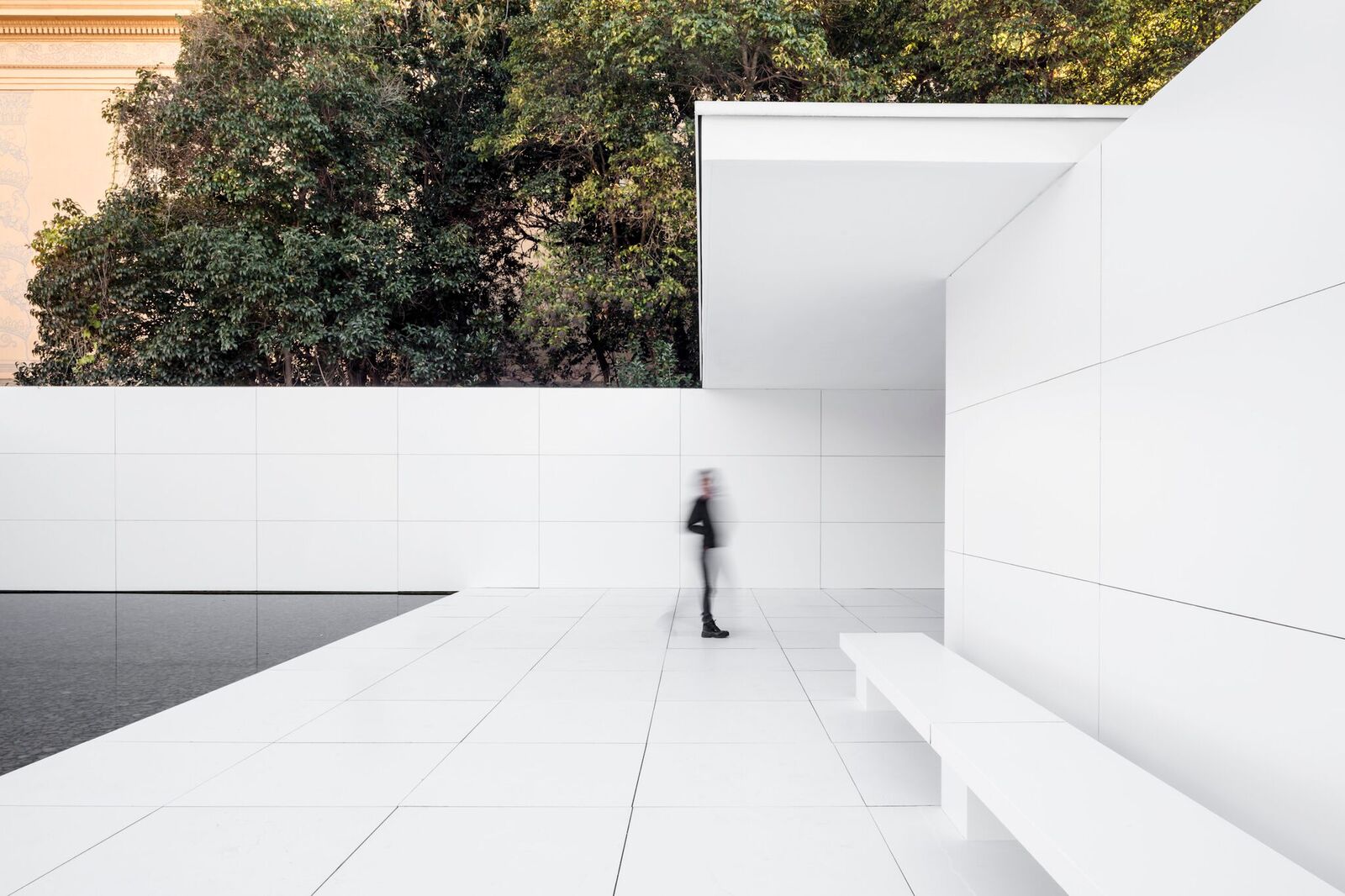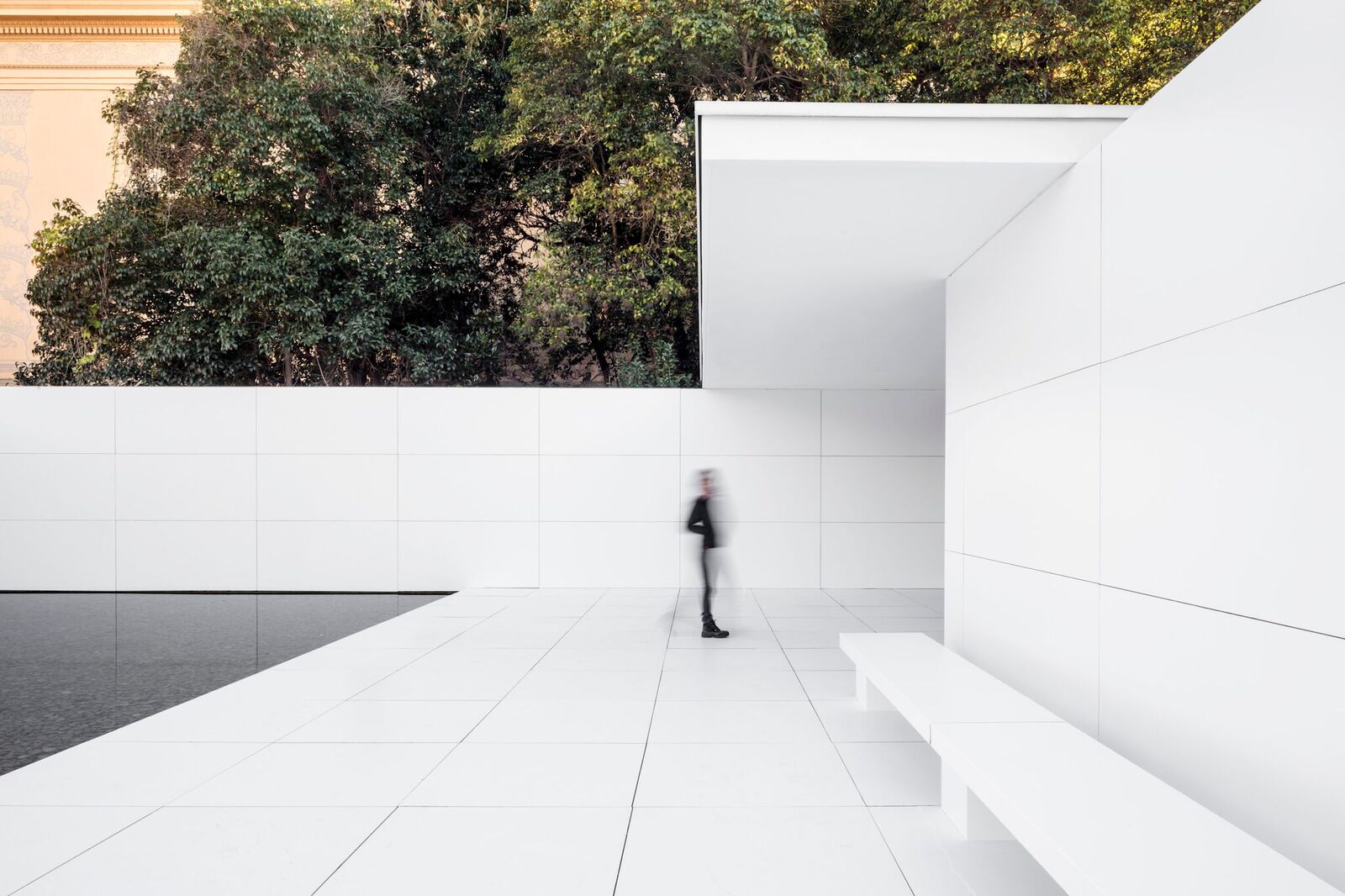 I rub my eyes in disbelief, dazzled by its appearance. Pinch them together, then look again. White. Precise, harmonious, poetic as always. But white. Just white!
"Less is more", we learned a long time ago. Reduction to essence. Space, proportion, light. Maybe transparency and construction. This is what Modern Architecture is all about, and Mies van der Rohe's Barcelona Pavilion is its icon par excellence.
I have already seen it a thousand times, after twenty-five years of providing architecture tours in Barcelona. Under the sun, wind, torrential rain, thunderstorm, snow, early in the morning, in the burning midday heat, at full moon. On every occasion, I have been excited to return to this unique place. The German Pavilion is the ultimate architectural experience, unmatched worldwide, and for many decades.
A new skin for a renewed perception
But now it is suddenly white. For a short time, the Finnish-Catalan architect couple Anna and Eugeni Bach has entirely covered it with a fine white skin. Turned the architectural icon – already reduced to its very essence – into an even more abstract entity. Made the impossible possible. Dematerialized, alienated, dressed it. Which brings us to the subject: the role of the surface has always been one of the pavilion´s inherent themes.
How deep does our perception of architecture penetrate the building´s materiality? This issue couldn't be more topical, as some of the most recent architecture powerfully displays a new awakening of a "certain carnival spirit", as Semper would put it. Does the surface reflect the underlying construction? Does it – in line with Semper – convey the exact opposite, and thus illustrate the idea of dressing (Bekleidung), rather than being part of a structural unit? Or does it even act as a screen that is completely independent from statics and structure, and allows for reproducing any value?
Neutralizing the noble materiality
All of a sudden, the neutrally covered pavilion lacks a surface formerly defined by its materials. "The evolution of culture is synonymous with the removal of ornament from objects of daily use", says Loos. Harsh light casts sharply defined shadows, as never seen before. Despite structural perfection, the smallest irregularities become visible. The self-luminous, translucent double wall loses much of its suggestive power. Just a very thin layer that drastically alters the visitors´perceptions.
Puzzled, I long for the return of the noble materiality. Intrigued, I immerse myself in the new reality. But how can one even know what's actually real here? How can we, being well aware that the currently hidden version of the pavilion is nothing more than a copy of the original before being dismantled in 1930? White is more!
•
Text: Hans Geilinger, of GA Barcelona, which has been an official partner of the Mies van der Rohe Foundation for two years and carries out all official guided tours of the Barcelona Pavilion on its behalf.
First image: More minimal than ever before: The intervention completely transforms the way visitors experience the pavilion. Copyright: Adrià Goula.
http://miesbcn.com/project/mies-missing-materiality/