Moringa: Cradle-to-cradle inspired living in HafenCity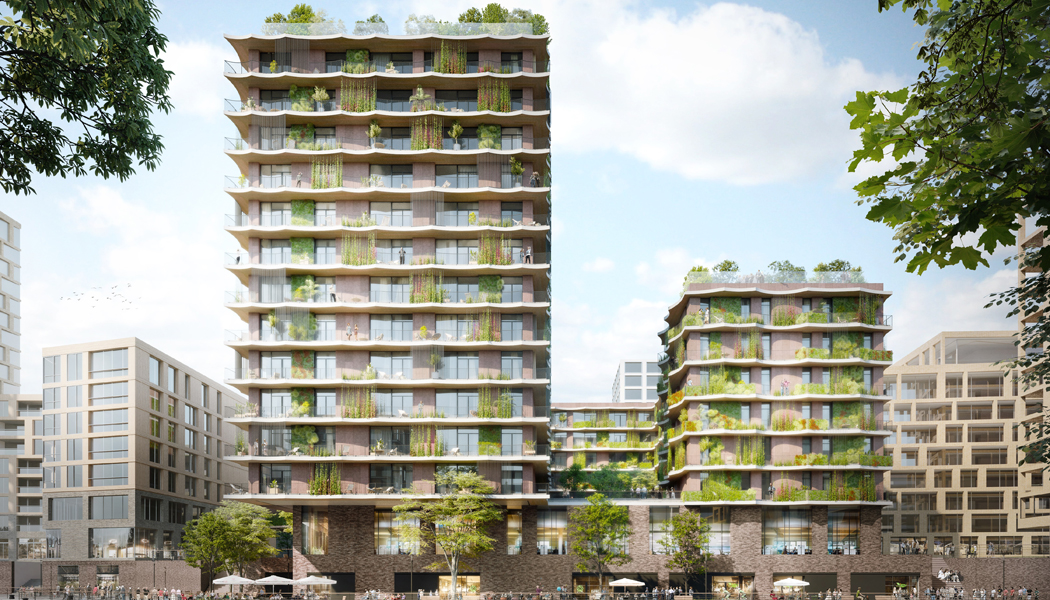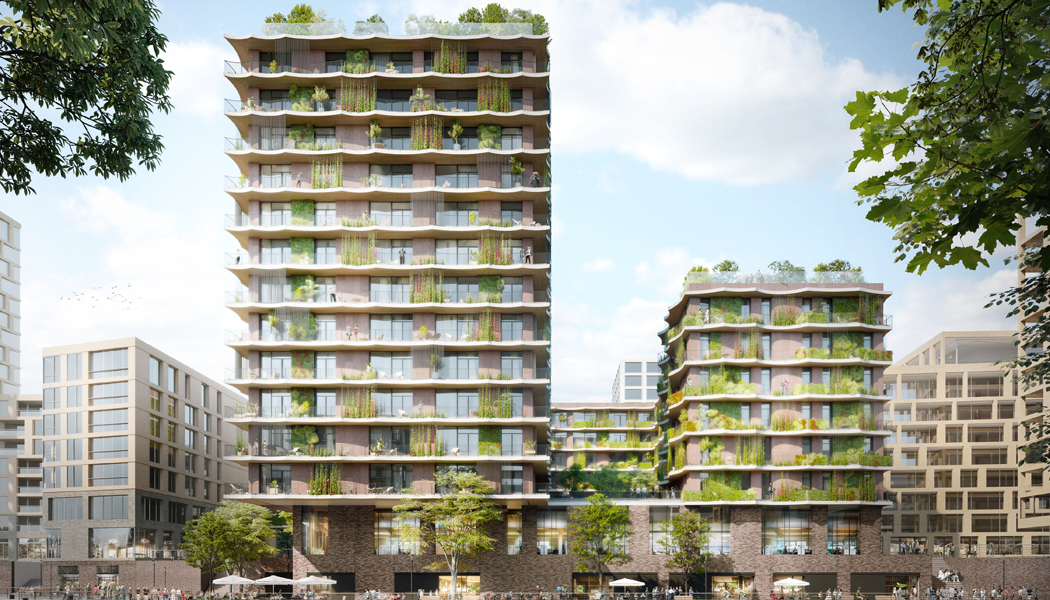 Moringa GmbH by Landmarken AG, as developer, is planning the first high-rise residential building in Germany based on the cradle-to-cradle principle in the Elbbrücken quarter of HafenCity Hamburg together with kadawittfeldarchitektur. By using smaller quantities of building materials as well as a sophisticated recycling concept it sets new standards. A further special feature of the "Moringa" rental apartment building with approximately 190 residential units are the green facades, roof and inner courtyard areas, which return more than 100% of the land area to nature. This improves air quality in HafenCity, reduces heat island effects, increases biodiversity throughout the quarter and provides various recreational areas for residents and visitors. This ambitious project is scheduled for completion by 2024.
The ensemble of three building elements is grouped around a green inner courtyard. As a pure rental apartment building with variable floor plans and one-third subsidized apartments, the new building addresses different social classes and thus also contributes to the relaxation of the rental housing market. According to current planning, approximately 190 residential units with a total living space of around 11,900 m² are to be built. These will include co-living areas with communal lounges, kitchens and terraces.
The basement and first floor will have a day care center with outdoor area. In addition, co-working spaces are planned, which can be connected to multifunctional rooms that can be booked via app. Other areas for gastronomy and retail will supplement the mix of uses and ensure the development of a city loggia and a lively quarter in the east of HafenCity. An underground car park offers space for over 400 bicycles and around 50 cars, 30% of which will be reserved for car-sharing.
The design of the new high-rise residential building is noteworthy: Following the cradle-to-cradle principle, recyclable and healthy materials are separated by type wherever possible and are joined together in a way that allows them to be dismantled and reused. In the long term, the building industry is thus developing into a circular economy, which also sees buildings as a kind of 'material store'. Instead of producing waste and disposal costs at the end of the life cycle, economic added value is generated and resources are thus conserved.
Overall, more green space is created, horizontally and vertically, than is built over. The façade acts as the "green lung" of the quarter by performing cooling and air-purifying functions and generating oxygen. It contributes to the diversity of species in the city, shapes the habitat of the residents and also determines the design of the building. The roof gardens and the green inner courtyard also serve as retention areas for rainwater and for private and communal use, for recreation, urban farming, work and exchange.
The name Moringa is derived from a healthy "super plant", the so-called Moringa Olifeira, to which many positive characteristics are attributed.
Text by: Torsten Stern, a-tour