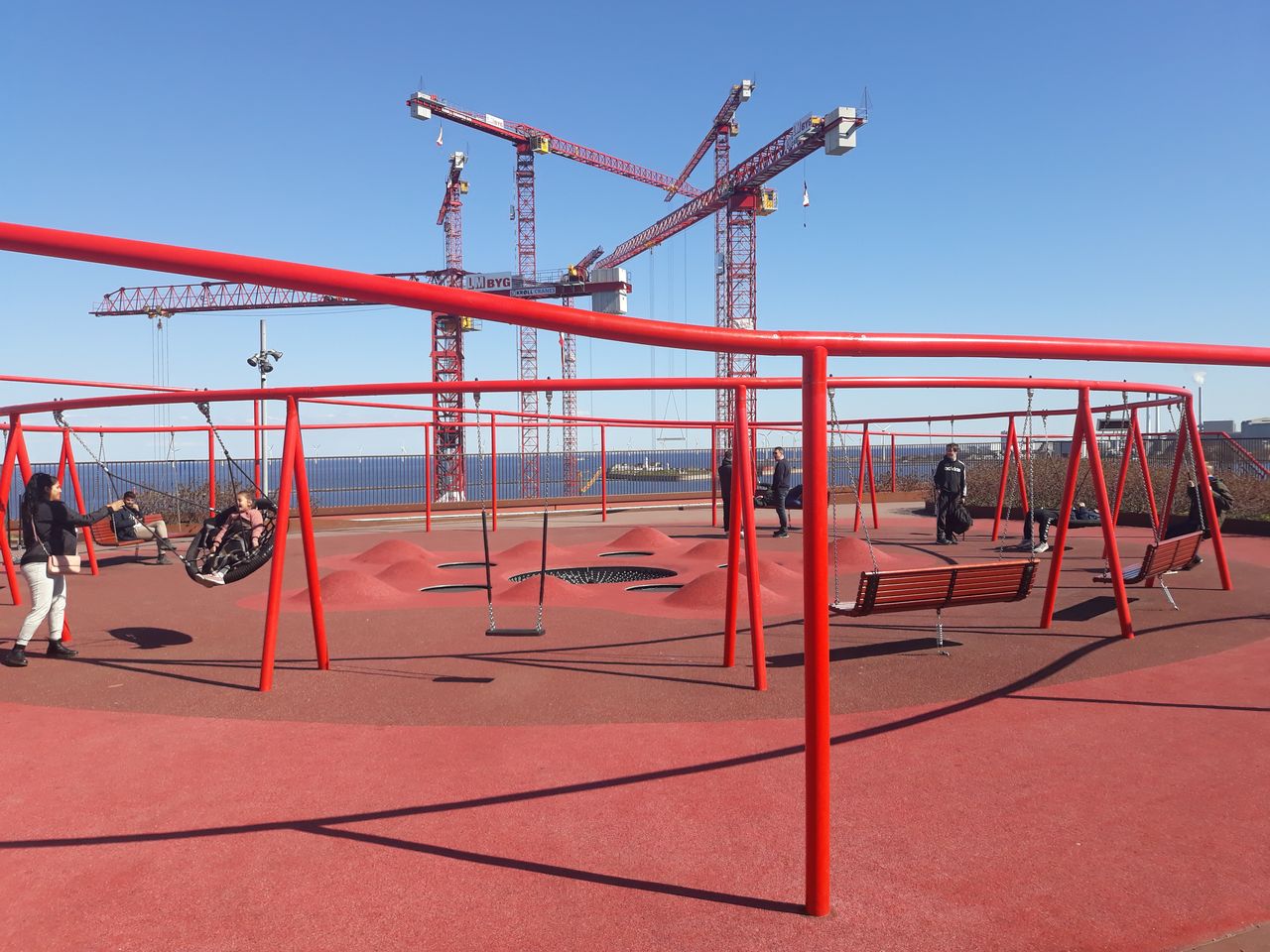 The new Nordic urban development of Nordhavn in Copenhagen is no momentary flash. It is a many year, multi-phased, creation of a totally new borough extending out into the Øresund, ultimately accommodating 40,000 new residents and 40,000 new jobs, showcasing sustainable urban development.
This urban expansion is being undertaken by Copenhagen City and Port. A winning aspect of masterplan is the green loop for the 5 minute city. The approach to development is a manifestation of what has come to be known as the Copenhagen Model, capturing the value of public land and putting it into public infrastructure. An urban dream now coming true with the inauguration of the M4 branch of the Copenhagen Metro extending to Orientkaj, and set to extend with more stops as Nordhavn develops.
There is quite a ballet of building cranes, with the construction on many different lots. Always something new popping up. Three transformed silos connecting the industrial past to the urban future: the twin silo turned into office towers; The Silo residential tower wrapped in perforated galvanized cladding of surfaces and balconies and topped off by restaurant with a very fine view, by COBE; Frihavnstårnet residential tower wrapped in generous in bookshelf-like balconies, by Praksis.
Not only is there a lot to learn in and about Nordhavn, it is also a place of learning. At the farthest edge of development is the Copenhagen International School by C.F.Møller. At the same time Nordhavn is a testbed for sustainable energy innovation via the Smart Cities Energy Lab. The most futuristic bit of tech to be seen is the driverless minibus, currently on trial, scooting around the streets of Århusgade quarter.
Nordhavn also offers fun and recreation. The most spectacular captured is the Park & Play area by JaJa atop a parking garage. Another people's choice is undoubtedly Sandkaj, which during a gloriously hot summer became the newest go to place to be seen and to take a dip. The initially impromptu spot for jumping in, has been augmented with a charming little floating wooden bathing dock and sauna.
This is just a mere sample of what is going up and on in Nordhavn. If you want to learn more about the urban development, architecture and stakeholders involved explore Nordhavn with Scaledenmark.
Text by: Regitze Hess, Scaledenmark