An Update of the Belgrade Waterfront Project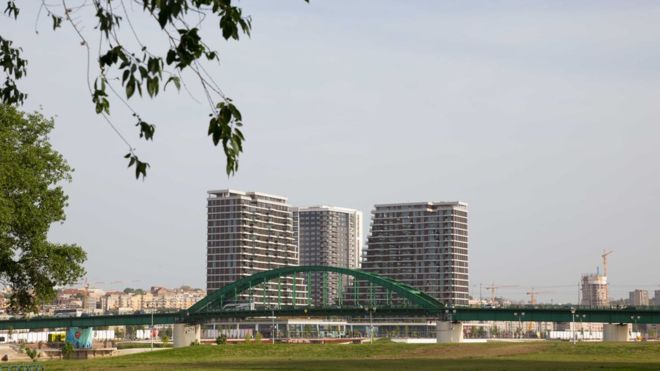 When we last reported on the Belgrade Waterfront project in 2015 there was still hope that a wonder would happen and that the project would be stopped. Today we can witness the changes that came along with corruption, private interests and greed overriding public interest while marginalising the architecture and urban planning profession.
Belgrade Waterfront Project: the Dubai of the Balkans
The construction works for Belgrade Waterfront and its luxury skyscrapers, apartments and shopping malls are ongoing. The area, once recognized to be of national interest due to its development potential for public use, became a playground of Serbia´s nationalist government along with its pals and investors from the United Arab Emirates. They are determined to transform Belgrade into the Dubai of the Balkans. Public use is not popular in their vocabulary.
The project for the elite
There are many reasons for rage, protest and objections. Mainly because of the way the development is being carried out: Families have been moved out of their homes to make space for the new development. Legal and planning documents have been changed according to the needs of the political and financial decision makers. Local institutions or professionals had no influence on the project. As a result, faceless architecture is meeting a historic city. There is no transparency about the financial backing. Apartments will not be available for average citizens: a square meter costs 7,000 euros, the average monthly salary in the country is 375 euros.
Let´s Not Drown Belgrade
The protest initiative Let´s Not Drown Belgrade continually reacted in opposition to the Belgrade Waterfront Project through official complaints, expert analysis and by organizing massive urban protests against the irregularities of the project. The initiative is seen as a brave upswing toward democracy and civil society. Yet their actions did not really endanger the project's implementation.
If we get the chance to update you on Belgrade Waterfront in future, we can let you know how it feels to switch between the two worlds: the exclusive Dubai of the Balkans and the real authentic one, which is as much embracing as it is tough, where the average citizens earn their salaries.
Text: Vesna Vučinić, GA Belgrade