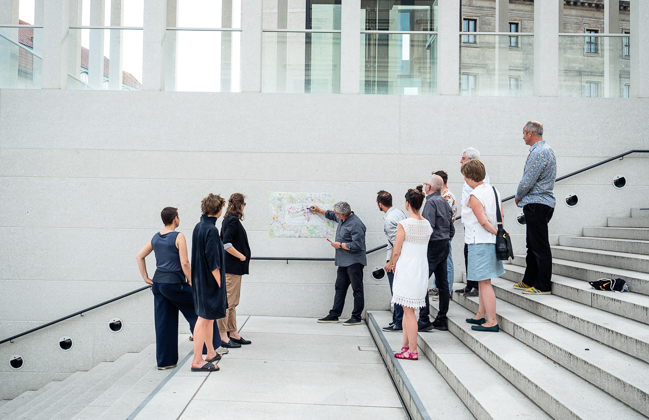 As if they were something special. Outstanding, knowledgeable. A touch of artist and bohemian. Wise above the rest. Educated for decades by the sweat of their brow, forged in the universities. Competent and brilliant. Endowed with that language which appears so intellectual, that sounds so good. Sentence formations that confuse, but come across as elegant. But then, let's be honest, you don't quite understand them. Architects.
Meanwhile we are all highly competent when it comes to building. Walking daily through houses, through urban space, through green parks. Proudly at home in our more or less well-organized and rationally planned cities. Ich bin ein Berliner! Or also an Istanbulite, a Nairobiite, a Singaporean. At some point or another, moreover, we all inevitably become space creators ourselves: playing with the dollhouse, furnishing our first apartment, or building the family home. We all are architects.
Inevitably, many of us consider ourselves to be competent architectural critics. We often encounter the built environment with pre-conceived judgments. We reduce it to common questions such as: Is it beautiful? How much did it cost? Is it solid? Not that this is wrong. But the well-read architect argues that architecture and the city are a complex, often contradictory structure, in which the various facets of human existence overlap. Cultural, political, economic and social interests materialize. Architecture is the built representation of our values which must be constantly renewed, adapted and reinvented. If you reduce the complexity, look at and name the individual layers of the various realities, then you begin to understand. And ask new questions.
Perhaps this is the essence, the true reason, the raison d'être of Guiding Architects. In no country in the world is architecture taught as a school subject. That's why we think architectural education is imperative. It encourages reflection, the questioning of common opinions. It promotes the discussion and debate around urban planning and architectural concepts. Based on the conviction that architectural complexity can be deciphered and thus illustrated in a way that everyone understands. Not only the architects.
That's why we've left the comfort zone of university auditoriums, planning advisory boards and research institutes. To stand in the street, in the rain, wind and sun. Honking cars drive by, children scream, skaters cruise through our groups – while we establish a dialogue on contemporary architecture. Often under difficult conditions – but in real life. Since the beginning of the pandemic, we also create digital tours and podcasts for a global audience: at a distance, but on the spot. We've been invited as experts to television programs, to debate at round tables. Guiding Architects communicates contemporary architecture and makes it tangible. Not only for architects.
Guiding Architects goes public
TV
Thomas Michael Krüger, TICKET B – Experience Architecture / Guiding Architects Berlin, on Deutsche Welle on the topic of architecture in times of the pandemic (German):
https://www.dw.com/de/berlin-in-between-check-in/av-57091743
Lorenzo Kárász, Guiding Architects Barcelona, on Catalan TV3 on the topic of "Social housing between Vienna and Barcelona" (Spanish / Catalan):
https://vimeo.com/520910885
Anneke Bokern, architour / Guiding Architects in the Netherlands, on German TV SWR / ARD within the series Planet Wissen on the topic "Deichen oder weichen? – The Netherlands and the water" (German): https://www1.wdr.de/mediathek/video/sendungen/planet-wissen-swr/video-deichen-oder-weichen–die-niederlande-und-das-wasser-100.html
Podcast
The podcast by TICKET B – Experience Architecture / Guiding Architects Berlin "Dach über Berlin" (German):
https://podcasts.apple.com/es/podcast/dach-%C3%BCber-berlin/id1510256516
Bo Christiansen, Scaledenmark / Guiding Architects in Denmark, as a guest on the Global Denmark Podcast on "A conversation about Nordic values" (English):
http://www.scaledenmark.dk/en/node/279
Anneke Bokern & Paul Volk, architour / Guiding Architects in the Netherlands as guests on the Dutch Live Parkhuis de Zwijger on the topic "Sprong over het IJ #1: Genereus verbonden" (Dutch): https://dezwijger.nl/programma/genereus-verbonden
Anneke Bokern, architour / Guiding Architects in the Netherlands, as guest on the topic "IJburg, the city from the sea" (German):
http://chirb.it/6axeDM
Arne Hübner, GA Budapest / Guiding Architects Budapest, as a guest within the series "Mikrokozmosz" by the Budapest Architecture Center FUGA on the topic "Freedom and Restrictions of Travel from the Perspective of a Guiding Architect" (Hungarian): https://www.youtube.com/watch?v=KUKEIhnBwfc
Text by: Hans Geilinger, GA Barcelona