Berlin is constantly reinventing itself and developing its own urban proto-types.
Discover its creative and inspiring contemporary architecture, new forms of Co-housing projects and hybrid buildings with us! Our highly qualified team of graduated architects, professors, lecturers and specialist authors present you with an exciting and authentic insight into the development of
contemporary architecture in Berlin. Apart from looking at current construction projects and technology, the tours also focus on historical and social aspects. Years of experience
and a far-reaching network of specialists enable us to offer you exclusive access to sites and buildings usually not open to the public. Our clients have been enjoying unique
insights into the many facets of Berlin's exciting metropolis since 1996.
All tours have been designed for groups and are either conducted as walkabout tours, or by bicycle, bus or boat. They are offered in the following languages (at no extra cost): German, English, French, Spanish and Italian. [ssba]








Happy Clients
Very informative tour and knowledgeable guide. The use of plans and maps was very interesting.
Sally F - London
The guide was informative and enthusiastic. Plus he spoke good English which made it easy for us.
Pauline R - London
The range of sites seen was good, starting with the context of the Berlin Wall park and the new housing adjacent to it. The account of how the design of the buildings related to the cooperative groups which had commissioned them was fascinating. Suse's explanation of the background and interest of each case was clear and concise - she did admirably well with an English-language group who were wilting in the Berlin sunshine.
Nick B - London
We were absolutely happy and inspired! The tour was a very good impulse on our team spirit, professional understanding and commitment. Thanks a lot!!!
Michaela R - Bamberg
Claus Käpplinger was a perfect guide for us. He gave us many particular knowledge as well as very good context. We are very lucky to have him as our guide. He met our expectations we had of the tour.
Marina D - Prague
Our guide was very friendly and knew a lot about the local architecture including local and international architects responsible for designing the buildings in Berlin. His English was perfect and the whole experience was very enjoyable. He was very happy to answer any questions and provided detailed and enriched responses.
Imogen Z - London
The tour guide was very knowledgeable and had great insight into not just the architectural attributes of the subjects, but also the whole construction process from procurement to completion, which was of particular interest.
Gordon T - London
The tour was informative and interesting and gave us the opportunity to see areas of Berlin we might otherwise not have seen.
Beth E - London
Thank you for giving our office a lovely guiding of Berlin! We were all very happy with Georg, Klaus, Leo and Suse, and it was really nice to learn about and see so many different aspects of the city.
Allinor E - Götenborg
"A very big thank you for today's guided tour. It all went very well - very much due to the enthusiastic and interesting input from both George and Leo."
Derek P - Plymouth
"Kora was very helpful in setting up and recommending our tour itinerary, hotel and lunch venue. She also arranged our coach transfers to and from the airport and she was easy and efficient to work with. TLuis, our tour guide was excellent and we all agreed that he was one of the best we've had. He was calm and patient with us all, full of helpful recommendations, excellent company and had a good rapport with everyone. He was very informative in both the history and architecture of Berlin and gave us an very good tour inside the Neus Museum. He was flexible to programme changes and was full of suggestions, including recommending a bar close to our hotel after the tour."
Judy A. - Re-Format LLP - Petersfield (UK)
"Very informative tour. Passionate guide with very profound knowledge of Berlin's architecture."
Alexander S. - Rolls-Royce Deutschland - Germany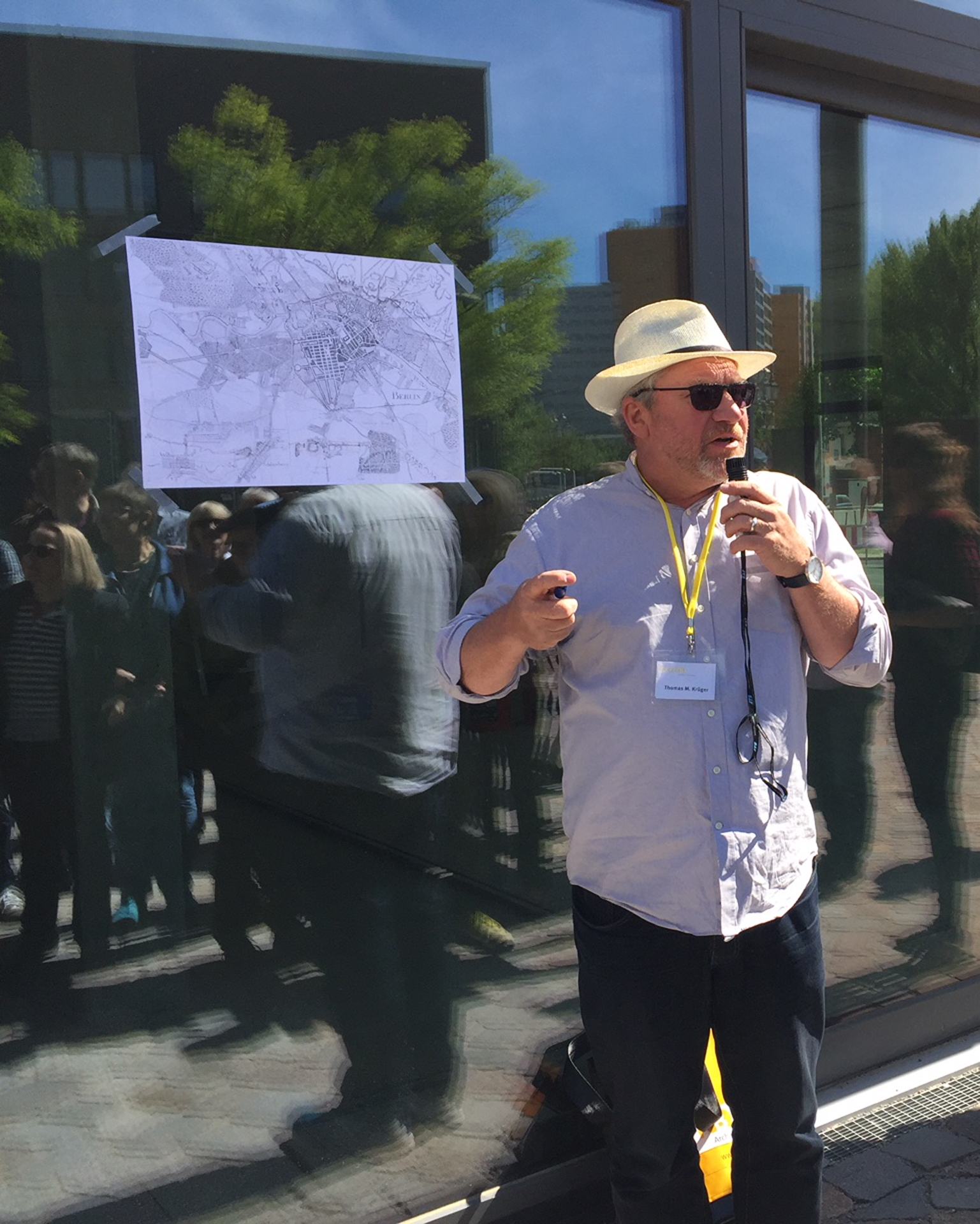 Thomas M. Krüger
Thomas M. Krueger, a freelance architect BDA, author, mediator of architecture. Since 1992 teaching at various universities, in 2000, recognition of German Urban Development Prize for a housing project in Berlin. Founder of Ticket B - Guided tours of architects and the international network www.guiding-architects.net. Selected Publications: Architectural Guide Berlin's Museum Island, DOM publishers, Books about UNESCO World Heritage settlements and contemporary architecture in Germany, participation in TV and online productions (Time Online Culture Radio). Since 2017 Thomas is the coordinator for the Baukollegium. the Berlin building council.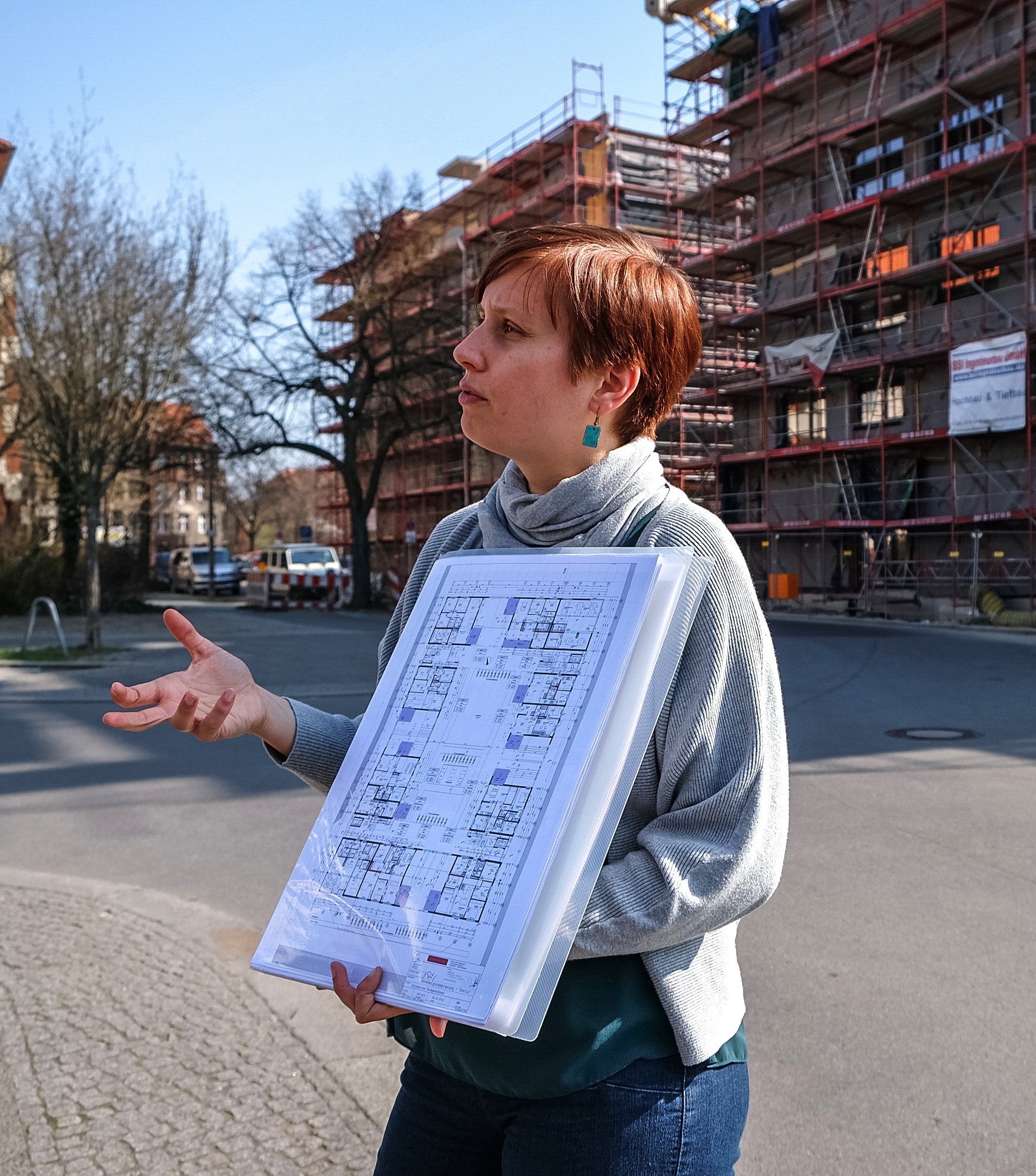 Kora Johanns
Kora Johanns joined Ticket B in 2016 and, in addition to guiding, is specialised in the organisation of tours and travels. While studying architecture at the Bauhaus Universität Weimar she took part in foreign exchange programs to Brussels and the Technical University of Krakow. In 2006 she began working as an architect in Barcelona, focussing on residencial projects. She moved to Berlin in 2010 and has been working for Kaden+Lager Architekten since 2012, an architectural firm specialised in urban timber constructions.
Lisa Seibert
Lisa Seibert grew up in Rome and Luxembourg, has lived in South Africa and Australia and has been with Ticket B since 2017. She organises tours and architectural events, including the Berlin Baukollegium. During her studies at the Technical University of Berlin she spent a semester at the RMIT in Melbourne and took part in student construction projects in Thailand. She began working as an architect in 2010 with a focus on residential projects.
Image credits
Image 3: Tilman Seibert,
Image 5: Lidia Tirri, Senatsverwaltung für Stadtentwicklung und Wohnen,
Image 6: Lisa Seibert