Much more than the Guggenheim! – the basque country offers a large variety of architectural topics: amazing urban transformations in the last 25 years, green town planning, architecture integrating nature and architecture making publicity for wineries
There is much to see - and to show - in the not so well-known Basque country - a large variety of architectural topics and a huge number of well-worth-seeing sights – we offer customized tours for sophisticated clients from a short tour up to a well-filled seven-day-tour. GA BILBAO offers guided tours to architecture and urban city planning in Bilbao, the Basque country, the adjacent wine region La Rioja und Navarra. Our tours are guided exclusively by architects living and working in the area.
Our approach is to combine an entertaining guiding with other experiences as the excellent food and the varied landscapes.








Happy Clients
Great Tour, Perfect Guide.
Norbert S - Weiden
I will return next year for a longer tour with a larger group!
Bjarne J - Copenhagen
It was brilliant! Our guide was extremely knowledgeable and so willing to accommodate the three of us in every way.
Spindrift al S - Aberdeen
We had a great trip and returned full of colorful impressions. We really liked the whole package. We got to know many exciting buildings, plans and architectural highlights and yet had a relaxed and not overloaded program.  Andrés was a very nice guide and skillfully gave us a lot of interesting information.
Elsbeth K - Zurich
"Bernd Nitsch was a very nice tour guide. He held the group together and gave a lot of background Information of the development of the city of Bilbao. His comments were precise and good to understand - even for the students"
Oliver D - Linz
"Bernd was very professional and inspiring.  We ware 38 persons on the trip and everyone found the trip very interesting."
Martin W - Stockholm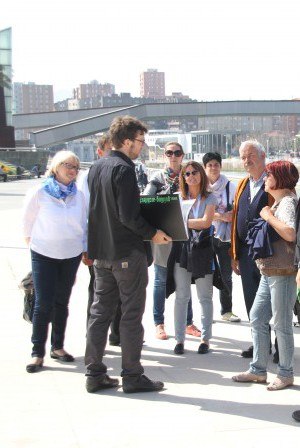 Bernd Nitsch
Bernd was born in Erlangen (Germany) and has been living in Bilbao since 2004. He combines working experience in Germany with working experience in Bilbao, beeing able to compare the different professional and social working conditions. He was working as a freelancer on important building sites in Bilbao, starting the guiding activity in parallel in 2006. After founding GA BILBAO in 2008 he entered the guiding-architects network in 2010.