The region of Voralberg is located between Lake Constance and the High Alps, a perfect showcase for innovative architecture. The area is rich in high quality contemporary architecture to be admired for its elegance, flexibility and environmental aspects, creating efficient, low maintenance buildings.
The buildings are designed with a long lifespan and demonstrate the true principles of sustainability and the circular economy. Ancient timber houses, baroque monastries and regenerated industrial buildings are found alongside examples of exquisite architecture, created with the advanced local craftmanship, typical for this region's industry.
The combination of tradition, function and wellbeing, continues to attract many interested professionals from a wide area and different backgrounds, to visit Voralberg. No doubt you will return home refreshed and stimulated with new ideas. 'onehundredyears' assists in long-term planning by providing training and consulting, presenting the architecture and culture of Vorarlberg as a reference, under the label of 'Guiding Architects'.
We can offer short and extended field trips, tailored to your requirements, in German, English and Dutch. We would be delighted to act as your personal agent and coordinate all travel arrangements. Our local knowledge makes the difference.

'Baukünstler': Modern architecture in Vorarlberg arose as an opposition to the establishment. It did not follow any written program or theoretical manifesto, and was also largely determined by the bourgeois citizens. A network of teachers, artists and planners formulated and lived alternatives to provincialism of the post-war era.
With its doors open to the world, Vorarlberg is a place that appreciates the arts. This unique cultural region unites modernity and tradition as evidenced by engaging events that take place throughout the state. The cultural scene include renowned Music- and Dance Festivals and Museums for International Art.
Tradition and modernity exist in a perfect harmony. As soon as you arrive, you will feel that this is a place where everything is right. Somehow or other, everything is perfect here, just as it should be and just as it should remain. Sustainability is more than just a catchphrase, it is a reality and a lifestyle. 
The magazine 'Wallpaper' called Vorarlberg 'the most progressive part of the planet when it comes to new architecture'. The valleys and lake shores have developed into a hotspot for architecture. At the foreground are aspects such as beauty, simplicity and economic functionality, as expressed by low energy consumption.
At first it sounds improbable: Vorarlberg - a small, mostly rural state in the middle of the Alps - has become one of Europe's leading regions for modern art and architecture. This is in regard not to the significance of any one individual building but to the number and density of such constructions.
The yellow country bus is important to such small communities as Krumbach in the Bregenzerwald. As it became necessary to replace the bus shelters there, it was decided to combine everyday mobility and the culture of building - with bus shelter designs by architects from all over the world.
Strong and affordable sports-, shopping-, industrial- and trade fair buildings! Doubtless, Vorarlberg's heritage and architectural tradition of craftsmanship has played a role in shaping and promoting the expression of the region's modern architecture, which is characterised by clear design.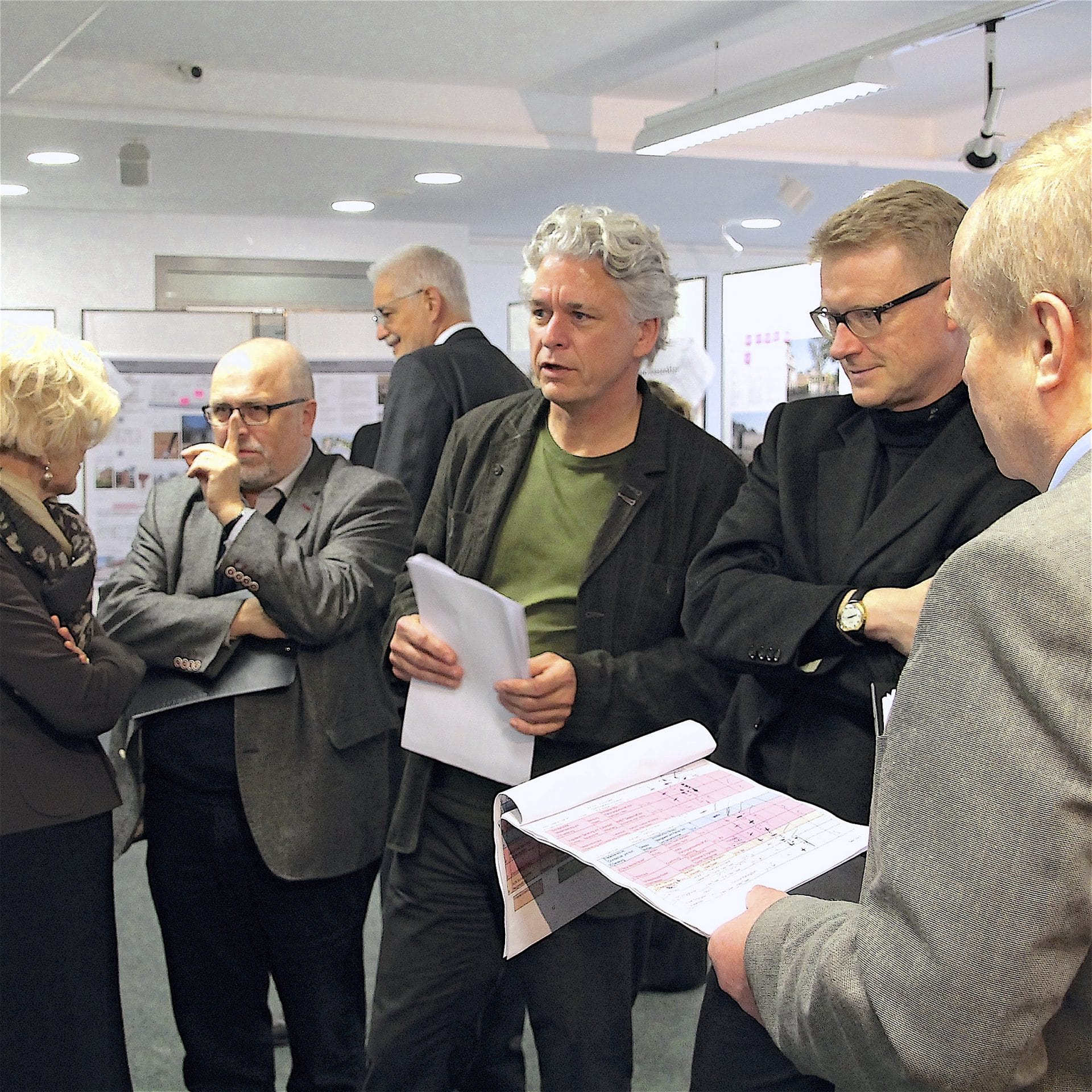 Willem Bruijn
International Architecture Consultant - Planning Management - Research and Education - 'Guiding Architect' in Bregenz, Vorarlberg, Austria. Willem has a wealth of experience and expertise in a range of architectural projects, from large to small. He previously worked in Switzerland, the Netherlands, Austria, Sweden and Norway for large leading architectural practices, working on international projects in the role of designer, project director and managing partner. He taught Architectural Design and Planning Management at Universities in Denmark, Switzerland, USA and Liechtenstein. Since 2002, Willem is resident in Vorarlberg, Austria. Willem founded 'onehundredyears' with the aim to build less. This is based on the strategy that long term planning and investment in high quality architecture (addressing efficiency, functionality, flexibility, ecology and beauty) will result in healthy, desirable buildings that offer a higher level of comfort with minimal operational and lifetime costs.
Image credits
Image 2: 1997_Bregenz_Kunsthaus Bregenz (Peter Zumthor Architekt) Markus Tretter © Kunsthaus Bregen,
Image 3: 1995_Wolfurt_Wohnanlage Eulentobel (Baumschlager Eberle Architekten) Willem Bruijn © onehundredyears,
Image 4: 1997_Bregenz_Kunsthaus Bregenz (Peter Zumthor Architekt) Markus Tretter, Courtesy of Atelier Peter Zumthor & Partner 
© Gerda Steiner & Jörg Lenzlinger, Kunsthaus Bregenz,
Image 5: 1755_Schwarzenberg_Hotel Gasthof Hirschen Willem Bruijn © onehundredyears,
Image 6: 2009_Fussach_Nordwesthaus Hafen Rohner (Baumschlager Eberle Architekten) archphoto, inc. © Baumschlager Eberle,
Image 7: 2017_Nüziders_Haus Birne (ma-ma Werkraum für Baukunst) © Hanno Mackowitz,
Image 8: 2014_Krumbach_Bus:Stop (Sou Fujimoto & Bechter Zaffignani) Albrecht Imanuel Schnabel © Vorarlberg Tourismus,
Image 9: 2017_Dornbirn_Messehallen 09-12 (marte.marte Architekten) Faruk Pinjo © marte.marte Architekten