Every visitor welcomes Frankfurt with its unique skyline. It consists of the high-rise buildings of the European central bank, the most powerful German banks and many important national and international firms.
In keeping with this, the international high-rise prize is awarded every two years. Apart from the fact that Frankfurt is a financial and economic center, the city also strives for a leading role in energy-saving and sustainable construction.
Frankfurt is also home to a huge range of museums and cultural institutions not the least of which is the German architecture museum 'DAM'.
Welcome to this versatile city, welcome as well to the Rhein-Main-area with its variety of modern architecture.
In the city of Frankfurt as well as in the surrounding area 'Frankfurts Führende Architekten' – guiding architects Frankfurt offers both background information and architectural theory for experts, from the slightly different 'architect-tour' as an addition to one's business-stay to the 'architecture-walks' that are for everybody.
We put together individual tours about special issues, according to your interest in architecture or urban design.
We offer guided tours that last for several hours as well as excursions that extend for several days.
Architecture Tour Frankfurt 1







Happy Clients
"Paul Martin Lied's way of communicating before the trip when we were preparing everything was very clear and his response was quick. During the trip he acted as a guide but also helped keeping the group together and getting us everywhere. Above that, he is a very warm and friendly person. We can highly recommend his guiding tours!"
Séverine B. - Eindhoven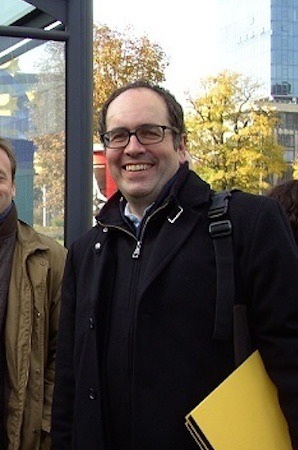 Paul-Martin Lied
Paul has worked since 1995 as an architecture guide and organizes excursions. Since 2005 he has headed his own architecture tour agency A-Z Architektouren. Sometimes he writes articles for architecture journals. From 1993-2003 he worked as an architect in the Netherlands at Mecanoo and Erick van Egeraat associated architects. From 1982-1990 he studied architecture at the Technical University of Darmstadt. Paul grew up in the region of Gießen, where he was born in 1963.