Dress for the Weather is a chartered architectural practice offering tours of their home city of Glasgow.
Glasgow is Scotland's largest city. Once a centre for industry and manufacturing it has now developed a strong identity for arts, culture and architecture.This, combined with Glasgow's tendency to enact large-scale urban regeneration, has created an extremely varied and interesting urban environment.
Glasgow has a strong mix of old and new, and what is interesting to us is how this all mixes to form a strong, robust city.
All our tours focus around showing visitors a 'cross-section' of the city and how this urban condition came to be as well as including the best contemporary architecture the city has to offer.
We have delivered several tours is the past using the cities underground system to explore various regions, and can offer bespoke tours to suit varying requirements and interests.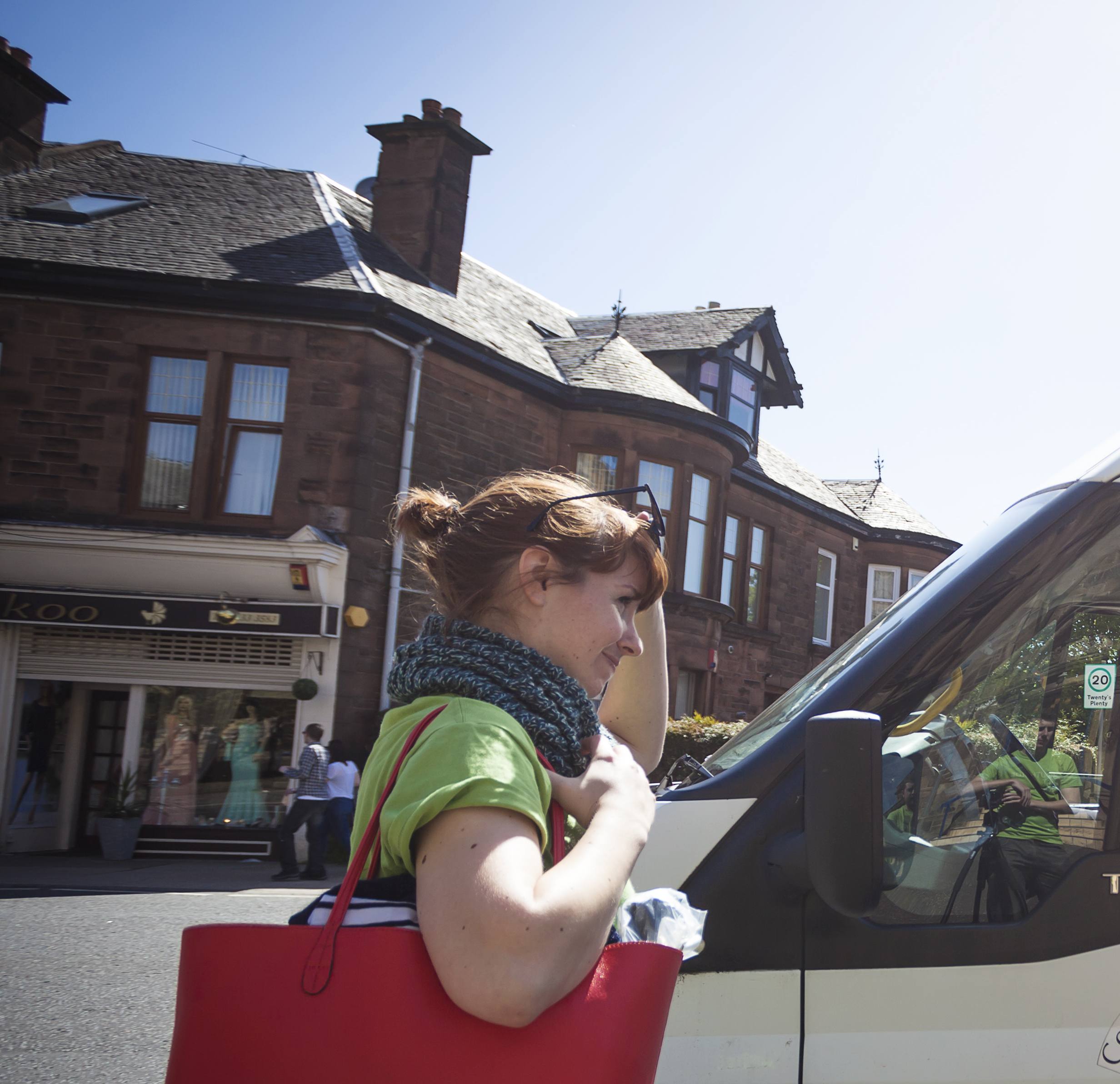 Hazel Wallace
Hazel was born in Dorset but moved to Glasgow to study, she has also lived in London and Oslo. She joined Dress forthe Weather in 2015 after graduating from the Glasgow School of Art. She has a strong urban understanding of the city, with her architectural thesis exploring emotional responses to Glasgow. Within the practice she has also delivered a range of urban workshops, engagement projects as well as tours. Hazel would advise exploring the city centre on foot to appreciate the back lanes, many inviting cafes and eclectic mix of buildings the city has to offer.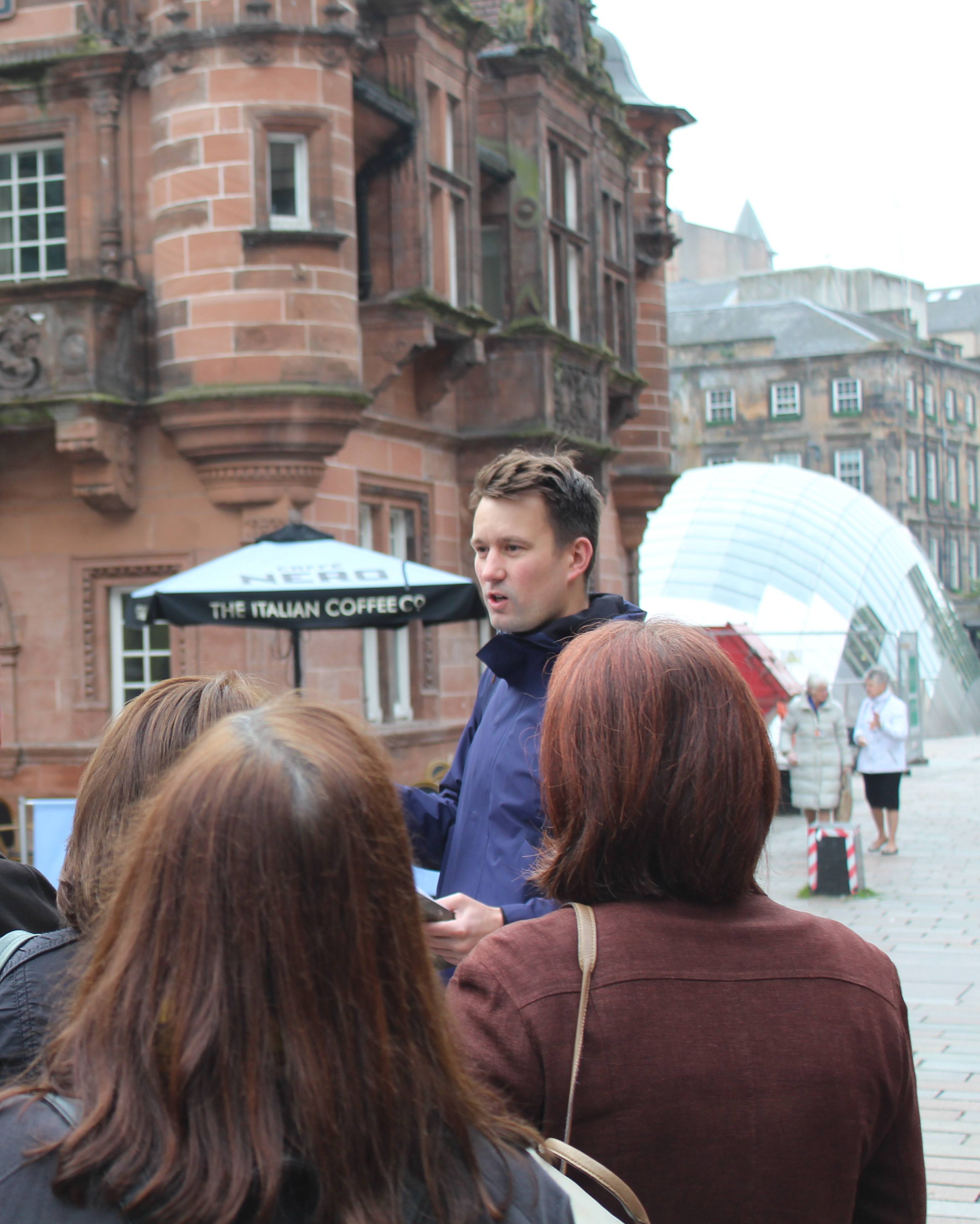 Andy Campbell
Andy is a co-founder and director of Dress for the Weather. His current projects include the development of an 18th Century mill building into an arts and heritage centre and the establishment of an arts space within an old glue factory. Andy's research into Glasgow's building types has been focused around the development, design and progression of the pub. This includes a study of the impact of politics, taste and drinking culture on the design and layout of Glasgow's bars. Andy has delivered a number of tours around the East End of Glasgow and would encourage exploring this area for the hidden modernist masterpieces, thriving galleries and colourful Barra's Market.
Matt McKenna
Matt is a co-founder and director of Dress for the Weather. He is involved in a range of architecture and art projects as well as designing and delivering tours of the city. Being from Glasgow, Matt brings a local understanding and knowledge to the development of the city and its architecture. His work on arts and cultural projects in the office also provides a strong perspective into new and on-going developments within the city Matt has produced a range of research into Glasgow's building types, of particular note is his study on Glasgow's tenement buildings – a visual record of the urban planning, architecture, detail design and social impact of this building type. Matt recommends a visit to the Southside of Glasgow where you can enjoy a mix of special residential architecture (including work by Alexander 'Greek' Thomson) alongside some key cultural institutions – Scottish Ballet, The Tramway and the Burrell Collection.
Romain Charlet
Romain studied architecture and urban design in Lille, France and completed a masters in conservation in Naples, Italy. He joined the practice in 2016 and has grown his understanding of the city leading workshops and residencies with local people. His interest for Glasgow and its industrial history has led him to volunteer with associations aiming to preserve and celebrate the Clyde river, tightly linked to the development of the city. Romain shares his time between the studio work, the tours and the University of Strathclyde where he tutors, one activity feeding the other one. Romain has lived in the West End for most of his time in Glasgow. While also containing a number of museums and galleries it is also the area most intact from Glasgow's large scale Victorian-era growth.
Image credits
Image 3: Glasgow, UK – March, 2014: View of Ashton Lane, a cobbled backstreet in the West End of Glasgow; popular student destination with cafes, restaurants and cinema, with open market stalls on a Sunday afternoon.,
Image 6: Glasgow, Scotland – September 03, 2015: The Riverside Museum Glasgow, Scotland. The museum has some of the world's finest cars, bicycles, ship models and locomotives formerly in the Transport Museum.