With a density, that even eclipes some bigger European cities. With a variety that proves that creative freethinkers were alwaly welcome in Graz. And with a level of quality, that shows at first sight, that juxtapointing old and new structures is not a fundamental issue.
Welcome to our region from Graz to Ljubljana (Slovenia) We are able to offer you not only lots of thrilling examples of contemporary architecture there, but also a high ability to enjoy life. Our profound knowlegde of the city and our long experience in guiding allows us to offer you customized tours in Graz and Ljubljana and in the whole area in between. Culinary art in whole Styria makes your tour a journey of discovery.
If desired, we also organize everything around your tour – ask us.
Depending on the customer's wishes, our tours can be done on foot, by public transport, bus/coach or by bike. We offer interior visits in almost all of our shown buildings.








Happy Clients
We had a very fine tour, that we together made a program for. We got very good suggestions for items to visit.
Bert F - Murcia
Aleksander gave us an very interesting insight into Ljubljana with his very competent guidance. This and Aleksander's warmhearted nature will remain in our best memories.
Andreas B - Brugg
"We were very satisfied with both Aleksander and Eva, they were excellent guides and had so much interesting things to tell us! All of us really liked Ljubljana so we might very likely come back and explore more."
Hedvig O. - Ard Arealplan - Bergen (Norway)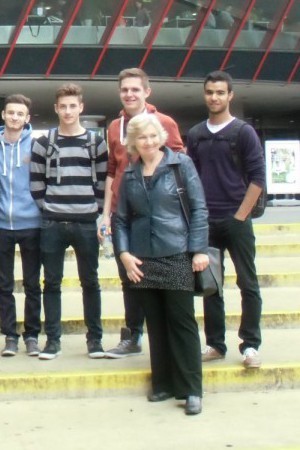 Karin Tschavgova
Karin Tschavgova was born in Graz, studied architecture here and is living as a freelance architectural critics and journalist about architecture and urbanism and a teacher at the Technical University. She works as an architecture guide since 20 years. Architektouren-graz was founded 2004 by her. For long time she is responsible for concept ant text of a broschure about Contemporary Architecture in Graz, which is edited periodically by Graz Tourismus.
Image credits
Image 1: Kunsthaus, Peter Cook&Colin Fournier, Graz, Photo: Graz Tourismus,
Image 2: MUMUTH, UN Studio, Graz, Photo: Robert Frankl,
Image 3: Bad Eggenberg, fasch&fuchs, Graz, Photo: Paul Ott,
Image 4: Murinsel, Vito Acconci, Graz, Photo: Graz Tourismus,
Image 5: Murturm,, Gosdorf, Photo: Tschavgova,
Image 6: Church Aigen, Volker Giencke, Styria, Photo: Lackner,
Image 7: The Cultural Centre of European Space Technologies (KSEVT), Various architects, Slovenia, Tomaž Maček, Photo Copyright © KSEVT,
Image 8: Group of pupils in front of an University building Photo: Liebich