Elbphilharmonie, HafenCity, IBA and Hamburg Harbor. Let us show you new perspectives of urban development as well as innovative and creative architectural projects in the most dynamic city of Germany.
In Hamburg new buildings are springing up all the time. Avantgarde or traditional, whether designed as public statements, or hidden away, a-tour can show you what's going on in the Hamburg architectural scene. We offer architects, and architectural enthusiasts, specially selected tours to new projects in Hamburg. Our competently led tours use facts and drawings to explain the structure of the city. During each tour particularly interesting buildings are picked out and visited. We would be pleased to put an individual Premium Tour together for you. This could include selecting restaurants and hotel reservations as well. Our tours can be booked on a half day basis, day tour or spread over several days.
Led by selected architects in German, English, French, Italien, or Danish. Further languages available upon request.
a-tour is looking forward to welcoming you in Hamburg.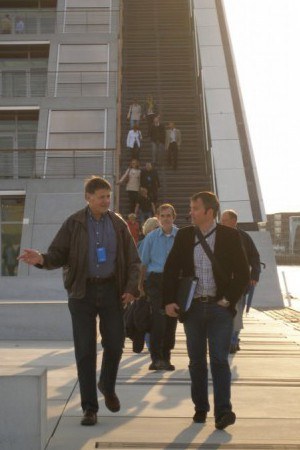 Torsten Stern
Torsten Stern born 1971. Studied architecture in Wiesbaden. Worked and has been project leader in several architectural offices in Hamburg. Established a-tour together with Friederike Stegmüller in 2002. In 2003 set up his own practice Pawlik.Stern Architekten. Co-Initiator of the "Architecture Box" from the "Hamburger Architektur Sommer". Lives as freelance architect and architectural guide in Hamburg.