It's all happening in New York: urban transformation, new buildings and construction sites everywhere, the slimmest residential skyscrapers, public art installations, new parks, green initiatives, the latest food experiments,…
In the past decade New York City has gained a remarkable number of new buildings by some of the best-known architects from around the world.
aplusnyc offers professionally guided tours to New York City's architectural highlights, urban re-development areas, flagship stores, museums, galleries and art installations. Trained architects, who are actively involved in the transformation and documentation of the city, lead the tours.
Our tours are for professionals as well as for lovers of modern and contemporary art and architecture and are offered in both English and German, as well as in Spanish and French upon request.








Happy Clients
We had a great time with Bettina Johae in NY!
Rita C - Bern
My wife and I had a great experience with the Tour. Bettina offered us a good visit of the district with relevant information, all in context and with the right amount and level of information. We enjoyed it very much and look forward to the next level.
Jacques B - Toronto
Very satisfied to have the headphones, it gave the tour company the freedom to listen to the guide whilst looking at the buildings in their own tempo. Great tour program with a variety of both old and new.
David S - Oslo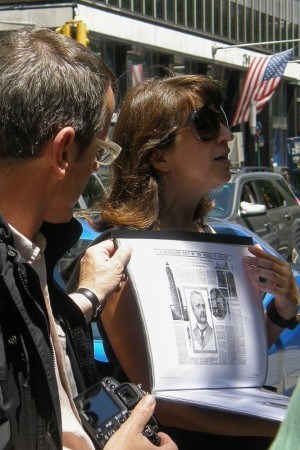 Bettina Johae
Bettina Johae is an artist and architect whose work engages with the changes and perceptions of the city. Many of her projects focus on New York City and have been exhibited nationally and internationally. Her project, borough edges, nyc, is in the collection of the New York Public Library. Currently she works on a project about the use of Eminent Domain in NYC and on a green building renovation. Bettina received her Master in Architecture from the TU Berlin and her Master in Studio Art from NYU. Born in Berlin, Germany, she lives in Brooklyn since 2001. Bettina is the principal of aplusnyc.