Far from the cliché image of the Parisian village, the French capital and its periphery possess a concentration of exceptional contemporary buildings
Bienvenue à Paris!
Paris is the densest city in Europe. Over the past decade Paris and its surrounding region have gained a remarkable number of new buildings or projects by some of the best-known architects from around the world: Jean Nouvel, Dominique Perrault, Frédéric Borel, Frank Gehry, Toyo Ito, Jakob+McFarlane, Herzog & De Meuron...
We offer customized group tours to architecture, art, urban planning and design in Paris guided by architects. We can also organize accomodation and transport and make reservations at restaurants and cafés. Tours are available in English, French, German and Spanish.
[ssba]








Happy Clients
"Great tours and great communication! We were with a big group of 70 and asked to visit several projects spread across Paris. No problem at all. The tours themselves were very informative hosted by excellent tour guides. During our stay in Paris we were faced with a big strike in the public transport system. GA PARIS (Catherine) helped us a lot to find alternative ways for transport. Great help!"
Wouter R. - KAW Architecten - Rotterdam
"We are very satisfied with the quality of service as provided by GA. We booked the tour a week before our trip to Paris. Since we had our own transport, it was possible to put together a custom tour in two different city districts. The tour itself was excellent. Well organized, very informative and fun to do. Recommended!"
Menno H. - FARO Architecten - Amsterdam
"We were a group of 27 architects from Germany, staying in Paris for our yearly excursion, and were guided by Catherine Haas from Guiding Architects Paris. An architect herself, she showed us around some really interesting quarters of the city, some well known, others less well known. We thouroughly enjoyed the tours, and would strongly recommend Guiding Architects for all architects and architect lovers."
Henrike I. - Werkgemeinschaft Landau Freie Architekten - Landau (Germany)
"I have engaged Guiding Architects in both Athens and Paris - each with a focus on city development as it relates to contemporary conditions. These have been very good at establishing a connection to the city history as it relates to the buildings we tour. Guiding Architects delivers!"
Brian F. - Jones Studio Inc. - Tempe (USA)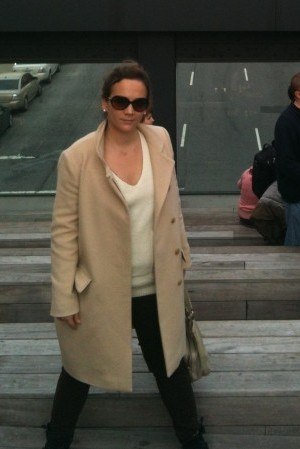 Catherine Haas Adler
Catherine Haas Adler is an architect and a freelance architecture curator and researcher for various cultural institutions in Paris. Catherine has worked in France, Ireland, and in the United States. For five years, she was appointed as a curator at the Pavillon de l'Arsenal, the city architecture center of Paris where she acquired an intimate knowledge of the architectural history of the city. She holds a MA in Cultural Heritage Studies from the University College London, as well as an engineering degree in architecture from the RWTH in Aachen, Germany. She speaks fluent French, English and German.
Image credits
Image 5: Musée du quai Branly. Vue extérieure du bâtiment Musée, les " boîtes scénographiques ". Septembre 2007.,
Image 7: aménagement de la zac cardinet - 75017 paris,
Image 8: aménagement de la zac cardinet - 75017 paris,
Image 9: Université Paris Diderot © Paris Tourist Office - Photographe : Amélie Dupont