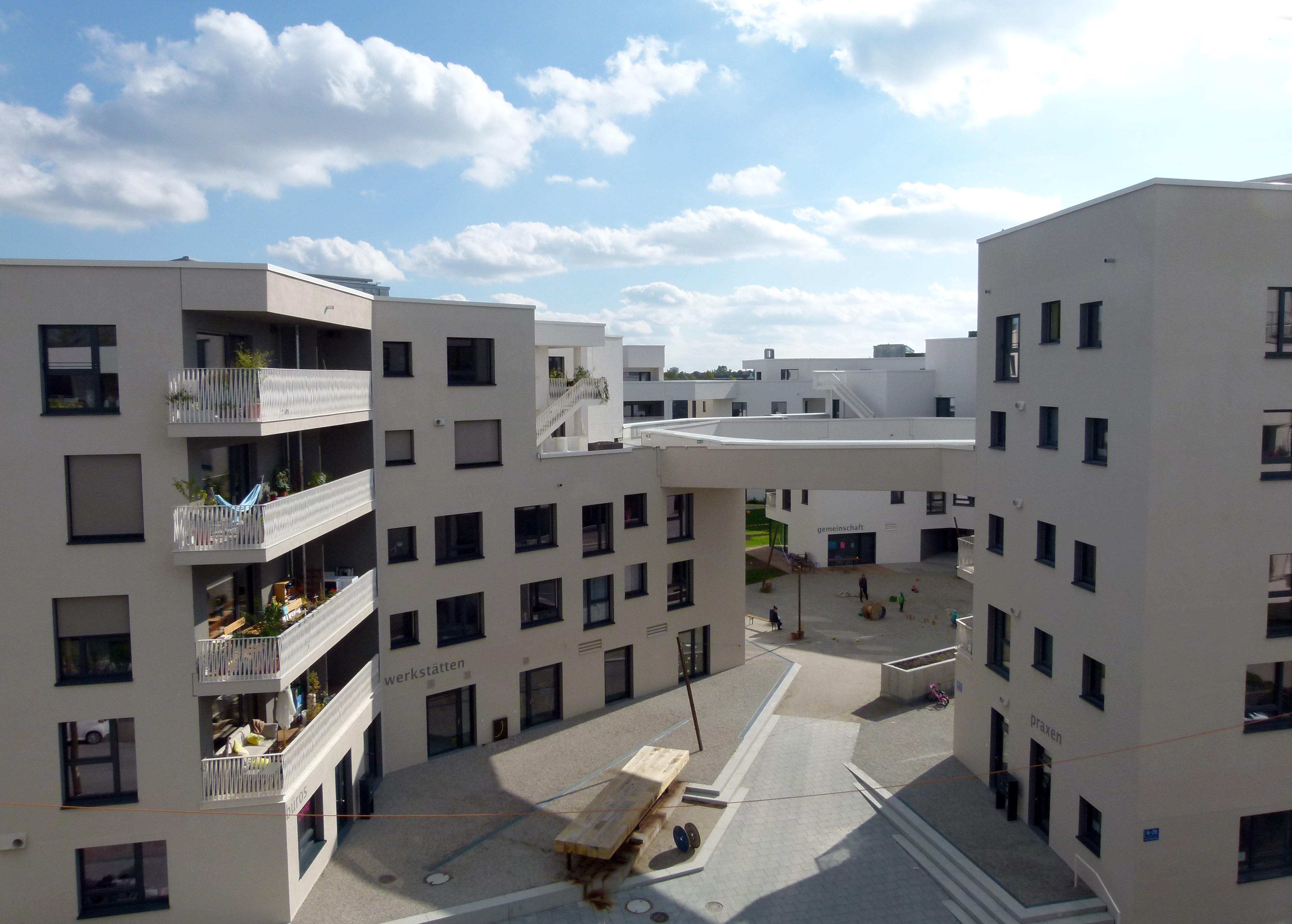 WagnisART, in the former barrack´s area of Domagkpark, is a recently completed housing project in Munich by the cooperative Wagnis eG, formed in the year 2000.
With this project, concluded in 2015, Wagnis eG completed a residential complex that provides 138 apartments, consisting of both subsidized and freely financed facilities. The apartments are spread over five separate buildings, which are all connected through several bridges and combine housing, living and working areas. In a community that offers a variety of different experiences, the complex's active contribution to the emerging district serves as a pioneer project for future urban development.
The professionals in charge of WagnisART were the architects of Bogevischs Buero Architekten & Stadtplaner and SHAG Schindler Hable Architekten, who, in cooperation with the landscape architects Bauchplan and Auböck + Kárász, received for this cooperative housing project the "Deutsche Städtbaupreis 2016", a highly coveted architectural award in Germany.
An important feature in the early stages of the WagnisART project was the cooperation between the architects and the future residents of the complex. This participation allowed the inhabitants to more closely identify with the structure and its community. Various building elements further promote this cooperative idea. Next to the public square, the bridges between the five different buildings provide a second, semi-public area between the houses. It serves as a social center for the people who live in WagnisART. The roof terraces form another important part of the extensive communal open space. Furthermore, two of the five buildings provide roof gardens for the inhabitants.
Another award for community commitment
The Domagkpark used to be a large artist colony before it became an urban development project. The name WagnisART is a reminder of the area's former use and reflects the immediate proximity to the 100 artists located in the nearby DomagkAteliers. In addition, the name also represents the project's future-oriented nature: it intends to create a collaborative urban existence in a creative and active neighborhood where the well-being of its inhabitants is paramount.
For this, in May 2017 the new quarter Domagkpark also received recognition: it was awarded the ULI Germany Award for Excellence, with which the Urban Lands Institute honors the best fully developed projects in the country, in all they achieve beyond architecture and design.
•
Text by: Claudia Neeser, from Guiding Architects Munich.
First image: "WagnisART complex is the most recently awarded cooperative housing project in Munich. Copyright: Claudia Neeser".
https://www.goethe.de/en/kul/arc/20894807.html
http://urbalize.tumblr.com/post/151465418164/try-a-bit-of-wagnis-the-housing-project-of-the
http://www.detail.de/artikel/dorf-in-der-grossstadt-wohnungsbau-wagnisart-in-muenchen-29111/
http://www.wagnis.org/wagnis/wohnprojekte/wagnisART.html
https://www.bogevisch.de/projekte/projektdetailseiten/367-genossenschaftliche-wohnanlage-wagnisart.html