Madrid, one of the most exciting Capitals of Europe! Surprising urban spaces and a variety of heterogeneous architectural highlights make a visit to the Spanish Capital a unique and exciting experience.
Madrid's urban structure is the result of a particular history: The development from its Arabic roots, through the period as the capital of the Spanish Empire, to the nowadays thriving political and economical centre of the Iberian Peninsula. The architecture tours organized by Madrides show you through the complex urban structure, take you to the most interesting buildings and spaces, and open the doors to the buildings. Madrides also offers thematic visits, like "Museum Architecture", "Landscape Architecture," "Modern Architecture", "Residential Architecture, etc. Let us know your personal tour suggestion, we make it a success!
Tours available in German, English, French and Spanish
[ssba]
1 GRAN VÍA AND CAPITOL BUILDING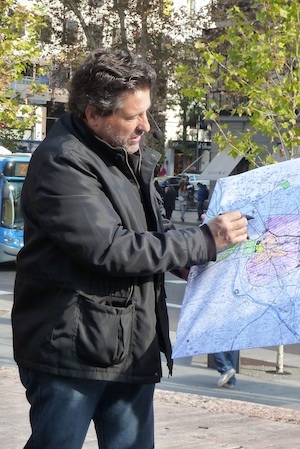 Werner Durrer
Werner Durrer, born in Zürich, lives and works since 1993 in Madrid. After graduation in 1988 at the ETH-Zürich he obtained in 1996 the homologation to the Spanish degree of "Arquitecto Superior". Since 1994 he has his own office of Architecture in Madrid and is a member of the COAM, nº 11720. CV WERNER DURRER, PORTFOLIO NOSOARQUITECTURA Werner Durrer has been guiding for over 15 years many professionals and non-professional groups form the field of architecture, urban design and construction. In 2007 he founded MADRIDES.
Image credits
Image 2: GRAN VÍA AND CAPITOL BUILDING