Madrid, one of the most exciting Capitals of Europe! Surprising urban spaces and a variety of heterogeneous architectural highlights make a visit to the Spanish Capital a unique and exciting experience.
Madrid's urban structure is the result of a particular history: The development from its Arabic roots, through the period as the capital of the Spanish Empire, to the nowadays thriving political and economical centre of the Iberian Peninsula. The architecture tours organized by Madrides show you through the complex urban structure, take you to the most interesting buildings and spaces, and open the doors to the buildings. Madrides also offers thematic visits, like "Museum Architecture", "Landscape Architecture," "Modern Architecture", "Residential Architecture, etc. Let us know your personal tour suggestion, we make it a success!
Tours available in German, English, French and Spanish
1 GRAN VÍA AND CAPITOL BUILDING







Happy Clients
We were a group of nine people and Werner gave us a historical, architectural and cultural tour and introduction of Madrid. He undoubtedly has a great passion for and knowledge of the city. Our four hour bike ride tour seemed far too short. Thank you for a wonderfully informative and inspirational experience. Highly recommended!
Linda E - Oslo
Werner was a pleasure to work with from our initial enquiry through to our return, he suggested itineraries, recommended an excellent restaurant for lunch and made all the bookings for this along with coaches for our tour and also our airport transfers. He suggested using an audio system so we could all hear him clearly which worked very well for us. Werner's knowledge of Madrid is excellent and he spoke about this well with passion and humor making him very interesting to listen to.
Judy A - Petersfield
Werner did a marvelous job in planning and executing the tours, even accommodating a participant with reduced mobility.
Espen E - Norway
Werner is extremely knowledgeable and an engaging guide. Highly recommend!
Ben T - Melbourne
"We had a wonderful time in Madrid with a guide that exceeded all expectations."
Sofie H. - Alesund
"Werner really knows how to entertain a group of in our case 50 people in total, for three full days! We made a program together with Werner to make sure it would also be interesting for developers, contractors, asset managers, investors, council officials. And to make sure we had a well deserved drink at a great rooftop bar at the end of a day full of Madrilenian impressions. He really made sure that everything ran smoothly, which it did, a 100%. Thank you, Werner, for your hospitality and this full insight into Madrid."
Marie-Jeanne - Arnhem
"I am a Historic Preservation Architect from the USA but I also enjoy seeing what new modern architecture explorations may be occurring in a city I am visiting. Werner sent me a detailed itinerary ahead of our tour that balanced beautifully my different interests. On the day of the tour, he delivered an amazing day! He also gave me great insight into the development of Madrid the history, through the influence of its' geographical location, social, political and cultural forces."
Ione S. - San Diego
"Our trip was fantastic and for a big part, that was due to the contribution of Werner Durrer.  He has a real 'teaching' talent  and gave us insight into the development of Madrid as a world city, through its' history, the influence of its' geographical location, social, political and cultural decisions, and with enough detail to understand it all and see the buildings in their context. It was very interesting for us architects/project managers."
Hanne V. - Antwerp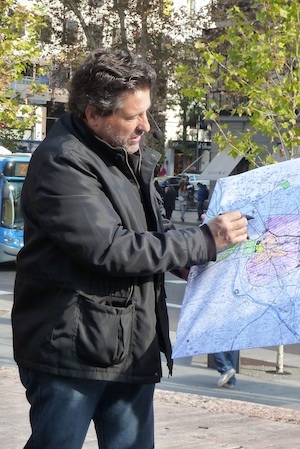 Werner Durrer
Werner Durrer, born in Zürich, lives and works since 1993 in Madrid. After graduation in 1988 at the ETH-Zürich he obtained in 1996 the homologation to the Spanish degree of "Arquitecto Superior". Since 1994 he has his own office of Architecture in Madrid and is a member of the COAM, nº 11720. CV WERNER DURRER, PORTFOLIO NOSOARQUITECTURA Werner Durrer has been guiding for over 15 years many professionals and non-professional groups form the field of architecture, urban design and construction. In 2007 he founded MADRIDES.
Image credits
Image 2: GRAN VÍA AND CAPITOL BUILDING