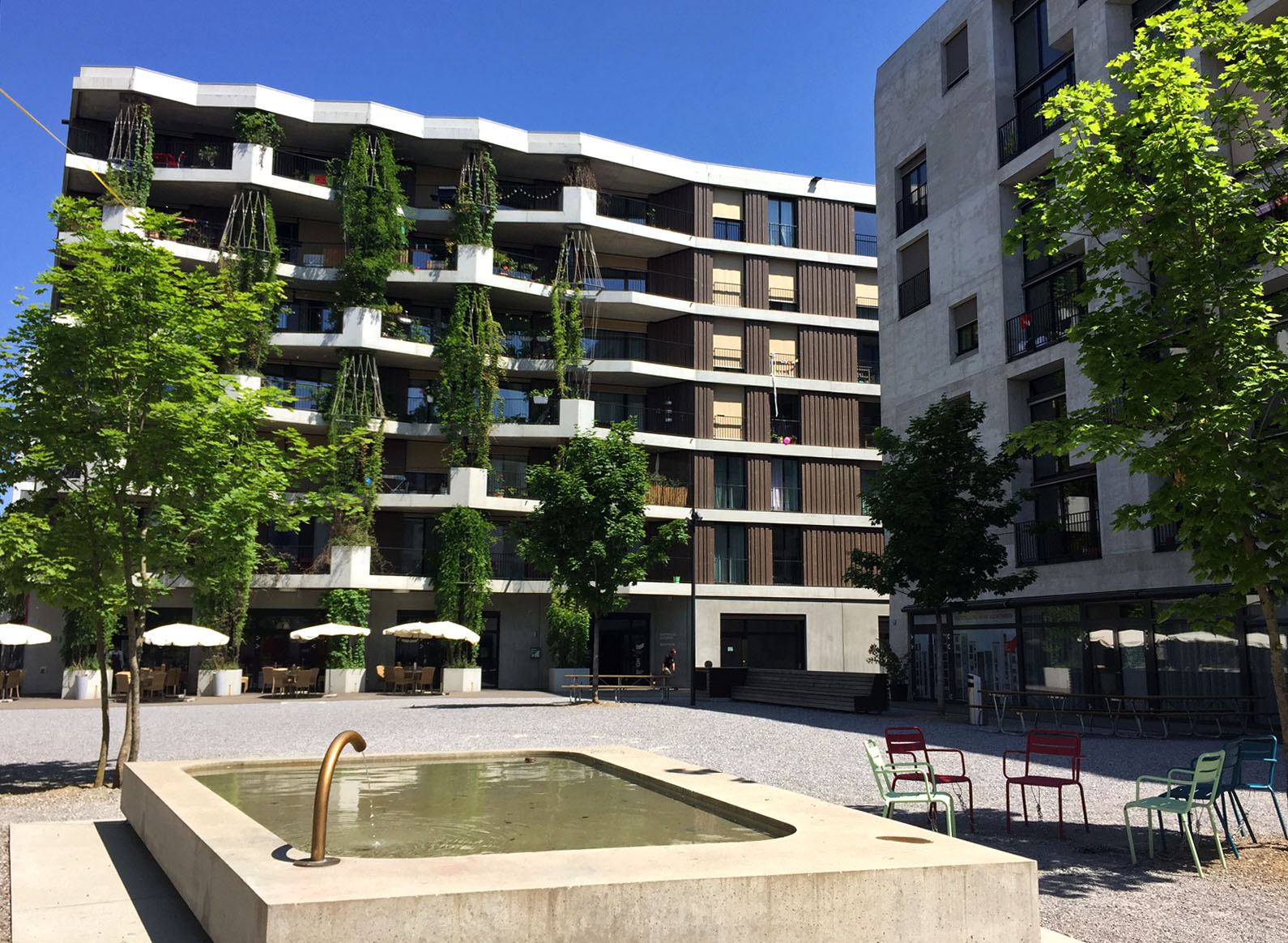 In Zurich, cooperative housing has a long tradition and, due to several new projects, it is often part of our architectural guided tours. Two new cooperatives – "Kalkbreite" and "Mehr als Wohnen" – come up with new ideas on how we can live in the future, dealing with the key question: "Together or Alone?"
Kalkbreite, centrally located, integrates a tram-depot and is built on top of a three-story high hall. A public courtyard on the 3rd floor serves as entrance-level and playground. The unique block is like a small city with public services such as childcare, a medical-center, a cinema, bars, restaurants, shops and offices. Those are situated in the first three levels, while the apartments surround the courtyard up to five stories.
But what makes "Kalkbreite" special?
Beside family-apartments, it offers a large mix of huge apartments with up to nine rooms, so-called clusters – each of them with its own bath, a shared kitchen and living room. All cluster-apartments together can use a common living and dining room for 50 people with their own cook. Regarding sustainability, this way of living saves energy and space. Each person has a maximum of 35 square-meters. Moreover, for guests there is an in-house bed & breakfast. This mix makes Kalkbreite so attractive and lively.
How about "Mehr als Wohnen"?
Founded in 2007 as a birthday present for "100 years of housing cooperatives in Zurich", the residential-complex "Hunziker-Areal" was built in the district Zurich-Leutschenbach. The 13 townhouses offer space to live for 1200 people in 370 apartments, those being clusters or satellite-studios for patchwork-families, young singles or older people. It works very well for singles who like to share an apartment and still have the possibility to be independent.
Hunziker is more a district itself than a residential-complex, offering childcare, a bakery, shops, restaurants, bed & breakfast and different kind of working-studios.
Both developments respect the aim of the 2000-watt society and do not allow inhabitants to have a car. However, public transportation works very well in Zurich, bicycles are becoming more and more popular and car sharing is available on site.
The huge variety of different experimental apartments in Kalkbreite and Hunziker makes people aware of living together while having enough privacy!
•
Text: Barbara Petri, from ARCHiTOUR, Guiding Architects' member in Zurich and Basel.
First image: Two of the 13 buildings of the Hunziker Area facing the center square designed by the landscape architecture firm Müller Illien, which was part of the competition project. Copyright: Barbara Petri.
https://www.flex-kalkbreite.net/en/home
https://www.pension-kalkbreite.net/en/rooms
http://www.wohnforum.arch.ethz.ch/en/mehr-als-wohnen-genossenschaftlich-planen-ein-modellfall-aus-zuerich
https://www.bshf.org/world-habitat-awards/winners-and-finalists/more-than-housing/
http://www.design-museum.de/en/exhibitions/detailpages/together-the-new-architecture-of-the-collective.html