Glamorous icon of the '70s by Niemeyer reopens after 22 years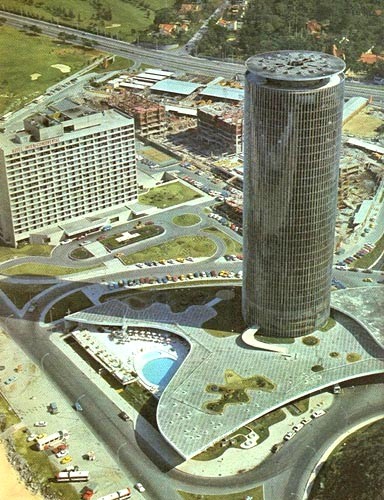 The glamorous Hotel Nacional, located in Rio de Janeiro's wealthy neighborhood of São Conrado, reopens after an extensive renovation. After 22 years, the iconic building which was designed by Oscar Niemeyer and attracted people like Liza Minelli, Chet Baker, James Brown and Tom Jobim has been resurrected by the Spanish operator group Meliá.
The renovation had to follow Niemeyer's concept. The São Paulo based architect Debora Aguiar maintained the curvilinear language and the open views. Even the hall ceiling lamp of papier mâché by Pedro Corrêa de Araújo was carefully restored.
The cylindrical tower with 34 stories offers 413 rooms and suites with views to the sea, the forest or Rocinha, one of the biggest "favelas" (slums) in South America. Among the facilities are two restaurants, three bars, an event center and a helicopter landing point.
The lobby has 3,000 square meters with no pillars and only curved lines. Still, the structure holds a 2,000 square meters roof garden, designed by pioneer landscape architect Roberto Burle Marx, creator of Flamengo Park and the Copacabana boardwalk pavement.
•
First image: An aerial view over Hotel Nacional, Oscar Niemeyer's iconic building, now reopened thanks to Meliá Group and Debora Aguiar. Copyright: All rights reserved.
http://www.deboraaguiar.com.br
https://www.melia.com/de/hotels/brasilien/rio-de-janeiro/gran-melia-nacional-rio-de-janeiro/index.html
https://www.guiding-architects.net/architecture-tour/rio-de-janeiro/