Publishing house of the Frankfurter Allgemeine Zeitung with office building 'Tipi'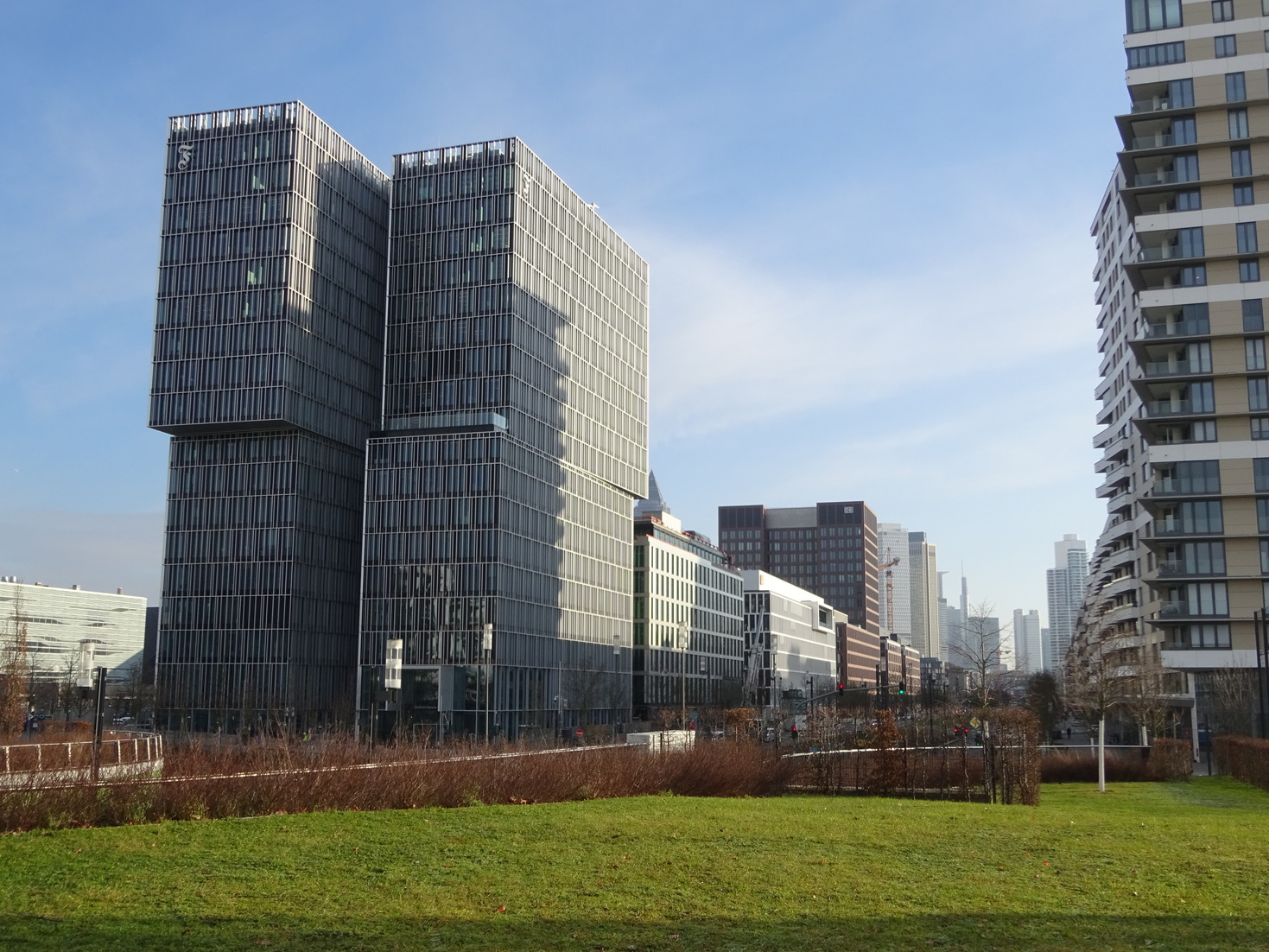 The New York Times or Springer in Germany have built new publishing houses that have become the figurative address of the newspapers.
The Frankfurter Allgemeine Zeitung (FAZ) has now acquired an attractive publishing building (Tipi). While the Bild Zeitung had the spectacular master Rem Koolhaas in Berlin produce something coarse, the FAZ opted for a fine thread. The narrow, iridescent lines, the slender double towers with an incision, were the discreetly elegant tailor-made suit that the architect Eike Becker tailored for the administration building. It fits with the conservative image of the newspaper. The data: 29,000 m² GFA, 66 m height, 18 floors, moving in December 2022.
The towers do not offer superlatives, but the quality architecture is for sure an urban upgrading of the debatable Frankfurt Europaviertel.
Criticized on the architecture pages of the FAZ, it has elements of the neoliberalism courted on the business pages: little regulations, much freedom for investors. Among other aspects, there is a lack of an overarching design concept and quality specifications for the ground floor zones.
Green spirit, whether idealism or serious business, now characterizes the called 'Tipi' annex building to the FAZ towers, the Timber Pioneer office building, which was also designed by Eike Becker Architects.
The investor UBM of this first wood-hybrid office building in Frankfurt wants to convince with environmental awareness as well as with real estate value and puts the project under the title 'green, smart and more' – sustainable (green), intelligent (smart) buildings with added value (and more). The aims to become the largest developer of wood hybrid buildings.
The office building offers 14,000 m² of usable space and has 8 floors. The shell was CO² neutral, built by the Wiehag company. Prefabrication made it possible to do a faster construction, with less waste and trucks travels. In use, cooling effects and an improvement in the microclimate are created by the green roof and the green inner courtyard. The wood helps to balance temperature and humidity. These advantages, as well as the wooden atmosphere of the building, are seen as an argument in the competitive market to attract employees for the local companies, who will move in from May 2023. Who can still say no, when they are greeted at their workplace with the smell of the forest and hear the woodpecker in the elevator?
https://www.eikebeckerarchitekten.com/projekte/europa-allee,-bf-43.html
https://www.eikebeckerarchitekten.com/projekte/timber-pioneer.html
https://www.ubm-development.com/de/projekte/timber-pioneer/
https://www.ubm-development.com/de/projekte/faz-tower/
https://www.wiehag.com/de/referenzen/timber-pioneer-frankfurt/