MAAT, in Lisbon's waterfront: many cityscapes in a single public space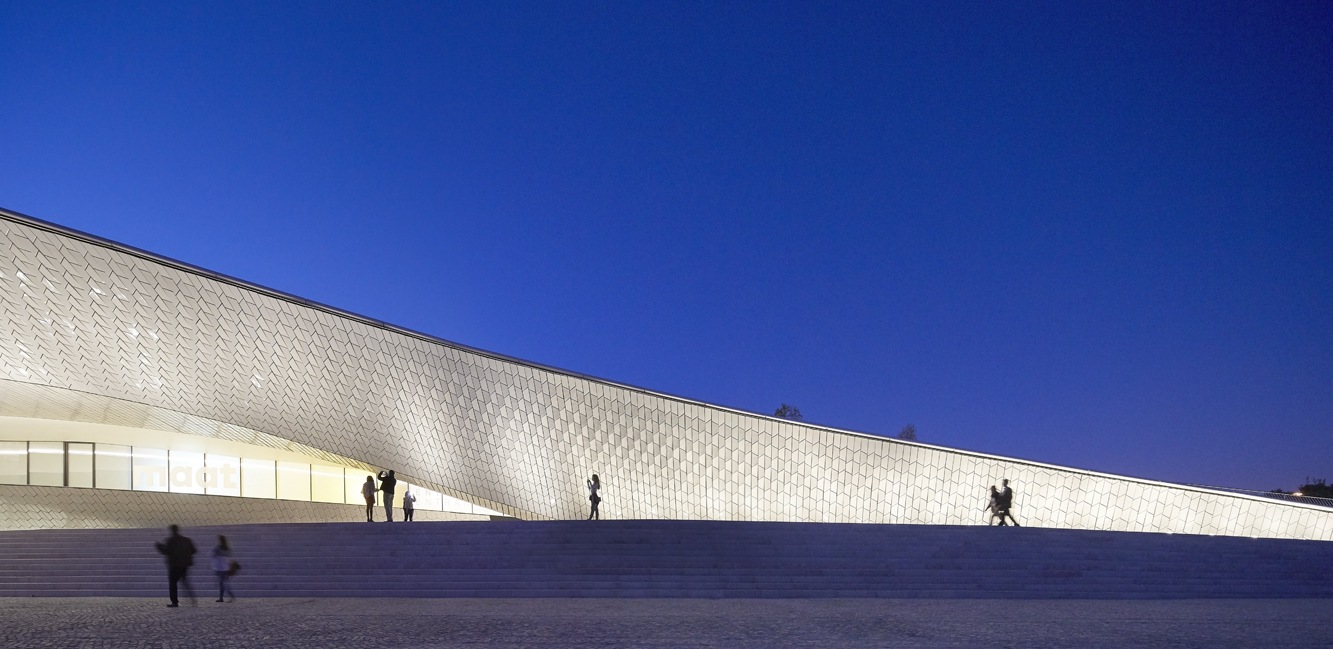 The newest architectural attraction in Lisbon and main destination for architectural tours in the Portuguese capital is MAAT – Art, Architecture and Technology Museum – and results from the expansion of the Electricity Museum, designed by Amanda Levete's British office A_LA and promoted by the EDP Foundation. Sitting on the banks of the Tagus river, next to the former power station, this new museum compliments the Centro Cultural de Belém, designed by Vittorio Gregotti in the 90s, and the current building of Museu dos Coches, which was conceived by the Pritzker winner Paulo Mendes da Rocha and opened in 2015 to accommodate the collection of antique stagecoaches previously exhibited in another space. Together, these news buildings serve to accentuate the cultural and leisure hub of the Tagus waterfront.
MAAT, with an expressive architectonic language, rises from the ground with zoomorphic forms and affords us new overviews of Lisbon and the Tagus River. The roof is designed as an outdoor room with 7,000 m2, and linked to the ground by soft slopes that transform it into a large square.
The outer layer, which is comprised of almost 15,000 three-dimensional glazed tiles, was conceived in reference to Portugal's rich tradition of crafts and ceramics, and creates a complex surface that gives mutable readings of water, light and shadow. The interior spaces encompass four new galleries. The main gallery occupies 1,200 m2, is oval-shaped, and is surrounded by a large pavement, that merges circulation and exhibition areas, thus allowing different approaches to the contents.
3,8 hectares of public space for Lisbon
MAAT first opened to the public in October 2016, but only partially. Access to all its areas was available just in March 2017, which means that only recently this museum was complete and ready to accomplish its aim of bringing contemporary art, architecture and technology closer together, all as distinct fields of cultural practice.
Even so, there's still more to expect from the building, that Amanda Levete's enriched with by the collaboration of Portuguese architects Aires Mateus Associados. The exteriors, designed by landscape architect Vladimir Djurovic, will open in mid-2017. In addition, the pedestrian bridge that will link MAAT to Belém, over a busy road, is expected to be concluded in the beginning of 2018.
This description may be enough to show why this building and its park bring Lisbon closer to the Tagus and open up 3,8 hectares of public space previously wasted. But only a tour on this new spot will make it possible to fully appreciate how MAAT changed this part of Lisbon and enriched the daily life of its inhabitants.
•
Author: Maria Melo, from Cultour, Guiding Architects member in Oporto and Lisbon.
First image: A nocturnal perspective on part of the 15.000 glazed tiles that cover the MAAT building. Copyright: Hufton Crow.
https://www.dezeen.com/2016/10/06/amanda-levete-ala-undulating-maat-contemporary-art-museum-maat-opens-belem-lisbon-portugal/
https://www.theguardian.com/artanddesign/2016/oct/06/maat-lisbon-museum-amanda-levete-architect
http://www.designboom.com/architecture/amanda-levete-maat-museum-interview-max-arrocet-lisbon-architecture-triennale-10-06-2016/
http://www.telegraph.co.uk/luxury/property-and-architecture/amanda-levetes-maat-museum-opens-in-lisbon/