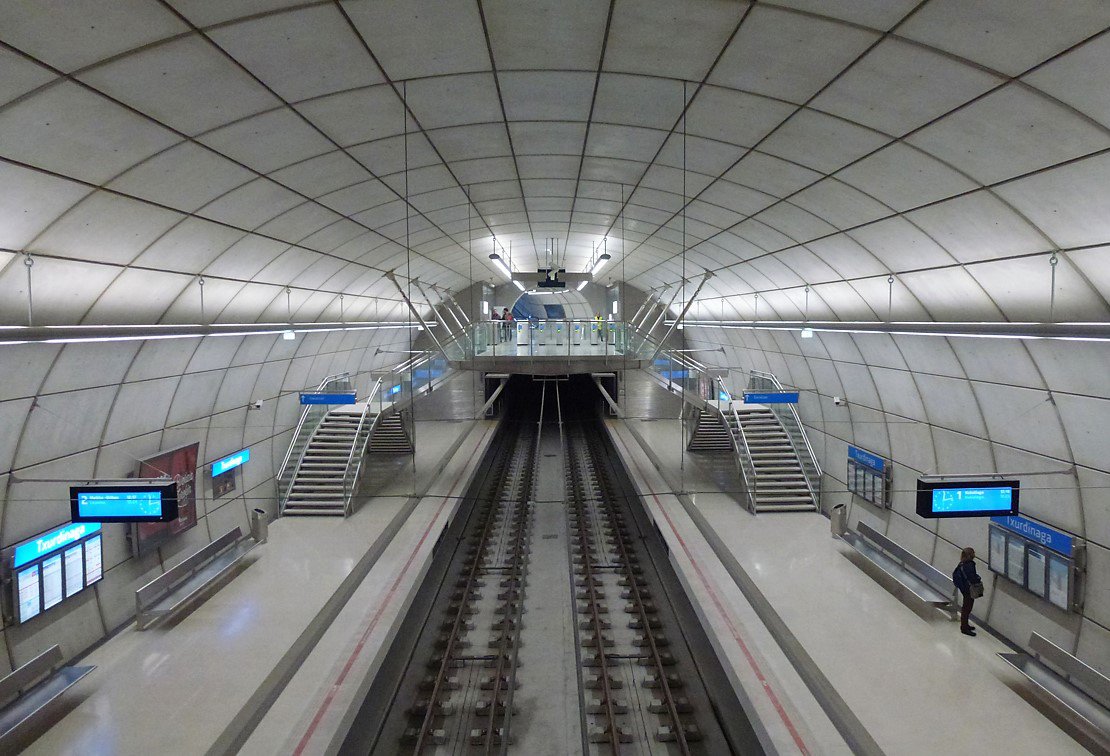 Twenty-three years after it first opened its doors, Metro Bilbao has been extended with a third line – trustfully continuing with the style and design of architect Norman Foster.
Since the official inauguration on April 8th, 2017, the passengers have already been using the new line: seven new stations along a tunnel approximately 6 km long tunnel that reaches 70.000 inhabitants in the northern areas of Bilbao in less than a 10 minutes walking distance.
Metro Bilbao's design
Metro Bilbao originally opened its doors in 1995 with the first part of lines 1 and 2, the newly built stations designed by Norman Foster.
This design has become a reference throughout the world, convincing in its efficiency, clearness and an invaluable, timeless aspect: short and obvious directions and the hanging platforms on top of the rails significantly reducing the built elements. The drilled tunnel – with comfortable proportions – was the model for the interior space. Street access is done via curved glass pavilions that transform into glowing lanterns at night and are known as "Fosteritos" by the locals.
Simple and durable materials, as well as an exemplary handling by the operator, have maintained the stations appearance as it was on the day they were first built, more than 20 years ago.
Now, as for Line 3: this timeless design has been applied nearly unchanged to the newly built stations… giving birth to new "Fosteritos" in many more neighbourhoods.
One special element is the connecting station to the others lines in the old town – and even here Norman Foster's design is applied with the big front gate towards the old town and the Arenal square.
Timeless minimalism
The minimalistic design of Metro Bilbao seems extremely obvious and is easily overlooked at first glance. Therefore, in our guided tours we try to open your eyes and direct your attention towards the quality of the built architecture. During those tours, in fact, we always feel privileged to be able to use such a well-made metro system for getting around.
The investment in good and valuable architecture – even that of "simple" infrastructures – has proved its worth. This strategy has been warmly received by the inhabitants of Bilbao, and everything is pointing towards its continuing success in the future.
And there are still more ambitious plans: in the nearby future, Line 3 will be extended and will link via a tunnel to the neighbouring valley and airport, as an additional final station.
•
Text: Bernd Nitsch, of Guiding Architects Bilbao.
First image: The hanging platforms over the rails helped to reduce the built elements on the stations. Copyright: Bernd Nitsch.
https://www.metrobilbao.eus/en