Athens: Stavros Niarchos Cultural Centre reconnects city and sea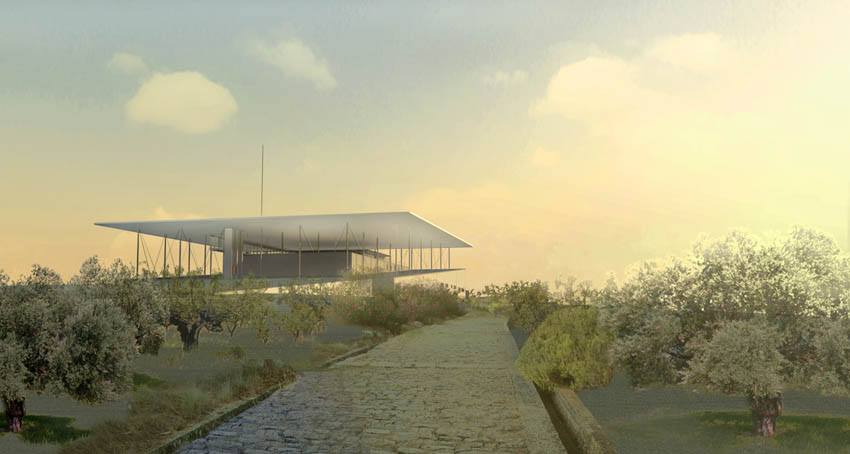 A parking lot left over from the 2004 Olympic Games, once the site of an ancient horse racetrack, will soon house the Stavros Niarchos Foundation Cultural Center. The opening of the complex, designed by Renzo Piano, is scheduled for the beginning of 2016. Once finished, the project will restore the site's lost connection with the city and the sea.
Piano won the international competition for the cultural center in 2008. The construction is entirely financed by the Stavros Niarchos Foundation – established to honor the Greek shipping magnate. Upon completion the control of the center will be transferred to the Greek state.
The project is situated on the coastline, 4,5 km south of Athens' city center. In the 170,000 sm landscaped park an artificial hill is being created. On top of the hill sits an entirely glass-walled pavilion, offering spectacular views towards the sea and the city. The canopy roof of the library reading room will be topped with 10.000 sq m of photovoltaic cells. The major parts of the building will be hidden under the green roof of the hill.
The site's visual and physical connection with water continues in the park with a new canal providing anti-flooding protection for the site. A public space – the Agora – will provide access to the two main facilities. The opera wing will house two auditoria, one with 450 seats dedicated to traditional operas and ballets, the other one, three times as big, to more experimental performances.
Interested visitors can already experience the construction site thanks to a temporary visitors' center.
Stavros Niarchos Foundation: http://www.snfcc.org/