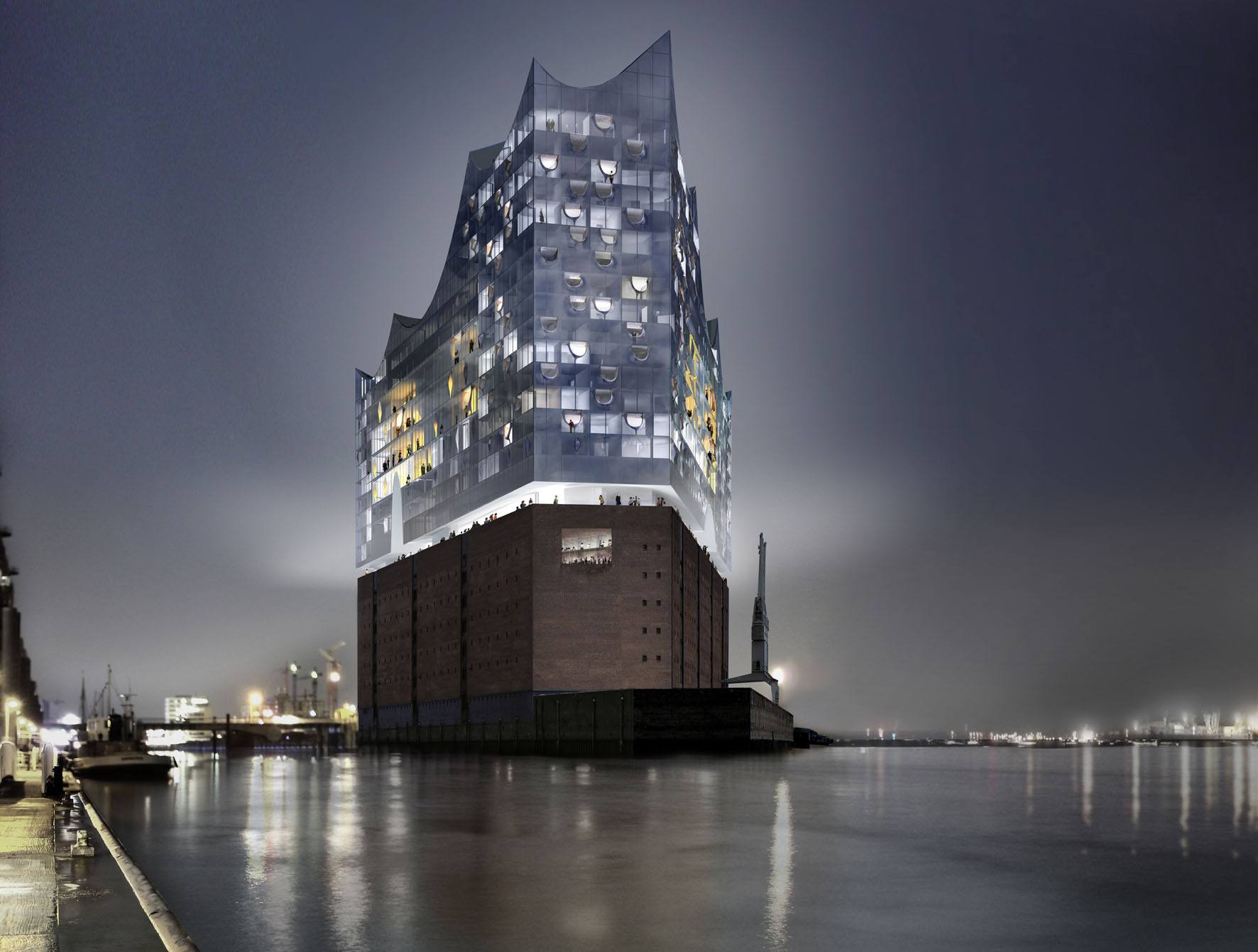 Elbphilharmonie Concert Hall will be a unique landmark for Hamburg. Swiss star architects Herzog & de Meuron are erecting a spectacular concert venue within the walls of mighty Kaispeicher A, a cocoa warehouse built between 1963 and 1966 by architect Werner Kallmorgen.
However, construction of the concert hall was interrupted since 2008 by disputes between the developer and the building contractor. In April 2013 the City of Hamburg finally approved a new organization of the project, which guarantees completion of the whole building by the end of October 2016.
Although the core of the old Kaispeicher A was completely removed, its cubic shape and brick façades remain intact. Thus, a worldwide unique architectonic hybrid is emerging, which will also house a five-star hotel, a conference center and 45 apartments. The former warehouse will be crowned by an undulating, curved and inclining glass structure, blending historic port architecture and contemporary architectural creativity, port tradition and the district's new identity. A public plaza offering fantastic views of the harbor, HafenCity, the River Elbe and the city will take shape at a height of 37 meters on the brick building below the new glass structure.
Two thirds of the gutted warehouse will be used for car parking, but backstage areas and places for musical education will be accommodated here as well. The new glass superstructure, almost 110 meters high, will contain two large auditoriums holding audiences of 2,150 and 550 respectively.
The Elbphilharmonie Concert Hall will become a unique location for performances of classical music, music of the 21st century and sophisticated musical entertainment. The opening is now scheduled for spring 2017.