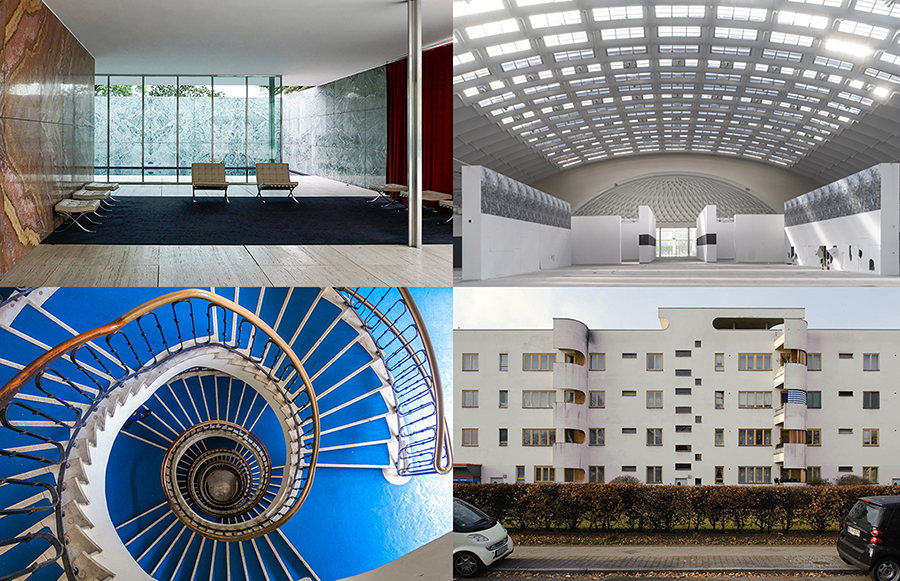 Represented by its members in Barcelona, Berlin, Budapest and Turin, the worldwide network for architectural tours Guiding Architects will host a four-part series of virtual tours on modern architecture from October 13-16, 2020, at 6 p.m. CEST.
During four live-streamed events the speakers – all architects working and researching in their respective destination – will share their extensive knowledge, gained through countless (physical) guided tours. For this purpose, they use current and historical photographs, film & audio clips, 3D simulations, aerial shots, as well as city plans and architectural drawings. By this means, Guiding Architects convey descriptions of architectural phenomena, as well as historical and cultural backgrounds, and put them in the overall architectural context. The virtual tours will take visitors around pioneering projects of the "Bauhaus" movement and modernist architecture in general.
Even though the series of events is designed around a central theme, each tour is an independent, self-contained chapter. The tours will be conducted via Zoom, and participation is free of charge.
All you need to do is REGISTER HERE
You will then receive an email invitation with the meeting URL and password.
Guiding Architects will be happy to welcome you at one of our virtual tours soon.
The series is moderated by Prof. Zeynep Kuban, Archaeologist and Art Historian, professor at ITU Instanbul in History of Architecture, and founder of GA Istanbul, Turkey.
Mies van der Rohe pavilion: disruption, fluidity and multidimensional space
At the time of its construction, the Mies van der Rohe Pavilion marked a radical break with old ideas and traditional concepts. Its open and fluid space allows visitors to approach it in countless ways. In this sense, and by virtue of its creative, modern and innovative spirit, the building that undeniably has become an icon of modern architecture, provides the ideal setting to explore new paths and rethink the boundaries between material and immaterial spaces.
Through a simulation, which you can join from anywhere in the world, we will guide you through the building and the different moments in the history of the legendary edifice.
Date: Tuesday, 13.10.20 – 06:00 PM CEST
Member: GA Barcelona
Lecturer: Lorenzo Kárász
Lorenzo Kárász studied architecture at the Technische Universität Wien and Barcelona School of Architecture UPC-ETSAB. He lives and works in Barcelona since 2009 as director of GA Barcelona, architect, teacher and architectural photographer.
RESERVE VIRTUAL TOUR
Pier Luigi Nervi in Turin
Turin, after Rome, is the city that hosts the largest number of projects by the Roman builder engineer Pier Luigi Nervi. The tour is focused on the discovery of the large, and well-known, ferrocement vault of Torino Esposizioni Exhibition Center built in 1948. The monumental complex represents a milestone in the history of modern engineering and architecture. As in the large majority of his works, Nervi was both the designer and, through its construction company, the builder of the Center. Conceived in the years immediately following World War II as a public exhibition space to host primarily the annual Automobile Show, in connection with the presence in Turin of the internationally renowned FIAT motor company, the two main buildings of the Center are outstanding examples of a pioneering use, at the intersection between inspiration and technique, of new advanced methods in reinforced concrete construction, combining the extended adoption of innovative prefabrication procedures and the re-invention by Nervi of ferrocement, as an extremely malleable building material.
Date: Wednesday, 14.10.20 – 06:00 PM CEST
Member: Comunicarch
Lecturer: Cristiana Chiorino
Cristiana Chiorino is an architect historian and architectural journalist. She co-founded Comunicarch a practice specialising in the promotion of architecture and Tourarch, Turin branch of Guiding architects network.
RESERVE VIRTUAL TOUR
International style in Budapest – Six examples of modern architecture
The 1930s were the heyday of the Hungarian Bauhaus era. Off the beaten tourist track, we will enter unique staircases of magnificent apartment buildings, walk through an experimental residential estate, across an architecturally extraordinary square and get to know Budapest from its most modern side to this day.
Date: Thursday, 15.10.20 – 06:00 PM CEST
Member: GA Budapest
Lecturer: Arne Hübner
Arne studied architecture in Budapest and Berlin and taught at a bilingual secondary school for engineering and architecture until 2019. Since 2012 he has organized and managed architectural walks. The guide book Architekturführer Budapest co-written by him was published in 2012. In 2017 the Collector's Edition was published, a joint project of several members of Guiding Architects.
RESERVE VIRTUAL TOUR
Ringsiedlung Siemensstadt – UNESCO World Heritage
The Siemensstadt "Ringsiedlung" is one of six classical modernist housing estates in Berlin that have been under UNESCO World Heritage protection since 2008. Hans Scharoun and Walter Gropius are the most famous architects of the association "Der Ring", which gave the settlement its name. The most famous buildings are the so-called "Panzerkreuzer" (battleship) by Hans Scharoun and the gallery house by Walter Gropius.
Characteristics of the settlement in the green surroundings are colored staircases, balconies and roof terraces.
Date: Friday, 16.10.20 – 06:00 PM CEST
Member: TICKET B
Lecturer: Thomas Krüger
Thomas Krüger is architect, mediator of building culture, author and curator in Berlin.Since 1991 teaching activities at various universities (TU Berlin, Beuth-Hochschule, RWTH Aachen) in the subjects design, preservation of historical monuments and building history. Founder of "TICKET B – Experience Architecture" and since 2017 external service provider for the Berlin Senate, acting as the coordinating office of the Berlin Design Advisory Board, the Baukollegium.
RESERVE VIRTUAL TOUR