A Venetian engineer to (re) discover: Eugenio Miozzi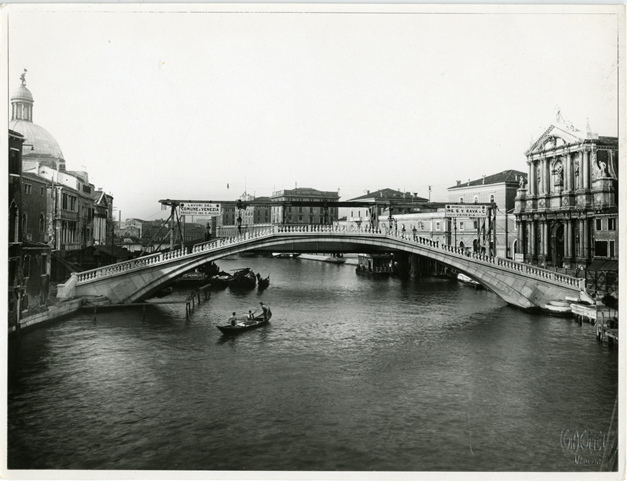 Although he has significantly made his mark on the image and contemporary function of Venice, Eugenio Miozzi is little known, yet Venetians and visitors are confronted daily with his works and in particular cross his bridges.
From 1931 to 1954 Miozzi was chief engineer of the Technical Office of the Municipality of Venice and he definitely was a man of action: his goal was to carry out his projects as quickly as possible and with the quality he imagined. In just ten years, from the moment he took office as chief engineer to the interruption forced by the war, an incredible number of works were designed and built.
The Ponte del Littorio or della Libertà that connects Venice with the mainland was inaugurated on 25th April 1933 after just two years of construction and the first part of the Municipal Garage and the excavation of the Rio Novo were realized with similar times.
The Ponte degli Scalzi in front of the train station was inaugurated on 28th October 1934 after about two and a half years of work. And again, for the Ponte dell'Accademia, the provisional bridge that still exists, inaugurated on January 15th 1933, less than two months of work were needed. At the end of 1937 the Casino at the Lido was inaugurated and the following year the restoration of the opera house La Fenice was completed. An efficiency in the realization of public works that today appears only as a distant mirage.
His ability to "do" was extremely vast: as an engineer he had the expertise and ability to identify the most appropriate and coherent solutions for each project and for the specific task, adopting always "economic" solutions in terms of the use of technologies and materials. From reinforced concrete for the Municipal Garage, to wood for the Accademia Bridge, to the masonry for the Ponte della Libertà and for various bridges over the Rio Novo, up to the stone for the Ponte degli Scalzi.
After the war, his incessant activity continued: he carried out plans for the rehabilitation of the city, projects for the expansion of the Tronchetto, designed a futuristic road across the lagoon and a highway from Venice to Munich. All these projects, documented in the recent book: Eugenio Miozzi. Venice between innovation and tradition 1931-1969 (edited by Clemens F. Kusch and published by DOM-Publishers), as well as his monumental literary work Venezia nei Secoli represent the constant and tireless effort to combine the centuries-old tradition of Venice with the spirit of innovation as a guarantee for the survival of the city.
Text: Clemens F. Kusch, MOVEnice