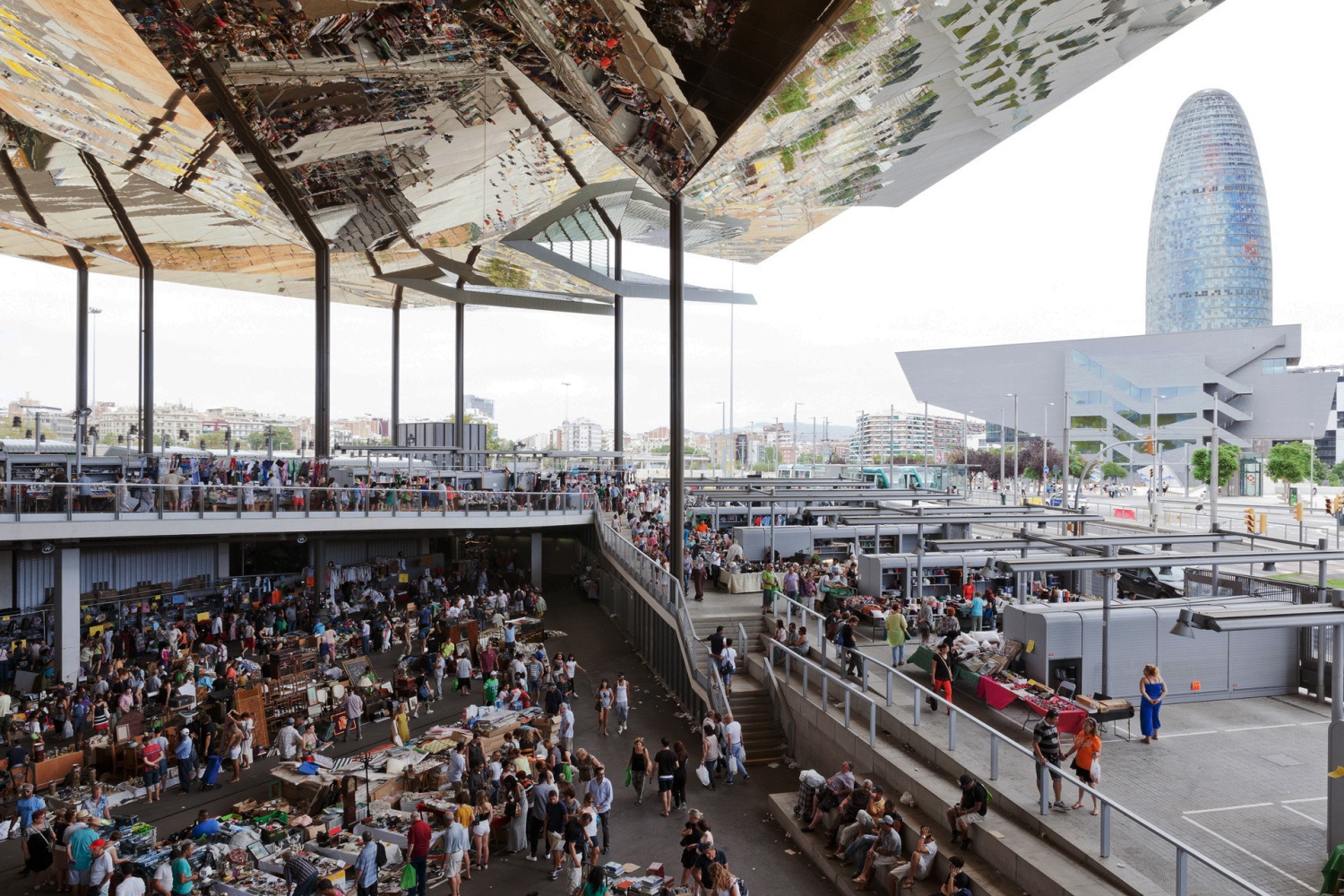 Mercat dels Encants (b720 Fermín Vázquez Arquitectos, 2013), Photo: Daniele Ansidei
At this time, hardly any other place in Barcelona illustrates the changing face of the city as well as Plaça de les Glòries, situated in the vicinity of Jean Nouvel's Torre Agbar and the recently opened Disseny Hub Barcelona, designed by MBM Arquitectes.
Canopia Urbana – Back to Nature
Back in 1859, Ildefons Cerdà launched his extension plan for Barcelona, situating the city centre at the intersection of Barcelona's main avenues: Diagonal, Gran Via and Meridiana. Over a century and a half later, it finally looks like Plaça de les Glories could be on its way to becoming the urban center Cerdà envisioned; Architects Agence Ter and Anna Coello have won the restricted design competition to redesign the strategic square. Their project, "Canòpia Urbana", focuses on sustainability and a return to nature. It is expected to transform the erstwhile transport node into a large park and bustling oasis right in the heart of the city by 2018.
Barcelona's city council website offers extensive documentation on all of the finalists' projects and this short promotional video gives an overview of the winning entry.
Els Encants Nous – From Old To New
As part of the redevelopment of Les Glòries, Barcelona's largest and oldest flea market was relocated to an adjacent site where it has been shining in renewed splendour since last year's reopening. The Barcelona-based architectural practice 'b720' designed the new market as an open platform beneath a highly visible, faceted canopy. Its mirrored ceiling reflects the city when observed from inside and the market when seen from the outside, creating a continuously changing surface. It acts like a giant kaleidoscope that captures and amplifies the essence of the modern, dynamic and cosmopolitan metropolis.
For more information please visit our Destination BARCELONA