Belgrade´s brutalist architecture – the new Guiding Architects theme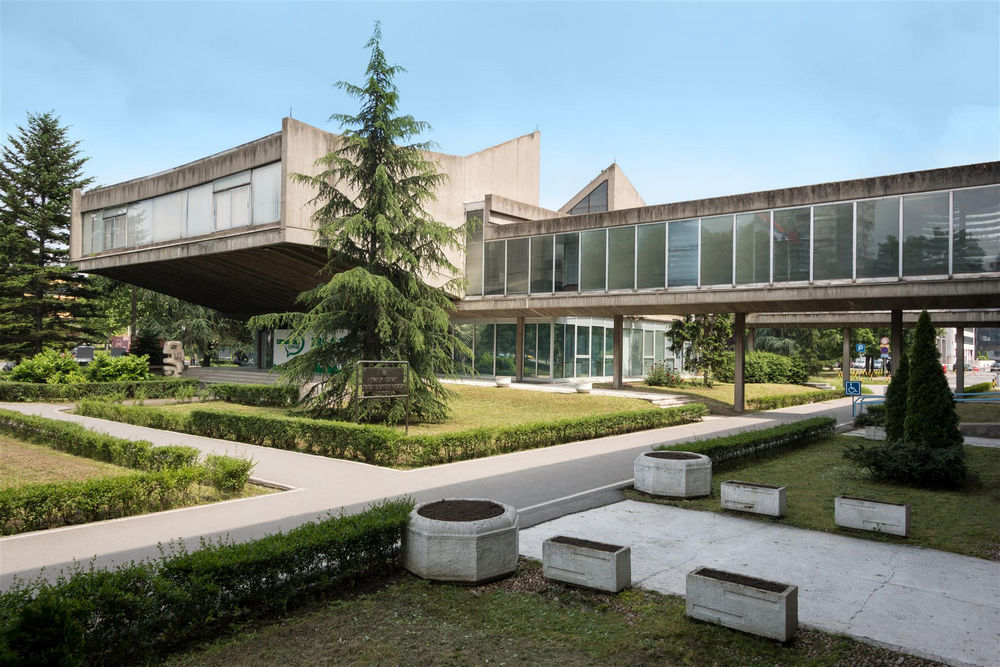 The expressive architecture movement of Brutalism is experiencing new international popularity. But also hard times. Many of the buildings worldwide are decaying or at risk of being demolished. Still, Belgrade has a number of well-preserved iconic gems of Brutalist architecture to show.
Historical and political context
The former socialist state of Yugoslavia was striving towards modernity, assuming a leading role in the Non Aligned Movement, balancing between the East and the West while struggling to rebuild the country and develop its industries after WWII.
Yugoslav architects were facing various challenges: lack of materials and technology, political intrusions, search for new structural possibilities, local identity and forms of expression. These were forces that were directing architecture away from the plain geometry and technological advancement of the International style.
The raw-concrete style
The economical as well as symbolic and cultural aspects of representative and public buildings were reconsidered. An architectural expression was needed that would represent progress and power, and be readily available in material and technology.
Official circles, architects and artist were in favor of exposed concrete for its plasticity and potential to feature bold and innovative forms. Brutalist architecture and art became thus the means of expression of the former state of Yugoslavia, that was propagating openness, progress and freedom for its people.
From the 1960s until the 1980s an amazing amount of public buildings – schools, culture and health centers, office buildings, factories, hotels, but also residential complexes as well as war memorials – were built in brutalist style all across the country.
Belgrade´s brutalist icons
Finally, an architectural tour that is exploring brutalist architecture in Belgrade, the capital of the former state of Yugoslavia, is offered. The new theme is the answer to increasing demands and supports the ongoing international initiatives raising awareness on the quality and the preservation of brutalist architecture.
The tour won't leave architecture lovers cold, due to the distinctive appearance and often symbolic value of the buildings. Brutalist architecture in Belgrade is spread around the city, from the Eastern City Gate, situated at Belgrade´s periphery, to the Genex Towers in New Belgrade, a symbolic gate signaling the approach to the city from the West.
•
Text by Miodrag Ninić and Vesna Vučinić, of 360Beograd, Guiding Architects' member in Belgrade.
First image: The New Belgrade City Hall, by Branislav Jovin and Stojan Maksimović, 1961-75. Copyright: Relja Ivanić.