The "Bellevue di Monaco" – Munich's popular meeting point for the interaction of locals and refugees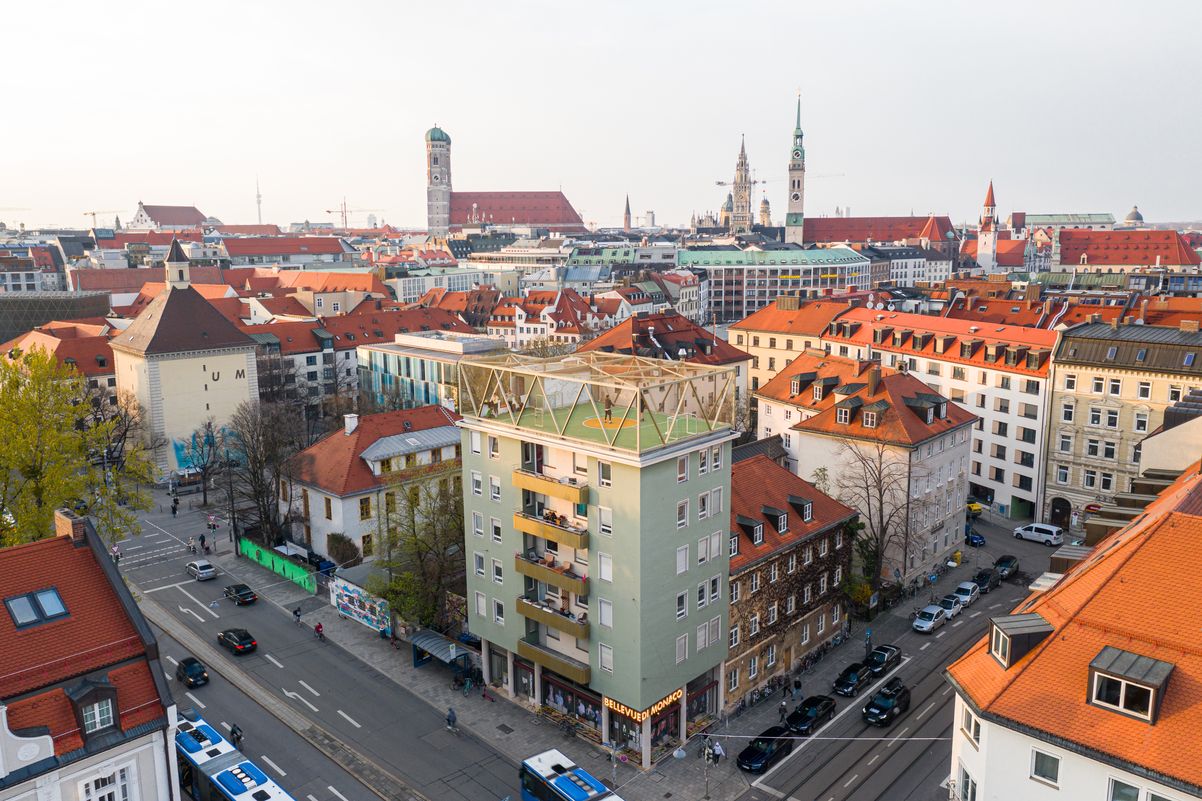 Renovation in place of demolition and a soccer field on the roof: how a social cooperative saved urban homes and converted them into a mixed-use project
Many know the attractive café on the corner of Corneliusstrasse and Müllerstrasse in Munich's Glockenbachviertel, which is part of the Bellevue di Monaco. The building on Müllerstrasse recently received a spectacular soccer field on the roof, which is illuminated at night. The Bellevue di Monaco, as accommodation for young refugees and families, has thus become one attraction richer.
The social cooperative "Bellevue di Monaco" managed to save three urban houses in Müllerstraße 2-6 from demolition and leased them from the city of Munich for the next 40 years. Within the last few years, Hirner & Riehl Architects were renovating the buildings with a limited budget and voluntary work. The people from Bellevue di Monaco were able to encourage local craft firms into allowing young refugees to participate in the renovation process.
They created a home for unsupervised young refugees as well as refugee families who require special care. In addition, a cultural centre was planned for Munich citizens who are interested in an interaction with the refugees. The crowning glory of the renovation work was the opening of the roof sports area on the six-story residential tower a few months ago. Now every evening, Kurt-Landauer- Platz shines from afar above the roofs of Munich's old town.
In 2019, the "Bellevue di Monaco" was awarded the Prize for Cultural Building in the Munich Metropolitan Area. Take part in our upcoming architecture tour through the Munich city centre and find out more about this exciting project!
How can you start an independent life as a refugee and what help is needed?
With the awareness of how difficult it is for refugees to integrate into our society, the Bellevue di Monaco harbours young people and families who have fled conflict and poverty. There are intensive advisory services such as asylum and labour market advice, help with homework, German courses and training.
The open information café on the corner of Müllerstrasse and Corneliusstrasse, which is run jointly with refugees, offers a diverse cultural program. Migrants and Munich citizens alike meet at theatre performances, readings, panel discussions and workshops on the topics of flight, migration and integration.
The soccer field on the roof of the Bellevues, Munich's highest sports field, opened at the end of 2020. It not only offers a trendy meeting place, but is above all a valuable point of interaction between locals and refugees.
Text by: Claudia Neeser, Guiding Architects Munich
LINKS:
https://www.detail.de/artikel/eins-draufgesetzt-bellevue-di-monaco-von-hirner-riehl-architekten/
https://www.musenkuss-muenchen.de/anbieter/bellevue-di-monaco
https://www.facebook.com/BellevuediMonaco/
https://muenchen.mitvergnuegen.com/2017/cafe-bellevue-di-monaco/
Bunt, friedlich, tolerant, offen, engagiert