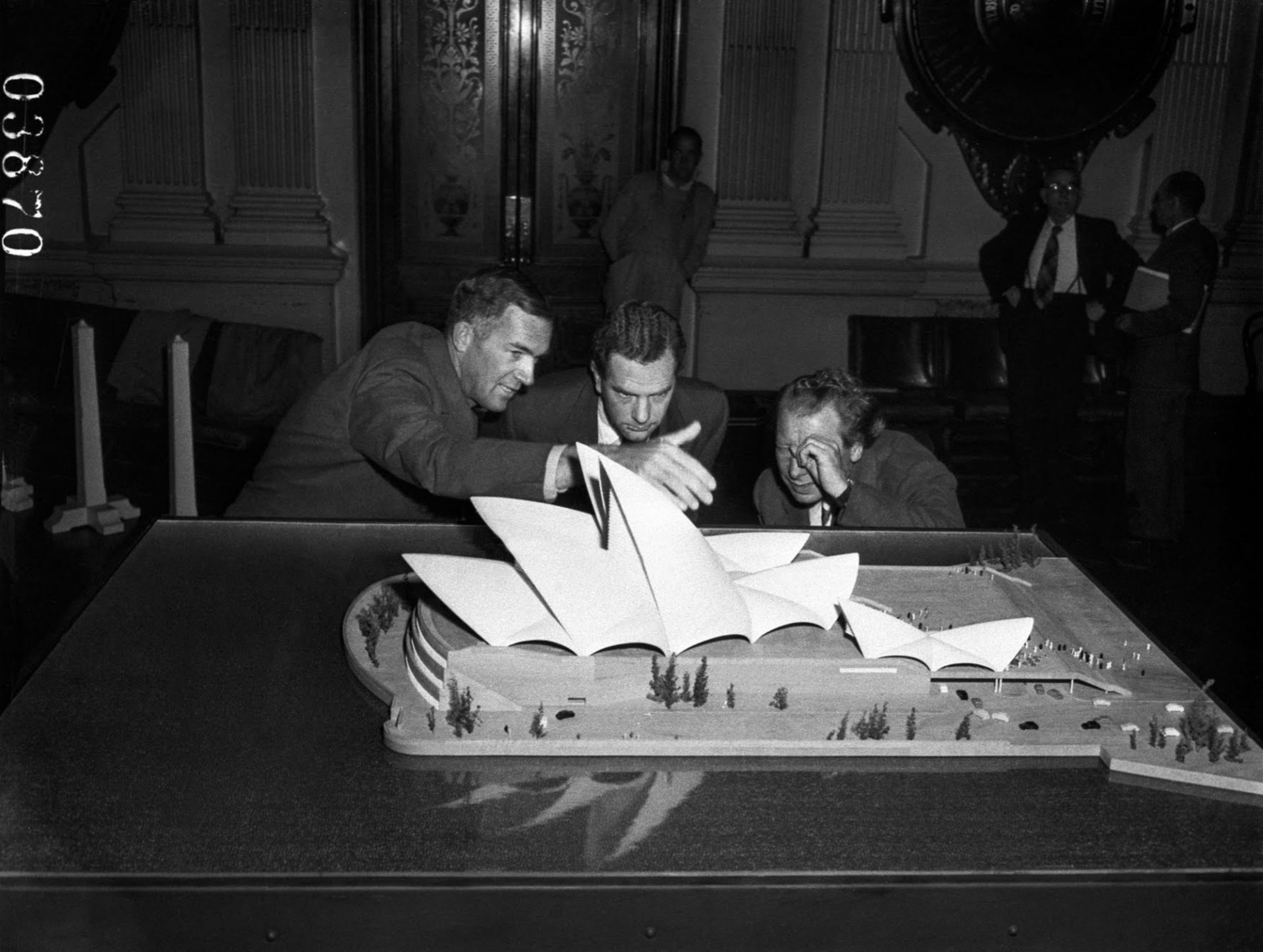 The Sydney Opera House is one of the most recognisable and certainly one of the greatest buildings of the 20th Century. Utzon gave Sydney a 'solution' so elegant it now seems almost self-evident. If this was the answer – then what was the question?
In 1947, English conductor Eugene Goosens arrived in Sydney to head up the Conservatorium of Music and conduct the Sydney Symphony Orchestra. Unimpressed by performing in churches and town halls he began lobbying the government to build an opera and concert hall on the site of the old tram depot on Bennelong Point, Sydney Harbour.
In 1953 Goosens took the idea further, concocting a University of Sydney student project with professor of architecture Harry Ashworth whereby students would design an opera house, concert hall and restaurant for Goosens – who acted as client – on the Bennelong Point site. This project became an international competition in 1956 with Ashworth acting as organiser, competition chair, and juror. Ashworth selected three other jurors; NSW Government Architect Cobden Parkes, English architect Sir Leslie Martin (the only juror with performance-space experience) and Finnish-American judge Eero Saarinen. There were no engineers or politicians on the judging panel. There was no construction budget, no time frame, no requirement to be registered locally or to have worked on a similar building before and it was set up as an anonymous, single-stage competition meaning the winner got the job.
On 15 February 1956, New South Wales Premier John Cahill launched the competition for "a National Opera House at Bennelong Point". The Competition Brief was packaged as a 27-page book with a brown cover and became known as the Brown Book. The prize money was 5,000 Australian pounds and the entry fee was 10 Australian pounds.
The genius of this document is its brevity, with the majority of pages devoted to site photographs. One paragraph reluctantly refers to "Cost" and stresses that "competitors should bear in mind the necessity for sound judgement as to the financial implications" of their design.
"Building requirements" are slipped in – almost apologetically – as "Appendix 5" and suggest a seating capacity and range of uses but little else. The emphasis on men's and ladies' lavatories is, and rightly so, given greater emphasis.
Important people in badly fitting suits may guffaw at how naive and stupid we once were to allow such a travesty to occur yet there remains the foundation an argument that we have the blueprint for the greatest of all architectural competitions. Utzon's shimmering House in Sydney stands as testament to the power of creating the conditions that allow good ideas to thrive.
Text by: Eoghan Lewis is a practicing architect and founder of Eoghan Lewis Architects and the Sydney Architecture Walks.