David Chipperfield Architects restore the Procuratie Vecchie in Venice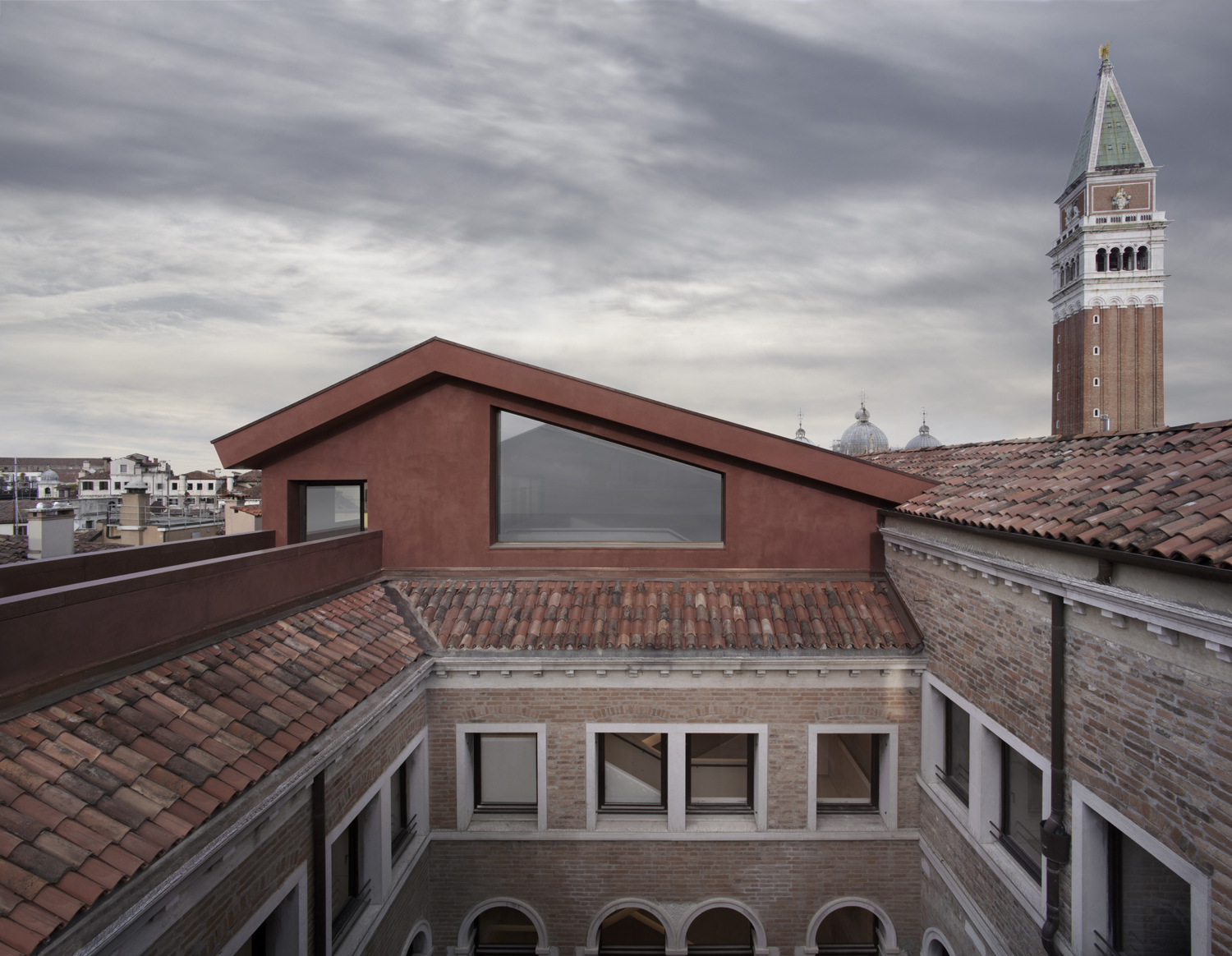 On April 8th with a grand ceremony the northern wing of St. Mark's Square was reopened – or actually, one should say opened for the first time. The Procuratie Vecchie had been built 500 years ago as the official residence of the Procuratori, the Doge's closest collaborators. From 1832 the Generali insurance company settled in. Thus, the building was never open to the public. This has now changed, because The Human Safety Net, a foundation that helps refugees start new working existence, has moved into the upper floor. Its premises, overlooking the colourful life of St. Mark's Square, are open to the public. Up here are exhibition rooms, an auditorium, a café and space to work freely and get together.
New life behind an iconic facade – The Procuratie Vecchie
The iconic façade, with its 50 arches on the ground floor and 100 arches on each of the first and second floors, begun by Bartolomeo Bon and completed by Jacopo Sansovino, defines the north side of St. Mark's Square. Behind this uniformity, the planners were surprised to find a very complex building, consisting of nested structures, small rooms, staircases, atriums and accesses. The original vertical structure had given way to a horizontal one when Generali moved in, necessary to connect the offices.
The architects understood the complexity of the building and the associated need to see their work as a process, without too many preconceived ideas or goals. They wanted to stay close to the building and were guided by three principles: "repairing, reunifying and adapting".
In addition to the building plants – the building is emission-free because it is powered exclusively by electricity from renewable energy sources – the "adapting" mainly concerned the new access, i.e. reaching the top floor. This is done by continuing an existing staircase, whose three ramps resemble a walkable sculpture in their uniform materiality. The staircase also leads to the newly created roof terraces with an unusual view of the Campanile. While the spaces of the two main floors were primarily restored "repairing", the space of the attic was fundamentally changed. A series of large arches allows you to look through the building and understand it in its amazing length even inside. The walls are only lightly whitewashed, so despite "reunifying" they still reveal much of their history.
It has been created a space that wants to be filled with life and meaning, not a place for a quick look and a photo, and therefore so important for a city like Venice if it wants to steer its destiny in new directions.
Text by: Anabel Gelhaar, MOVEnice