Frankfurt am Main: Money makes the world go round, the world go round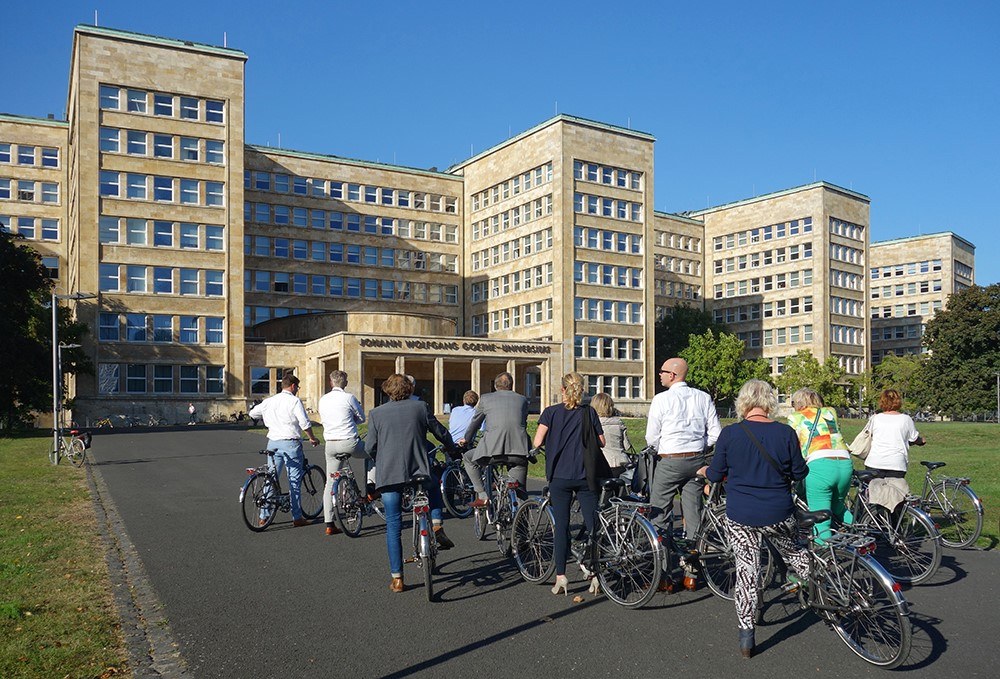 This is what Liza Minnelli and Joel Gray sang in the film musical "Cabaret" in 1972. As a matter of fact, Frankfurt am Main has always renewed and reinvented itself by means of wealthy citizens and companies investing into the city. Testimonies from all architectural periods – alongside some historical buildings, especially those of the reconstruction years after Second World War and subsequent decades of changing architectural styles – tell the corresponding stories: of economic success or failure. One way or the other, these visions became architecture, represented experiments and attempts to create something that did not yet exist or even rebuild what seemed irretrievably lost.
In the past 20 years, the city has rediscovered the urban quality of the river Main, whose north-eastern section has been dominated since 2015 by one of its latest sky-rising landmarks: the twin-tower high-rise of the ECB European Central Bank. The neighborhood around – the rather dingy «Ostend» – is rapidly changing. New quarters are being built with names that recall the industrial history: Schwedler-Caré, Lindley- and Mayfarth-Quarter and, next to the riverside park, the new harbour district.
Although research and teaching are generally fields where economy is not one of the major issues, large investments have been required for moving and expanding the university campus. With the decision to move to the area around the historically loaded «I.G.-Farben-Haus» by Hans Poelzig, the Johann Wolfgang Goethe University is building on its tradition as the first university in Germany to be founded on private donations back in 1914.
Resurrecting the old town
Even politics and city administration are not afraid of excessive investments when it comes to city marketing and the creation of new focal points for both locally and internationally recognized cultural achievements. If the success story of the «Museumsufer» and «Römerberg's» reconstruction projects like the «Ostzeile» account for filling voids and repairing the urban fabric, the current resurrection of the historical old town might encounter similar effects. In the 1980s these projects helped to change the city's poor image. The reconstruction of 15 partially-timbered houses, complemented by 20 additional houses recalling the predecessors of the original sites within a 7,000 square meter large plot, is expected to help revitalize the historically significant core of the city.
At the same time, the contrast between sky-tall high-rise buildings, which have become part of Frankfurt's identity, and the longing for urban qualities at a more human scale is manifesting. But perhaps it is precisely what our cities need today: the interplay of globally operating companies and local players, who don't lose sight of the unmistakable identity of a destination despite profit-driven arguments!
•
Text by "ga frankfurt – guiding architects rheinmain".
First image: I.G. – Farben-Haus by Hans Poelzig, marking the entrance to the new Goethe University campus. Copyright: Andrea Schwappach for "ga frankfurt".
Cabaret: https://www.youtube.com/watch?v=PIAXG_QcQNU
Mainufer: http://www.frankfurt.de/sixcms/detail.php?id=3560
https://www.frankfurt-tourismus.de/Entdecken-und-Erleben/Best-of-Frankfurt2/Sommer-in-Mainhattan-Frankfurt-unter-freiem-Himmel/Beachclubs-Restaurants-und-Cafes-am-Main
EZB: http://www.coop-himmelblau.at/architecture/projects/the-new-premises-of-the-european-central-bank-ecb
http://www.ecb.europa.eu/ecb/premises/pdf/ECB_NEP_Design_DE_2010.pdf?930c51f0b6451c1498c0269b0b48e63c
Schwedler Caré: http://www.mbi-gmbh.com/index.php/schwedler-carre.html
Lindley-Quartier: http://www.faz.net/aktuell/rhein-main/lindley-quartier-aufbruch-in-frankfurt-14052999.html
Mayfarth-Quartier: http://mayfarth-quartier.de/
Hafenpark-Quartier: http://www.bl-gruppe.de/aktuelleprojekte-frankfurtH.html
W. Goethe Universität: https://www.uni-frankfurt.de/38074686/campus_westend
DomRömer Quartier: http://www.domroemer.de/