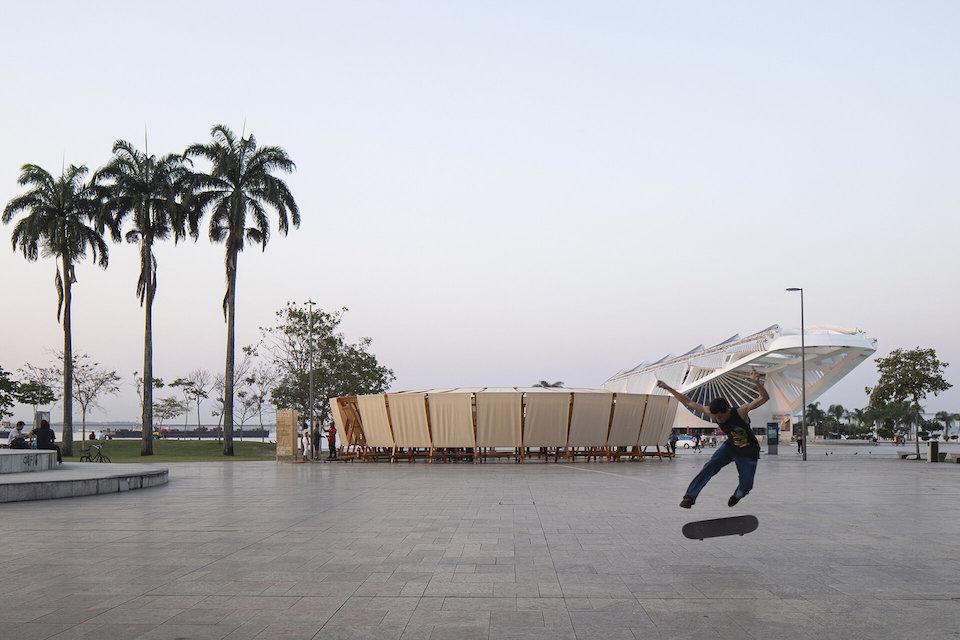 On display at Mauá Square in downtown Rio de Janeiro in September and October 2021, the Future Now Pavilion displayed architectural projects that radically rethink the way we build and revisit clay as a construction material suited for a carbon-neutral future.
Curated by Jason Baumann from Insight Architecture, Future Now was Switzerland's official contribution to UIA 2021 RIO, the 27th World Congress of Architects, held in Rio de Janeiro in 2021. The project was developed in partnership with the architects Diego Baloian (Chile) and Pedro Rivera (Brazil), and the architectural chairs of Gramazio Kohler Research and Studio Boltshauser from the Swiss Federal Institute of Technology ETH Zurich, addressing themes of technology innovation, digital fabrication, the culture and history of pisé (an clay-based construction technique), and sustainable construction with wood.
A pavilion made of locally grown sustainable wood was the showcase for the exhibition Future Now – Revisiting Earthing Architecture. The circular pavilion, designed by the architects Diego Baloian, Sebastián Silva, Matías Baeza, and Juan Pablo Peró, can be disassembled easily and taken to other places.
The circular geometry limits a part of the dynamic and hectic urban environment of downtown Rio de Janeiro, generating an island of calm in the city, and interacting with passers-by by means of a free access ramp and an internal space capable of adapting to the multiple forms of citizen appropriation.
The construction is a frame for two dozen large panels that illustrate two recent works: Kiln Tower by Boltshauser Studio and Robotic Clay Rotunda by Gramazio Kohler Research, as well as presenting a brief history on the use of clay in architecture.
Today, almost 30 percent of residential buildings around the world are made of earth or clay, one of the very first building materials ever used. Almost 100 monuments among the more than 500 in the UNESCO World Heritage List are made of clay, including The Great Wall of China, the clay "skyscrapers" in Shibam, Yemen, and the Alhambra in Granada, Spain.
The Kiln Tower, developed by Boltshauser Studio, is a nine-meter-high tower built with a prefabrication technique in which raw clay was compacted in molds. The Kiln Tower, envisioned as both an exhibition space and a furnace to fire clay bricks, occupies part of the Brickworks Museum in Cham, Switzerland.
The Robotic Clay Rotunda was created by Gramazio Kohler Research for the SE MusicLab in Bern, Switzerland. The cylindrical structure was built using a robotic construction method that uses less material, generates less carbon emissions, and makes it possible to build geometrically complex structures. A mobile robot aggregated 30,000 clay cylinders over the course of 50 days, compressing the so-called "soft bricks" into five-meter-high walls.
Fabio Gramazio: "We must recognize that nothing is eternal, and that the construction environment needs constant maintenance and transformation. This simple fact, requires that we construct on a zero-waste basis, using carbon-neutral materials, in order to reach a radically contemporary architectural expression. It is urgent to write a new chapter about the rich history of constructions in clay, one that can be radically projected into the future. And the Future is Now!"
Text by: Jason Baumann, Insight Architecture