Guiding Architects @Home -This week: Henning Nielsen of Guide-A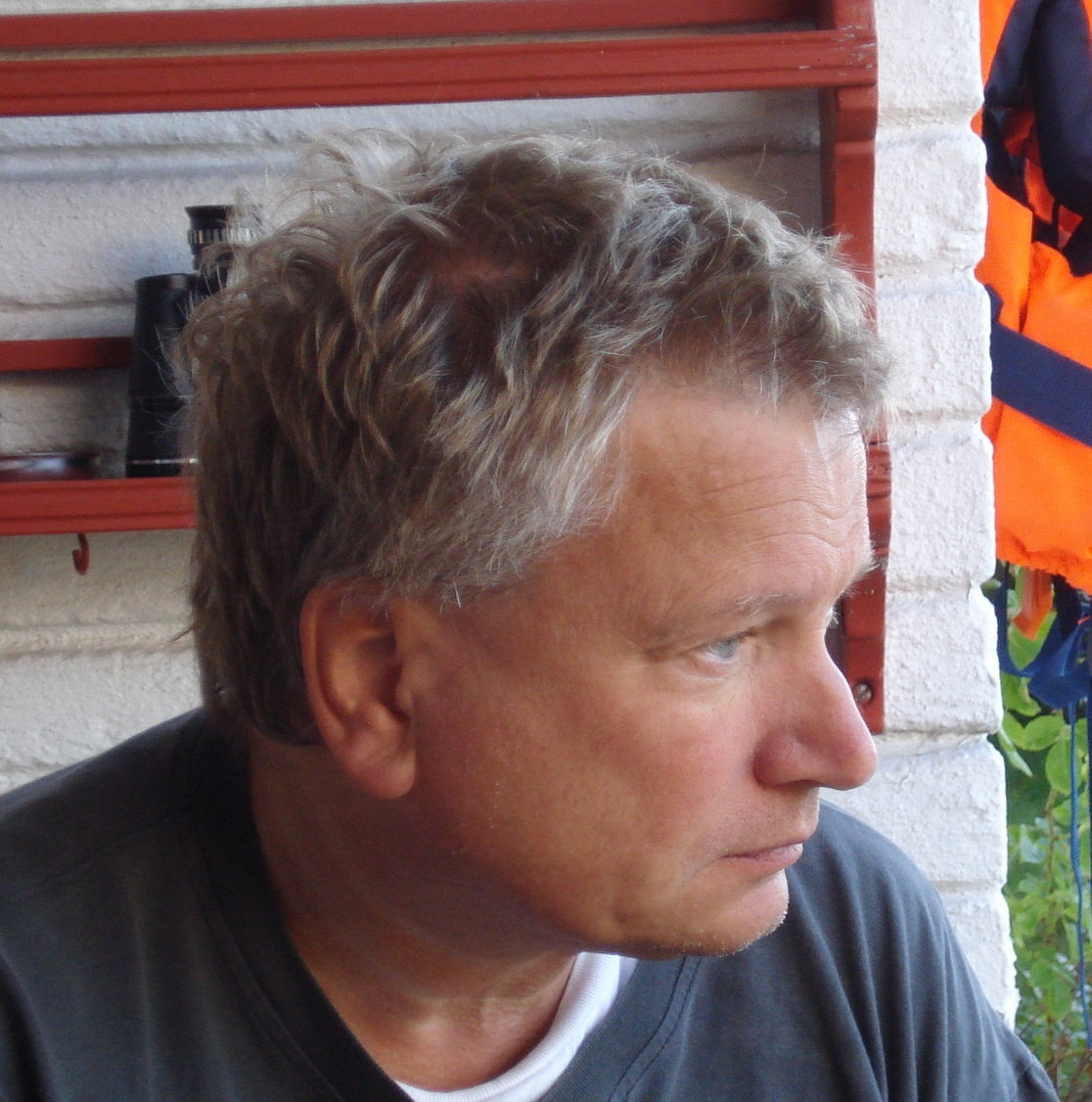 Here comes the ninth edition of our new interview series. This time Henning Nielsen of Guide-A in Oslo shares his tips with us.
1. Empty
Under normal circumstances, most attractive squares and buildings are overrun by locals and tourists, and we have developed the tendency to avoid them in our everyday lives. But now our cities are suddenly empty.
Which architecturally and urbanistically interesting places in your city would you like to explore at the moment?
As the Corona lockdown restrictions are being gradually lifted in Norway, the streets and squares of Oslo return to a more normal situation. One place which is nice to explore, is the new bathing facility in Bispevika bay, close to the opera and the new Munch Museum, designed by landscape architects Grindaker. Recently opended, it has already become popular and makes this waterfront area even more attractive.
2. Virtual
Despite the current confinement, the internet allows us to travel around the globe within seconds and gain unexpected insights with the help of detailed aerial and street views.
Can you name an interesting example of architecture which is determined by the bird's eye view?
The new central library in Oslo, Deichmanske bibliotek, designed by arch. Lund Hagem and Atelier Oslo, has a unique concrete roof structure, like folded Origami paper. The German company Bollinger Grohman were the main consultants for the technical design of the structure. And it is visible from above.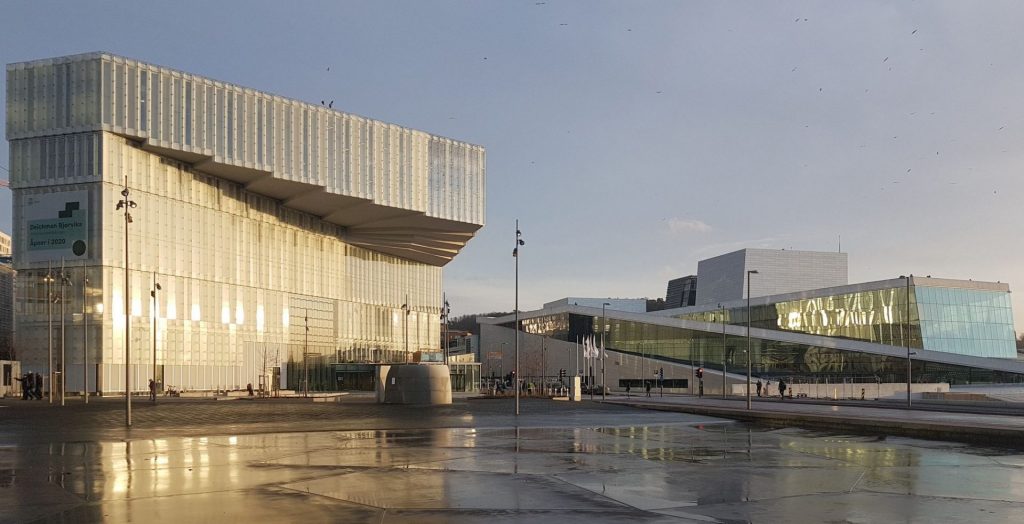 Another nice project, not only from the bird's eye point of view, is the "modern classic" St. Hallvard church from 1964, by arch. Lund & Slaatto, an example of Brutalist architecture. The main feature is an asymmetrical inverted concrete dome, from above it looks like a huge bowl.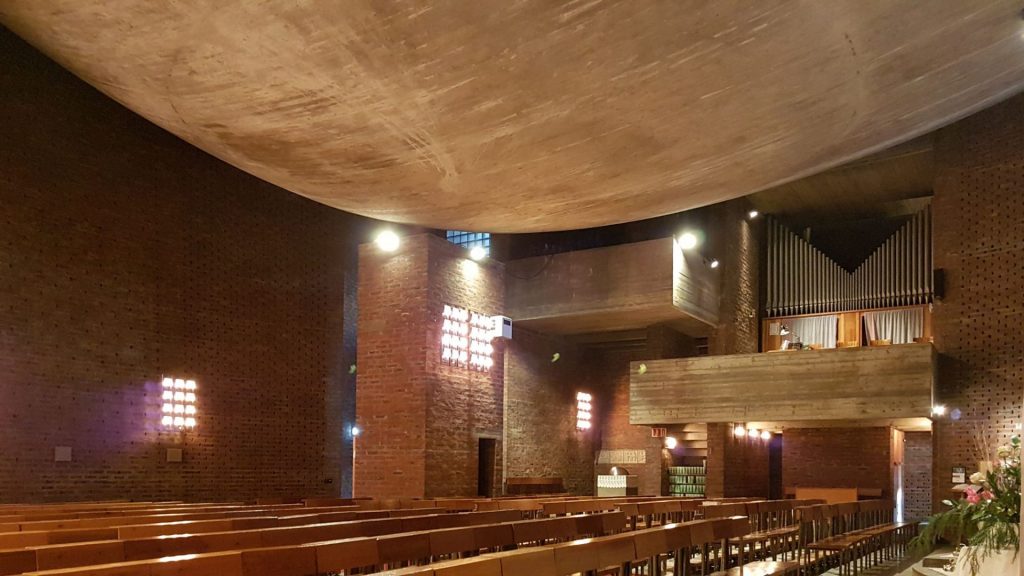 3. Revitalized
In former crises the older generation often had to help the younger ones. Now the opposite is the case.
How does your city deal with old, disused or abandoned buildings and areas?
Oslo is a fast growing city, and there are few abandoned buildings or areas. Not only sites along the waterfront, but also post-war industrial zones are being transformed mainly into new housing projects. The urban web is constantly expanding outwards from the inner city, revitalizing districts that have been anything but trendy.
4. Hidden
As Guiding Architects, we're all longing to revisit hidden places in our cities and share this experience with our guests.
Can you tell us about a project in your city which is not visible at fist sight?
Oslo may be described as a "shy" city, there are "hidden gems" that are not so easy to find by oneself. One project which is located a bit outside the central area of town is Valle Wood, by arch. Lund & Slaatto, an office building using massive timber elements in the whole structure.
5. Valuable
Suddenly we're forced to pause for a while and refrain from everything unnecessary. The environment gets a chance to catch its breath, and we can finally concentrate on important things.
Is there a project in your city with a remarkable or unusual approach to sustainability?
There are many good projects with focus on sustainability in Oslo, and also a large program for such buildings, including some nearby municipalities, called FutureBuilt.
For a single project, I would point out Powerhouse Kjørbo, designed by Snøhetta arch. This is a renovation of an office project from 1980, which now will produce more energy than it consumes during its remaining lifetime.