Istanbul Modern finally re-opened in Galataport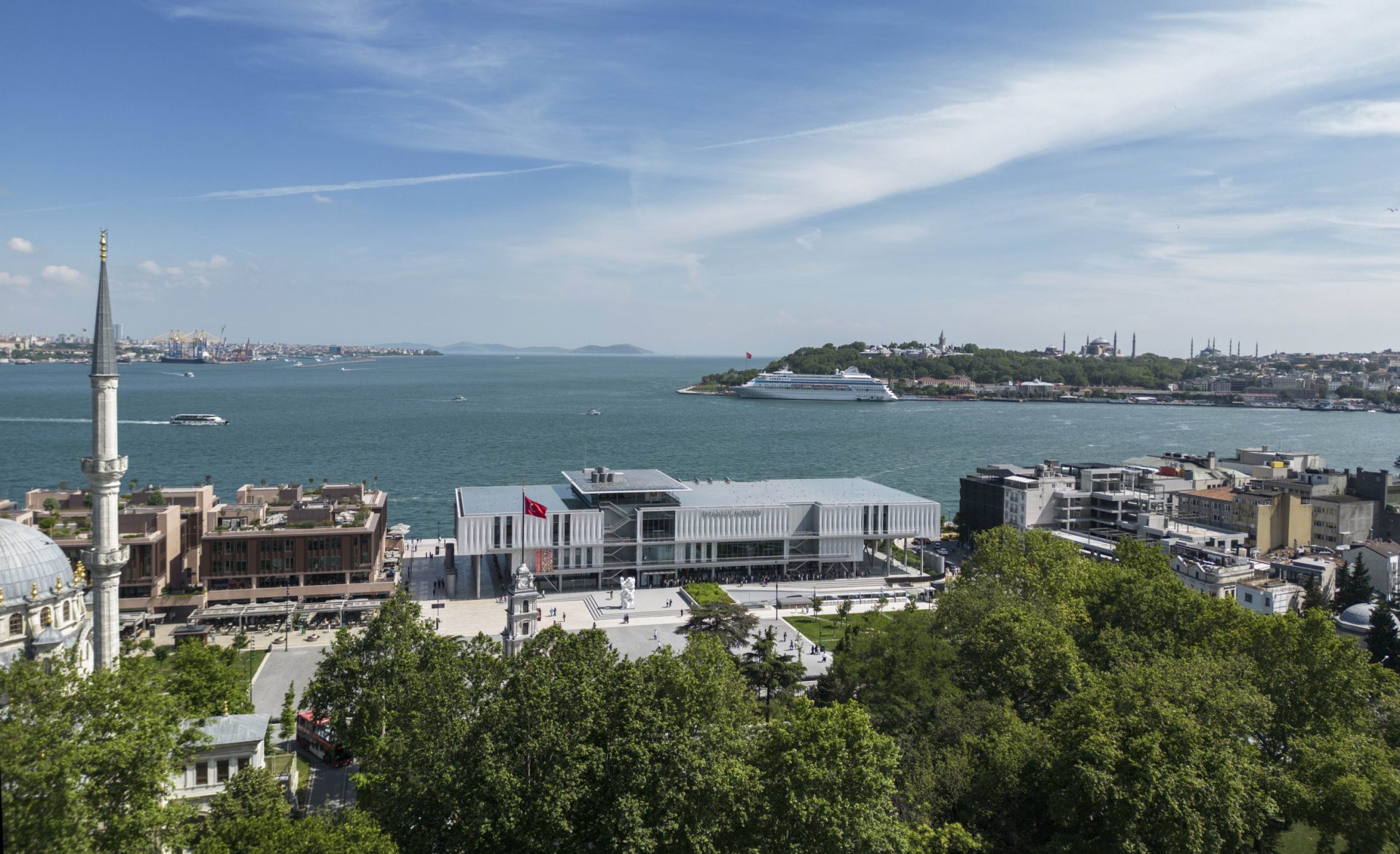 Renzo Piano in Istanbul- a new destination for a tour.
Istanbul lines itself up into the rank of metropolitan cities with modern art museums designed by famous international architects; after the Arter Museum in Istanbul designed by Grimshaw Architects opened in 2019, the Istanbul Modern opened its doors in spring 2023 to the brand newly designed museum by Renzo Piano Building Workshop (RPBW).
Istanbul Modern was first (2004-2016) located in one of the entrepots of the Istanbul harbor. Directly in the harbor and customs zone it had no access to the water and was not in a very sympathetic area. Due to the changes and the long construction process of the vast cruise ship terminal project Galataport, Istanbul Modern had to relocate for some years. The Galataport cruise terminal put the customs zones underground, so the whole harbor zone is accessible for everybody and bears magnificent views of the Bosporus and the Marmara Sea and of course, the historical peninsula of Istanbul, given there are no giant cruise ships berthed.
The Eczacıbaşı Foundation, which owns the museum, planned a great comeback at the same place with a new project by Renzo Piano Building Workshop.
Just outside of Galata, the historical Genoese district, Piano another Genoese designed the museum. As a horizontal volume, parallel to the shore, the museum has a transparent ground-floor level serving functions that are open to the public without an entrance fee.
The library houses an exhibition of the design and building process of the Istanbul Modern. A cafeteria and workshop rooms are also in the entrance zone. The fancy restaurant on the first floor overlooking the sea is accessible from outside the museum and here. The ground floor houses conference areas. The permanent collection and changing exhibitions are located on the upper floors. The connecting stairs are arranged by an installation of Olafur Eliasson.
The terrace on the roof has a shallow reflection pool, meant to be an extension of the Bosporus, at the moment only the seagulls profit from it.
Istanbul Modern has a prominent neighbor, mandatory to visit, the Museum of Painting and Sculpture also re-opened recently in 2021, designed by Emre Arolat Architects. It houses the best collection of early modern Turkish art. Altogether the whole area is attractive for everyone interested in modern art and architecture.
Text by: Zeynep Kuban, GA Istanbul
https://www.istanbulmodern.org/
http://www.rpbw.com/project/istanbul-modern
https://www.archdaily.com/1002751/istanbul-modern-museum-renzo-piano-building-workshop-plus-arup
www.galataport.com/en/arts-and-culture/msgsu-istanbul-museum-of-painting-and-sculpture
https://galataport.com/en/arts-culture/istanbul-modern
https://www.arter.org.tr/home
https://www.archdaily.com/943460/arter-museum-grimshaw