On the Other Side: New Architecture on the Shores of Brooklyn and Queens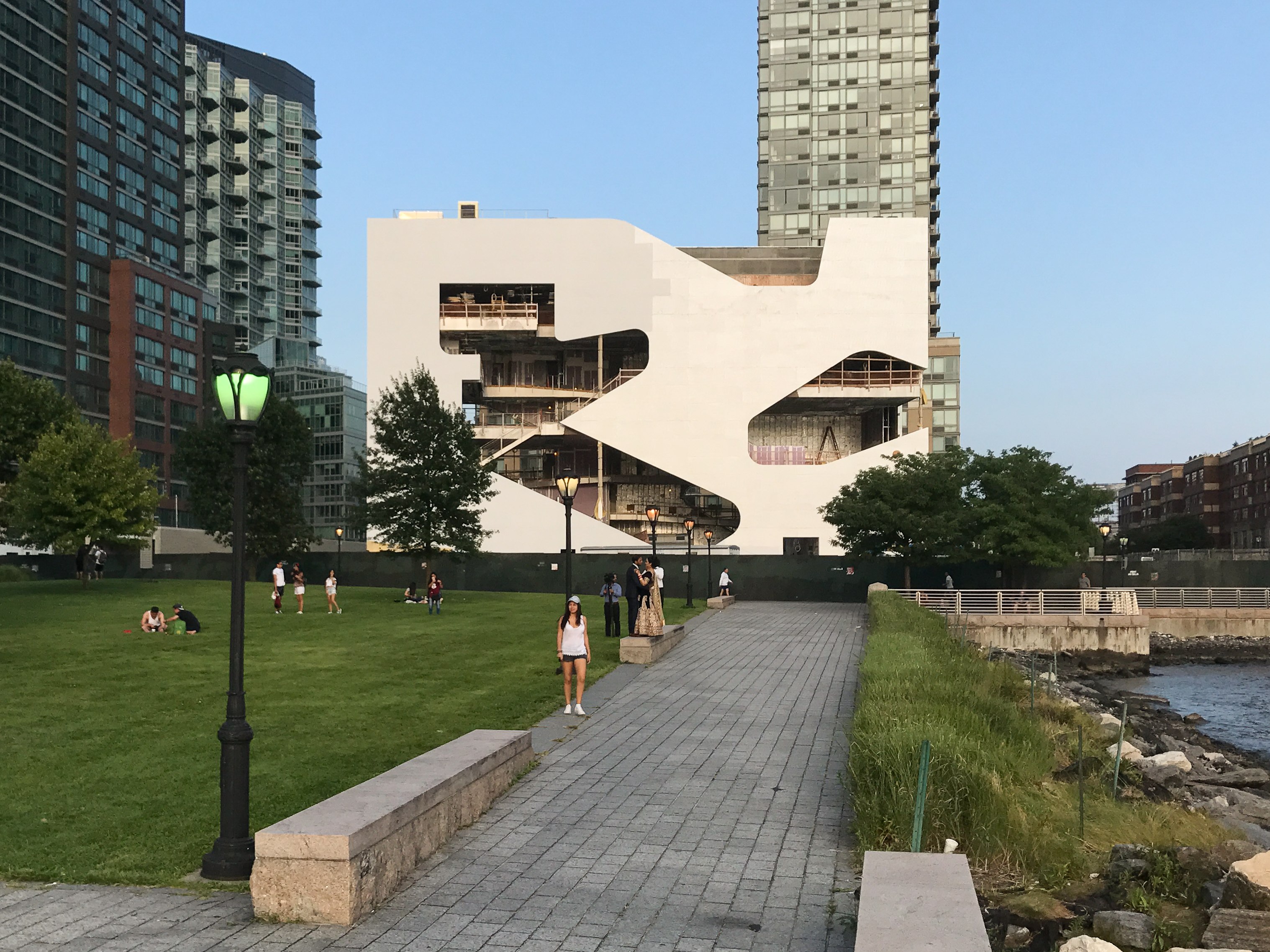 Architectural construction is not only booming in Manhattan but also in New York's outer boroughs. A good way to check out the new architecture on the shores of Brooklyn and Queens, is to take a ferry ride on the East River.
Crossing the East River south of Roosevelt Island, you can catch a glimpse of Louis Kahn's Four Freedoms Park (1974/2012) and the just opened "green" Cornell Tech Campus (2017) with energy-conscious buildings by Morphosis and Weiss/Manfredi and the world's first passive house skyscraper by Handel Architects.
On the shore of Long Island City, Queens, Steven Holl's Hunters Point Community Library is finally taking shape, complementing the first phase of the Hunters Point South development (2013/15) with residential buildings by SHoP Architects, a school by FXCollaborative and a new waterfront park by Weiss/Manfredi & Thomas Balsley.
Further south, behind the remnants of the industrial shorefront of Northern Brooklyn, is a constellation of three recently opened hotels: The Wythe (Morris Adjmi, 2012), the William Vale (Albo Liberis, 2016) and the Williamsburg (Michaelis Boyd, 2017) – each of which offers amazing vistas from their rooftop bars.
The next site of interest is just north of the Williamsburg Bridge, where SHoP and Field Operations are transforming the large area of the former Domino Sugar Refinery into a mixed use project with "donut" buildings and a new waterfront park (2017-2020), while south of the bridge ODA is constructing three of their trademark staggered towers, 416-420 Kent Avenue (2018/19). Shortly after, where the East River bends at the Brooklyn Navy Yard, a new office building called Dock 72 by S9 Architecture is about to be completed (2018) amidst the old dry docks.
Finally, in DUMBO, just before passing under the Manhattan Bridge, stands Alloy's elegant new residential building One John (2017), followed by innovative conversions of old tobacco and coffee warehouses into mixed use and cultural buildings (Empire Stores – Studio V & S9 Architecture, 2017 & St. Ann's Warehouse, Marvel Architects, 2015), all located within the newly designed Brooklyn Bridge Park (Michael van Valkenburgh, 2010-2018).
Take time to make stops on the route to explore the many well-designed coffee shops, restaurants and bars in Brooklyn, and don't miss the opportunity to check out the new design center A/D/O (nARCHITECTS, 2017) and its restaurant Norman (chefs: Fredrik Berselius and Claus Meyer).
•
Text: Bettina Johae from Aplusnyc, Guiding Architects member in New York.
First image: Hunters Point Community Library by Steven Holl in Long Island City/Queens. Copyright: Bettina Johae / aplusnyc.net.
Four Freedoms Park – Louis Kahn (1974/2012)
http://www.fdrfourfreedomspark.org/louis-kahn/
Cornell Tech Campus – Morphosis, Weiss/Manfredi, Handel Architects (2017)
https://tech.cornell.edu/campus
https://www.morphosis.com/architecture/209/
http://www.weissmanfredi.com/project/the-bridge-at-cornell-nyc-tech
http://handelarchitects.com/project/the-house-at-cornell-tech
Hunters Point Community Library – Steven Holl (under construction / 2018)
http://www.stevenholl.com/projects/hunters-point-community-library
Hunter's Point South – SHoP Architects, FXCollaborative, Weiss/Manfredi & Thomas Balsley (2013/15)
http://www.shoparc.com/projects/hunters-point-south/
http://www.weissmanfredi.com/project/hunters-point-south-waterfront-park
http://www.swabalsley.com/projects/parks/hunters-point-community-park/
http://www.fxcollaborative.com/projects/18/hunters-point-campus/
The Wythe – Morris Adjmi Architects (2012)
http://www.ma.com/project/wythe-hotel/
William Vale – Albo Liberis (2016)
http://www.alboliberis.com/wvh/
https://www.thewilliamvale.com/
Williamsburg Hotel – Michaelis Boyd Studio (2017)
http://michaelisboyd.com/project/the-williamsburg-hotel-2
https://www.thewilliamsburghotel.com/
Domino Sugar Refinery – ShoP Architects (2017-2020)
http://www.shoparc.com/projects/domino-sugar-refinery/
416-420 Kent Avenue – ODA (2018/19)
http://www.oda-architecture.com/projects/416-420-kent-avenue
Dock 72 – S9 Architecture (2018)
http://s9architecture.com/dock-72/
One John – Alloy (2017)
http://www.alloyllc.com/work/one-john-street
Empire Stores – Studio V & S9 Architecture (2017)
http://s9architecture.com/empire-stores/
http://www.empirestoresdumbo.com/
St. Ann's Warehouse – Marvel Architects (2015)
http://marvelarchitects.com/project/st-anns-warehouse/
Brooklyn Bridge Park – Michael van Valkenburgh (2010-2018)
http://www.mvvainc.com/project.php?id=3&c=parks
http://www.brooklynbridgeparknyc.org/
A/D/O & Norman – nARCHITECTS (2017)
http://narchitects.com/work/ado/