A UFO in El Cabanyal. A participatory project between Valencia City Council and Santiago Apóstol school, turns an abandoned lot into a school playground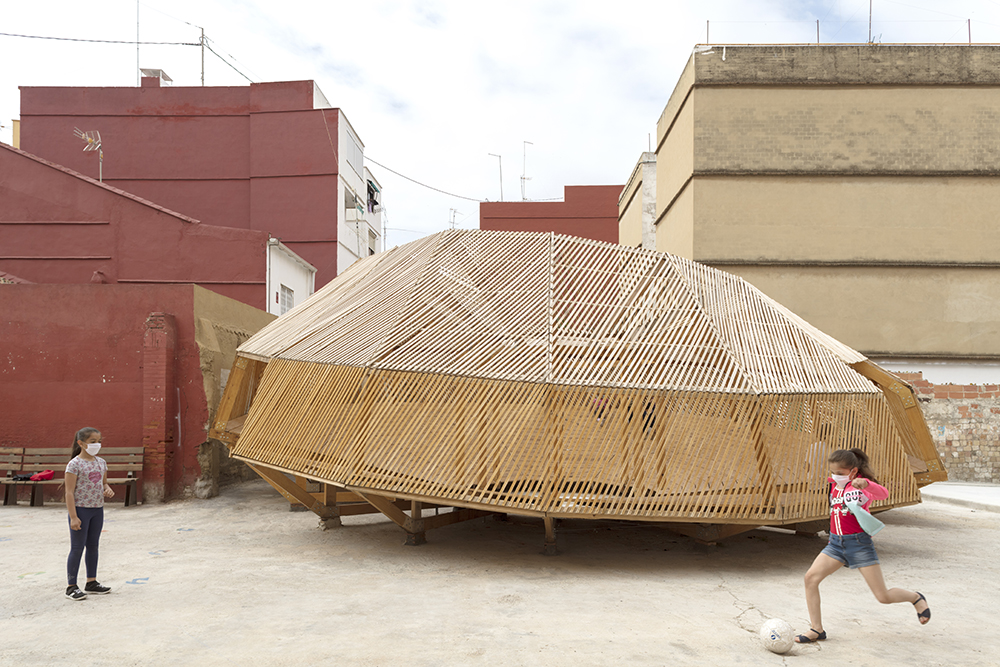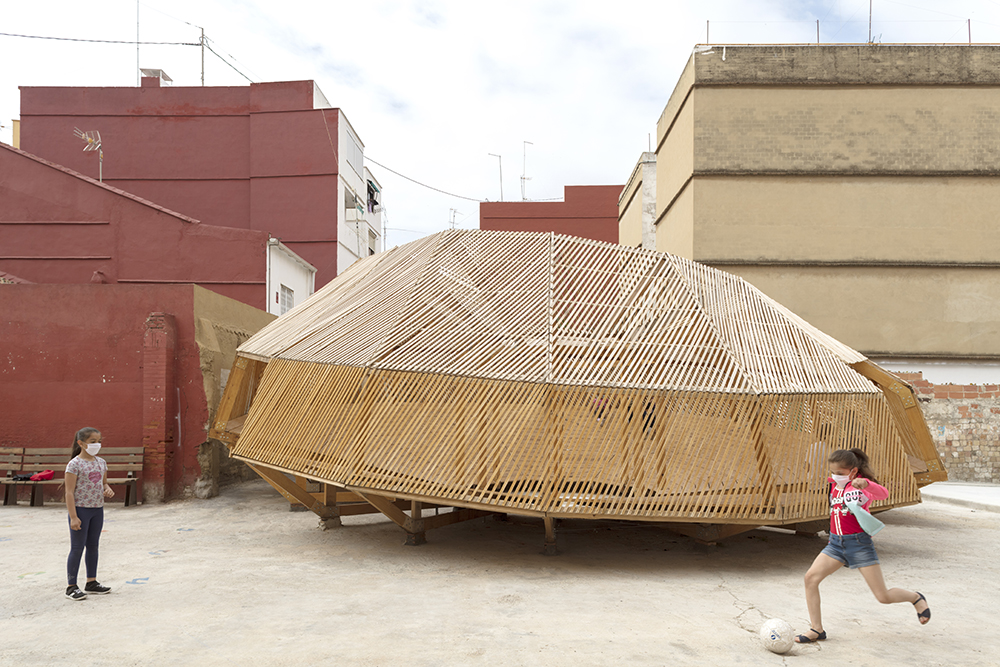 After almost 40 years of dictatorship, the decision-making process in Spain is not known for taking into account the opinions of its citizens. Even today, after almost half a century of democracy, pyramidal power structures remain, structures that in countries with longer democratic trajectories, have long been replaced by participatory processes.
One of these decision making processes has taken place in an exemplary way at Santiago Apóstol, a school with a large number of students from the Roma population, that until now has had no playground. The school is located in El Cabanyal, a historic neighborhood, which over the last few years has been subjected to intense real estate pressure due to its privileged location on the seafront of Valencia. The former conservative local government wanted to demolish 1,650 houses in the neighbouhood in order to open a Hausmannian style avenue, and in the process, left the area with a multitude of empty lots.
One of these unused spaces, donated by Valencia City Council, has become the playground of Santiago Apóstol school, and due to a collaboration between the local government, the school and a multidisciplinary team, saw the students designing their new playground. It was decided to be a learning space, versatile, playful, green, inclusive, open to the neighborhood, environmentally friendly – and, above all, fun!
The architects behind the space, Javier Molinero and Bernat Ivars, along with the students input in all phases of the project, have transformed the site into an open-air classroom, a "Marine" forest, an urban garden and a sports field. The outdoor classroom (christened "the UFO" by the children) functions as a forum, theater, concert hall and rest area, is a circular structure, on which climbing plants will grow, and was built in wood by a local carpenter. People with learning difficulties also participated in its execution, which further enriched the process.
The forest "Marine" owes its name to the buoys provided by Valencia Marina, which are being used as pots for trees, as the project did not include the excavation of the ground. A few patches to grow vegetables and some reclaimed benches complete the installation of this welcoming and active space in the El Cabanyal neighborhood.
Beyond simply being a magnificent example of low-budget design done in record time, Santiago Apóstol's new playground puts participatory micro-urbanism into practice. A small neighborhood project, yet a big step towards how management and design can be developed in our cities.
Text by: Boris Strzelczyk, Guiding Architects Valencia