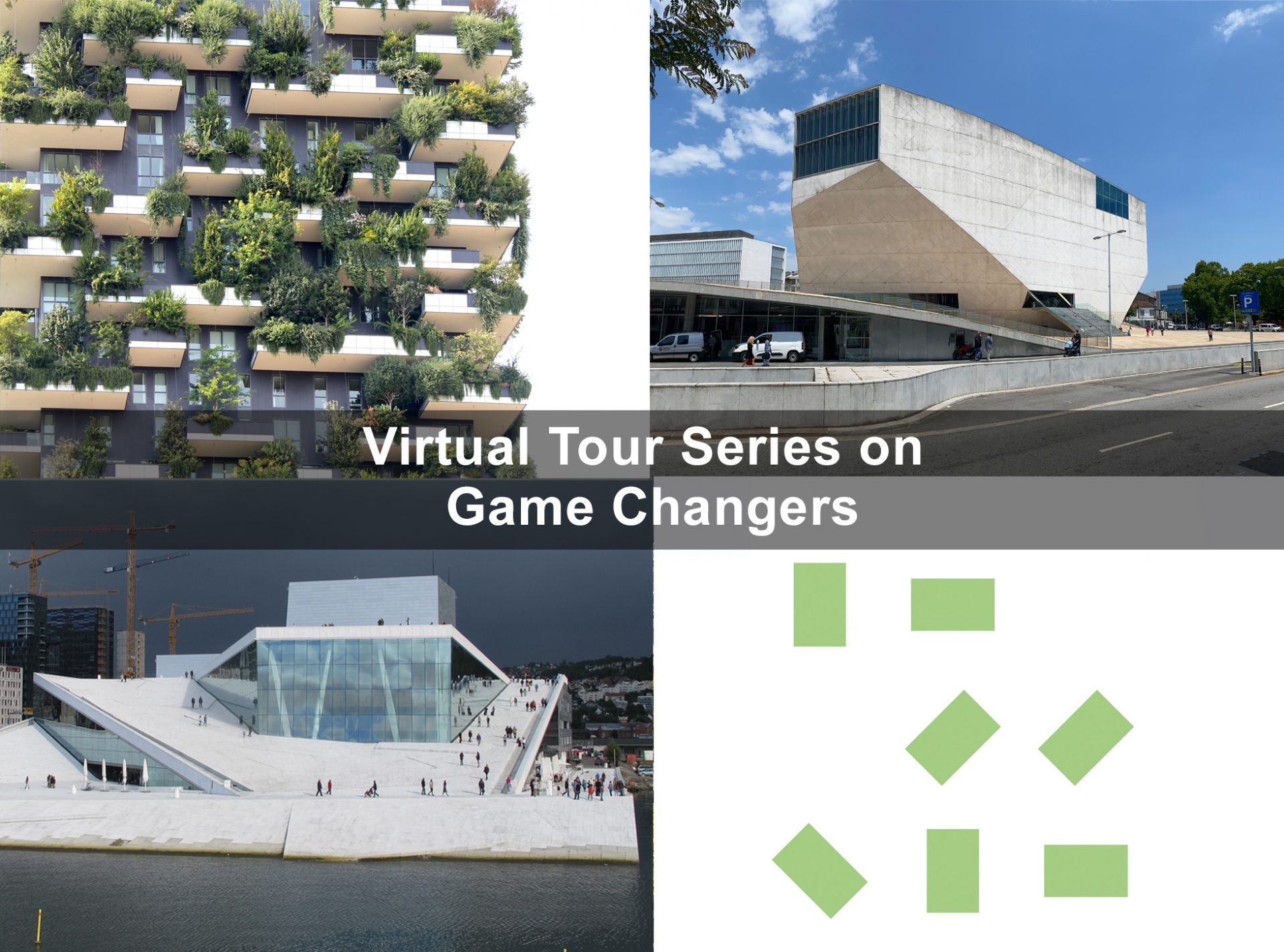 From 1 until 15 July 2021, Guiding Architects will host a four-part series of virtual tours on game changers. While our very successful previous virtual tour series focussed on one destination per session, we'll present two destinations per event this time. Two local partners will present and discuss gamechanging buildings in their cities, comparing the background, motivation and effect of the iconic projects.
Game changers are buildings that outshine everything. In some cases, it seems as if the city is reduced to a single object. Are these outstanding solitaires a recipe for success or just a city marketing trick? Which impact do they have on their surroundings? Do they contribute to the sustainable development of cities or are they just status symbols?
During the live-streamed events, the speakers – architects and architecture journalists, working and researching in their destinations – will share their extensive knowledge with the help of (historical) photographs, film and audio clips, aerial shots, city maps and architectural drawings. Participants will get a good introduction to the buildings, their urban context, programme and development process. After the presentations, both hosts will discuss the parallels and differences between their buildings. There will also be an opportunity to ask questions.
While the series is designed around a central theme, each tour is a stand-alone event and can be joined separately or as part of the series.
The tours take place on Zoom, and participation is free of charge.
All you need to do is REGISTER HERE
You will then receive an email invitation with the meeting URL and password.
Guiding Architects is looking forward to welcoming you on one of our virtual tours soon!
The series is moderated by Prof. Zeynep Kuban, archaeologist and art historian, professor at ITU Instanbul in History of Architecture, and founder of GA Istanbul, Turkey.
Copenhagen – Milan: New Icons of Sustainability
• CopenHill Energy Plant and Urban Recreation Center (BIG)
• Bosco Verticale (Boeri Studio)
This virtual tour will explore two innovative buildings utilizing urban reforestation and sustainable design. Bosco Verticale is a pair of greenery-packed residential towers in Milan, designed to help reduce noise pollution, improve air quality, and keep temperatures cool indoors. erving as a house for trees and birds, and also inhabited by humans, Bosco Verticale acts as a multiplier of urban biodiversity, revealing a new concept of ecological urbanism. Where Bosco Verticale is an urban forest, Copenhill is an urban mountain. This waste-to-energy power plant provides city residents with electricity and radiant heating, produces more clean water than it uses, and doubles as an outdoor sports facility with a ski slope, hiking trail and climbing wall. Bushes, trees and plants line the trails to create an urban landscape in the heart of Copenhagen's industrial area. Join us to explore these urban environments!
Date: Thursday, 01.07.21 – 18:00 CET
Hosts: Bo Christiansen, Scaledenmark and Carlo Berizzi, GA Milan
Bo Christiansen is a consultant for urban development in Copenhagen and co-founder of Scaledenmark. He is assistant professor at DIS, initiator of the Nordic Urban Leadership programme and member of the Danish Architectural Association. He holds a master in architecture from Karch Copenhagen and a postgraduate master from UW Seattle.
Carlo Berizzi is an architect and professor of Architectural and Urban Composition at the University of Pavia where he is also director of the Architecture Maker Lab at the Department of Building Engineering and Architecture. President of AIM – Association for Metropolitan Interests, working to promote contemporary architecture in Milan. He has organized and coordinated meetings, seminars, workshops and exhibitions about architecture. He is author of "Milan, Architectural Guide" for DOM Publishers and of numerous essays and monographs on issues related to the architecture.
RESERVE NOW
Bilbao – Doha: Callers in the Desert
• Guggenheim Museum Bilbao (Frank Gehry)
• Museum of Islamic Art (I.M. Pei)
There are plenty of similarities between the Guggenheim Museum in Bilbao and the Museum of Islamic Art in Doha, starting with their typology, some urbanistic characteristics, the signature of an international star architect and the importance of the building as one piece of the puzzle in a large-scale masterplan. But the starting points of the projects couldn't have been any more different. The Guggenheim Museum was a cornerstone for the creation of a new image for Bilbao, which was struggling with its rebirth after a severe industrial decline. The mediatic impact that one outstanding building could generate for the development of a city surprised the international public. Doha, in contrast, has multiplicated itself at tremendous speed over the last decades, growing from a few fishermen huts to a skyscraper city. For the young country of Qatar, the islamic museum is a claim to a serious role in the arabic world, presenting the world's first collection of islamic art at such a large scale.
Date: Tuesday, 06.07.21 – 18:00 CET
Hosts: Bernd Nitsch, GA Bilbao and Hannes Werner, GA Qatar
Bernd Nitsch is a German architect living and working in Bilbao. He is working as freelance architect in Bilbao, having colaborated for some years at IMB architects in the construction sites of several important public buildings and urban projects in Bilbao. He is founder and director of GA BILBAO offering guided architectural tours in Bilbao, the Basque Country and the northern wine areas of Spain since 2006.
Hannes Werner, born 1970 in Germany, studied architecture and urbanism in Berlin and Barcelona, graduated in 1999 and is living and working since 2004 in the Middle East. Besides architectural guiding, he is periodically teaching as adjunct faculty member of the American University of Sharjah/UAE and is running his own architectural practice with projects in different cities of the GCC region.
RESERVE NOW
Sydney – Oslo: Operas on the Waterfront
• Sydney Opera House (Jørn Utzon)
• Oslo Opera House (Snøhetta)
The Sydney Opera House was one of the earliest gamechangers, almost single handedly putting a small, parochial and deeply conservative city on the international map whilst changing a city's relationship to its harbour. Yet its architect was largely ignored by 'serious' 20th century architectural historians, was forced from the project mid-construction and was treated appallingly on his return to Denmark. Where on earth did this ethereal creature come from? Was the building the first piece in a bold urban vision to re-think the city's industrial waterfront or were project beginnings more about happenstance and good fortune?
35 years later, the Oslo Opera also set out to change the relation of the city with its waterfront. Without the decision to locate the opera in the eastern harbour area, the transformation of the Bjørvika bay district would probably have been postponed for many years. The opera is the locomotive for massive architectural and infrastructural projects, and also a gamechanger concerning public space (with an 'urban plaza' roof open to all), access to the water and use of the lobby as a living room for the citizens, with inviting vistas towards both city centre and fjord.
Date: Tuesday, 13.07.21 – 18:00 CET
Hosts: Eoghan Lewis, Sydney Architecture Walks and Barbara Hasenmüller / Henning Nielsen, Guide-A
Eoghan Lewis is an Australian architect, founder of Sydney Architecture Walks and principal architect at award wining practice Eoghan Lewis Architects. He has been researching the work and design methodology of Opera House architect Jørn Utzon for over twenty years and sharing this research through the SAW tours.
Barbara Hasenmüller is originally from Germany, educated at the Fachhochschule München and The Technical University in Dresden, both Germany. Since her studies, her focus has been on urban planning and sustainability. She moved to Oslo already in 1999 and is working as a practicing architect.
Henning Nielsen, a born and bred Osloite, was educated at the Royal Academy School of Architecture in Copenhagen, and has also studied history of art and architecture at the University of Oslo. He works as a practicing architect in Oslo, and became a GA network member in 2000, starting regular architectural guiding two years later.
RESERVE NOW
Porto – Rio de Janeiro: Shape and Context
• Casa da Música (OMA)
• Museum of Tomorrow (Santiago Calatrava)
There might be a lot that distinguishes the Casa da Música and the Museum of Tomorrrow, but at first sight, both buildings definitely seem to be gamechangers. Unique in shape and materialization, they stand out from their urban context, and despite being designed by non-local architects, both were immediately embraced by the local population. But while the museum is situated on the waterfront and forms part of a large-scale urban plan, the concert hall stands in a consolidated old area of Porto, as a solitaire. Are they really both gamechangers? Find out during our virtual tour!
Date: Thursday, 15.07.21 – 18:00 CET
Hosts: Bernardo Amaral, Cultour and Barbara Iseli, Insight Architecture
Bernardo Amaral is a Portuguese architect who runs his own award-winning architectural office in Porto. He holds an MA in Architecture from the Faculty of Architecture of Porto and also studied at Technische Universität Berlin. Bernardo has valuable experience working abroad, in Paris and Macau. He is a prolific lecturer and is currently working on his PhD thesis. Bernardo has been working with Cultour by sharing his architectural knowledge with international visitors for more than ten years.
Barbara Iseli is a multilingual Swiss architect with a broad professional experience in Switzerland and Brazil. She is a founding partner of Insight Architecture, a platform that aims to convey knowledge and foster appreciation for contemporary and modern architecture through tours, events, teaching publishing and design with focus on Latin America. In Zurich, she worked as designer and project manager in different renowned architecture offices such as Spillmann Echsle, Boltshauser Architects, Galli Rudolf and Neff Neumann on large-scale housing projects and won several architecture competitions. In Rio de Janeiro, she was in charge of the conversion of the Swiss Consulate and the design of Swissnex Rio de Janeiro.
RESERVE NOW