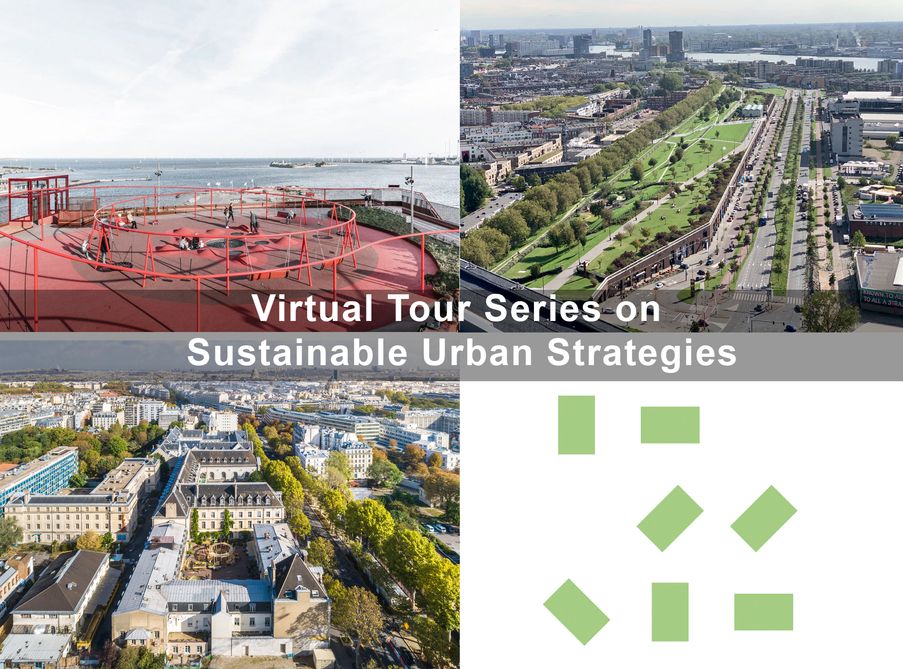 On 29.1., 5.2. and 12.2., Guiding Architects will host a three-part series of virtual tours on sustainable urban strategies. During the live-streamed events, the speakers – architects and architecture journalists, working and researching in their destinations – will share their extensive knowledge with the help of (historical) photographs, film and audio clips, aerial shots, city maps and architectural drawings. Participants will get a good insight into the areas, their architectural context and the various approaches to sustainability, resilience, participation and mobility.
While the series is designed around a central theme, each tour is a stand-alone event and can be joined separately or as part of the series.
The tours take place on Zoom, and participation is free of charge.
All you need to do is REGISTER HERE
You will then receive an email invitation with the meeting URL and password.
Guiding Architects is looking forward to welcoming you on one of our virtual tours soon!
The series is moderated by Prof. Zeynep Kuban, Archaeologist and Art Historian, professor at ITU Instanbul in History of Architecture, and founder of GA Istanbul, Turkey.
Nordhavn – The Sustainable Borough of the Future in Copenhagen
Copenhagen's north harbour (Nordhavn) is Scandinavia's largest development project that will set a new standard for social, economic, and environmental sustainability while supporting Copenhagen's long-term goal of becoming the first carbon neutral city in the world.
This virtual tour explores how the district's old buildings, silos, and quays have been transformed into new urban typologies, blending the harbour's industrial character with dynamic constructions, public spaces, and programming. With visits to projects including The Silo, Frihavnstårnet, and the activity-topped car park Konditaget Lüders, you will gain insight into the urban potenials of the '5-minute city' and discover how future-energy solutions will become the new sustainability standard in Copenhagen.
Date: Friday, 29.01.21 – 18:00 CET
Destination: Copenhagen
Host: Bo Christiansen, Scaledenmark
Bo Christiansen is a consultant for urban development in Copenhagen and co-founder of Scaledenmark. He is assistant professor at DIS, initiator of the Nordic Urban Leadership programme and member of the Danish Architectural Association. He holds a master in architecture from Karch Copenhagen and a postgraduate master from UW Seattle.
RESERVE NOW
Saint Vincent de Paul in Paris – a New Sustainable, Participatory and Resilient Neighbourhood
This virtual tour focuses on Saint Vincent de Paul, a Parisian urban project conceived with the goal of reducing the carbon footprint and water waste, while promoting participatory property development. We will discover the transformation of a former hospital compound into a sustainable neighborhood, which is currently under construction, and will comprise apartments, workspaces, school and sports facilities. We will see images of the future finished projects and learn about the sustainable and social strategies via the sketches of urban planners and architects. How will this city achieve its goal of sustainability, defined by the Paris Agreement on climate change? This project wants to set the course…
Date: Friday, 05.02.21 – 18:00 CET
Destination: Paris
Host: Catherine Haas Adler, GA Paris
Catherine Haas Adler is an architect and a freelance architecture curator and researcher for various cultural institutions in Paris. Catherine has worked in France, Ireland, and in the United States. For five years, she was appointed as a curator at the Pavillon de l'Arsenal, the city architecture center of Paris where she acquired an intimate knowledge of the architectural history of the city. She holds a MA in Cultural Heritage Studies from the University College London, as well as an engineering degree in architecture from the RWTH in Aachen, Germany.
RESERVE NOW
Water Management and Climate Adaptation in Rotterdam
Due to its location in the delta of the river Rhine, Rotterdam is often referred to as Delta Metropolis. As impressive as that may sound, it also entails some challenges. What to do with increasing precipitation in a city that lies largely below sea level, and where water comes from all directions: from the sea, the river, the ground and the sky?  One of the  most popular approaches at the moment is multicoding of public space. This results in projects such as a square that also serves as rainwater retention facility, or a vegetable field on the roof of an office block. On this virtual tour you'll experience several bottom-up initiatives for climate change mitigation and rainwater retention, highlighting experimental approaches to spatial challenges.
Date: Friday, 12.02.21 – 18:00 CET
Destination: Rotterdam
Host: Anneke Bokern, architour
Anneke Bokern is a renowned architecture journalist and founder of architectural tour company architour. She was born in Frankfurt/Germany and has been living in Amsterdam since 2000. She holds an M.A. in History of Art from FU Berlin and writes about architecture and design in the Netherlands. Her articles have appeared in a.o. DETAIL, Bauwelt, Baumeister, db, Domus Germany, Mark Magazine, Azure Magazine and HÄUSER. In 2004 Anneke decided to share her knowledge about Dutch building culture with visitor groups from abroad and founded architour. She runs the company, which currently has a team of 14 freelance guides, together with Paul Vlok.
RESERVE NOW