The Yapi Kredi Culture Centre (YKKS) in Istanbul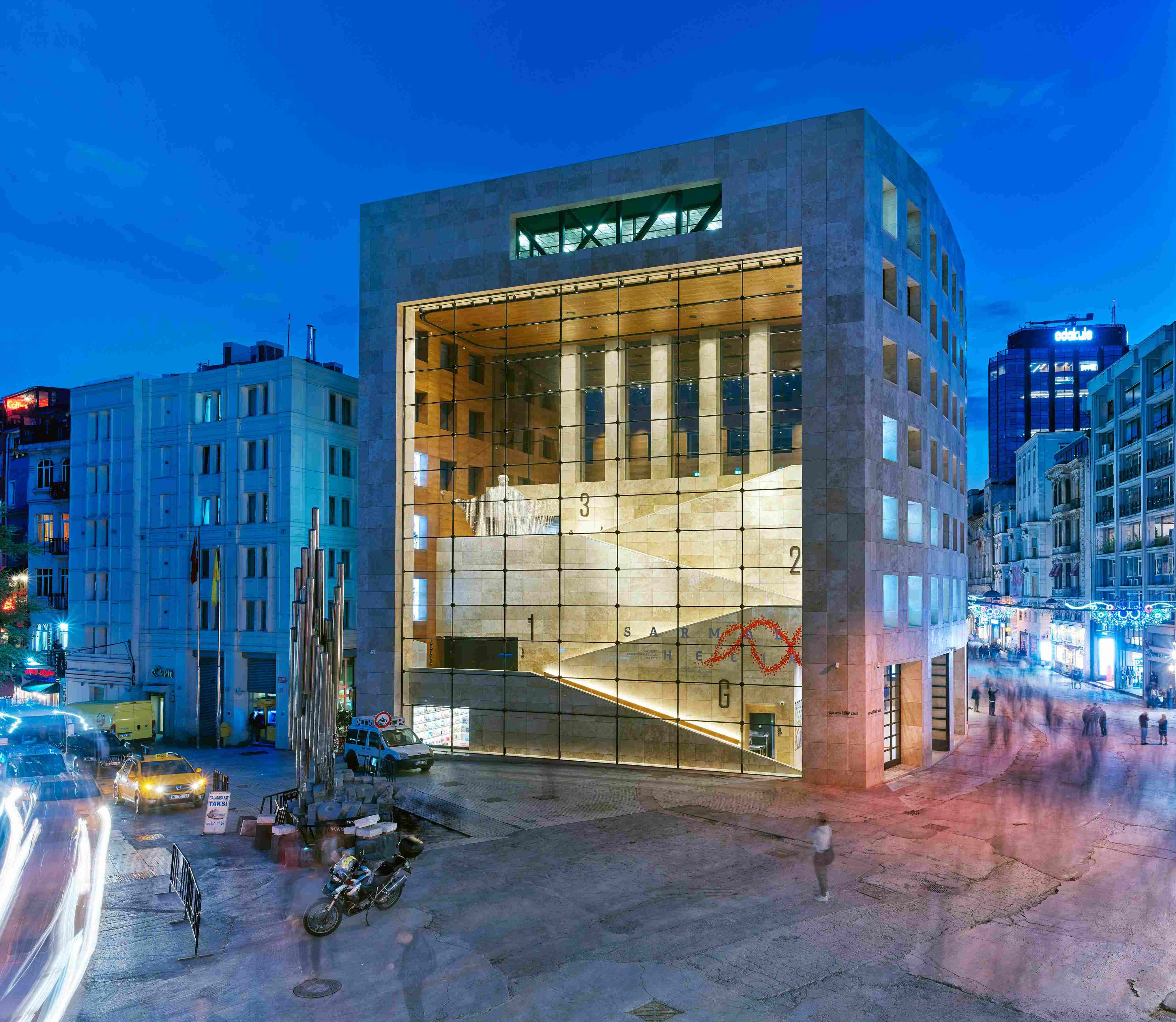 Several art centres are re-opening their headquarters on Istiklal Street, the liveliest spot of Istanbul, while we're counting down the days for the upcoming 4th Istanbul Design Biennial: A School of Schools 22.9-4.11 2018. The Biennial will be using the whole neighborhood and the newly re-opened YKKS building at the heart of the street is one of the main venues.
Reopening the Yapi Kredi Culture Centre (YKKS)
YKKS building is no stranger to locals since the building itself has been standing since the 1950s. The center reunited with its users in 2017 with a totally new appearance designed by Teget-Architects. Architectural Review described this touch as "Teget's transformation of a bland bank building into the Yapı Kredi Culture Center is an experimental cultural provocation".
In early to mid 20th century, the plot was occupied by Neoclassical apartments. In 1950s these were demolished and replaced with a Rationalist office building for Yapı Kredi, the fourth largest public bank in Turkey and a major patron of the visual arts and literature, with an important art collection. Designed by German architect Paul Schmitthenner, the building was structured with a rectilinear concrete frame and featured a gridded travertine façade that opened with a portico at street level.
New Cultural Projects Challenges
This project challenges a prevailing building culture in Istanbul that favors populist statements of shiny novelty or historicized mall facades. Against recommendations to demolish Schmitthenner's building by both the city mayor and heritage council, Teget decided to work with the rationalist exterior and parts of the interior structure. Approaching from north, the former box now opens out with a six-storey glass curtain wall onto a square and defines a clear point of attraction. The building offers a taste of the atmosphere of new exhibitions, a library and a great bookshop.
Besides YKKS there is a lot more action in cultural venues on Istiklal these days. Salt Beyoğlu recently re-opened and Istanbul Modern Museum is temporarily based in its new headquarters across from Pera Palace Hotel for the coming two years, after which it will move to a new museum designed by Renzo Piano.
Architecture for Art in Istanbul
Proficient visitors and interested parties should not miss the opportunity to have an architectural guided tour in the neighborhood this year. With so many renovation projects of prominent local architecture offices, compiled almost as a school of contemporary architectural taste in Istanbul, enriched, especially for this period, with artistic exhibitions and events. Istanbul is worth a visit.
Authors: Bilge Ar– Zeynep Kuban