The exception to the rule: the new reception building in Graphisoft Park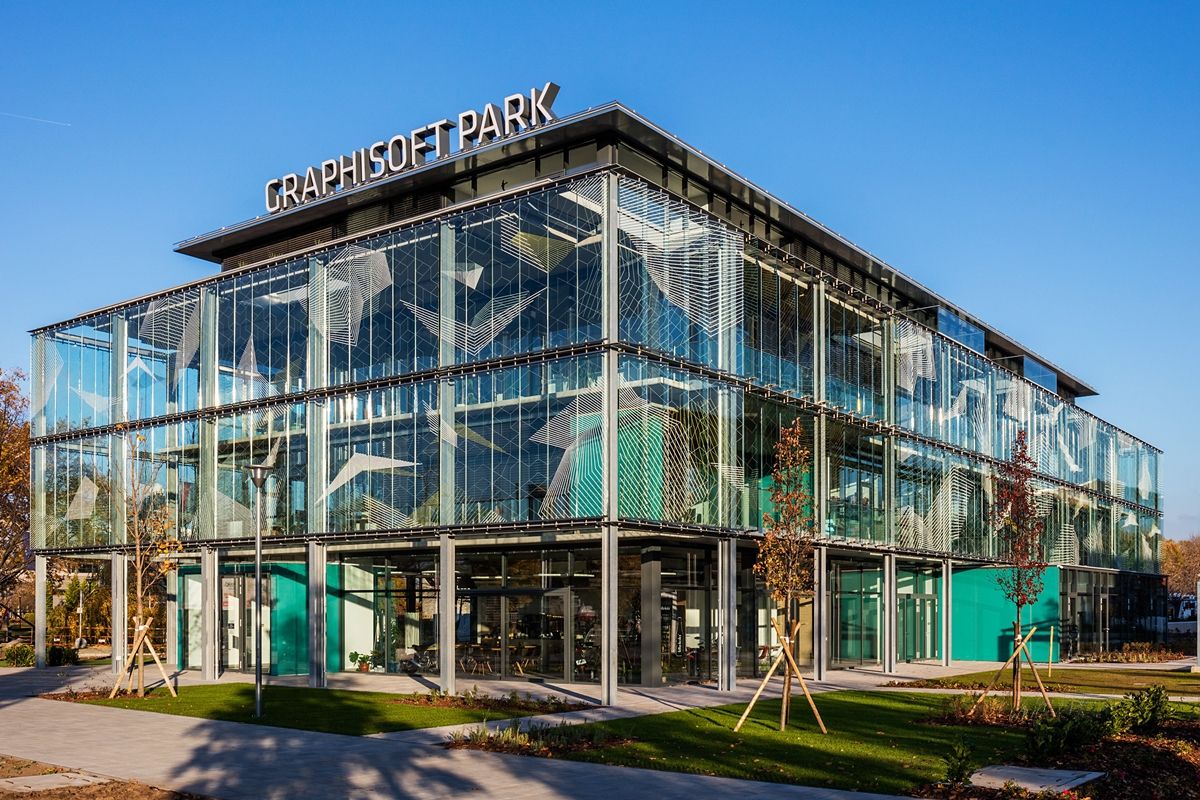 The oldest traces of Budapest are located in the north of the Danube metropolis on the territory of the formerly independent city of Óbuda. As late as the 5th century, the Roman Empire reached as far as the Danube and the capital of the province of Pannonia was Aquincum – whose governor, by the way, would become Emperor Hadrian. Today excavations of the ancient city and two amphitheatres bear witness to the beginning of the settlement that is today's Budapest.
However, one of the most modern technology parks in Central Europe has been established in the immediate vicinity. The construction of the technology park directly on the banks of the Danube began in 1998 with the company headquarters of Graphisoft, where the architecture software ArchiCAD, used throughout Europe, has been developed ever since. Over the last 20 years, numerous other technology companies have settled in the Graphisoft Park, such as Microsoft and SAP.
So far dominated by brick facades
From an urban and architectural point of view, Graphisoft followed the model of a loosely developed park landscape. Free-standing, three-storey pavilion buildings with brick facades are gently scattered along the banks of the Danube. All buildings up until the 2000s have, more or less, not only the materiality of the outer skin – an allusion to the nearby old gasworks – but also the organic floor plans in common.
This is not so of the youngest building of the ensemble: the new reception building of the Graphisoft Park has a hard core, an open, flexible shell and a glass outer skin. The "Gate to the park" wants to be different from its predecessors both inside and out, materially and functionally. It's the exception to the rule.
Graphisoft Park entrance achieves Contemporary Design in the second attempt
The park owners had to conduct two competitions in order to achieve a satisfactory result. Despite the participation of renowned offices, the first competition did not bring a winner. It was only in the second round that a spontaneous combination of several offices led to a contemporary design. Péter Sugár, Zsuzsa Ilyés-Fekete and Tamás Kun did not draw an organic form into the natural space, but a rational cube. The team also dispensed with the play of closed and open façade skin, but pleaded for a clearly grated, legible construction and glass façade, in which the park is naturally, wonderfully reflected.
We would not be in Hungary if rational architecture were not loosened up by playfulness. In this project by Péter Sugár, the designers of S39 Hybrid Design, printing on the glass elements, constantly change the light, colours and views of the glass house.
GA Budapest offers two-hour tours in the park with interior visits, which can best be reached by bicycle.
Text by: Arne Hübner – Guiding Architects' member in Budapest