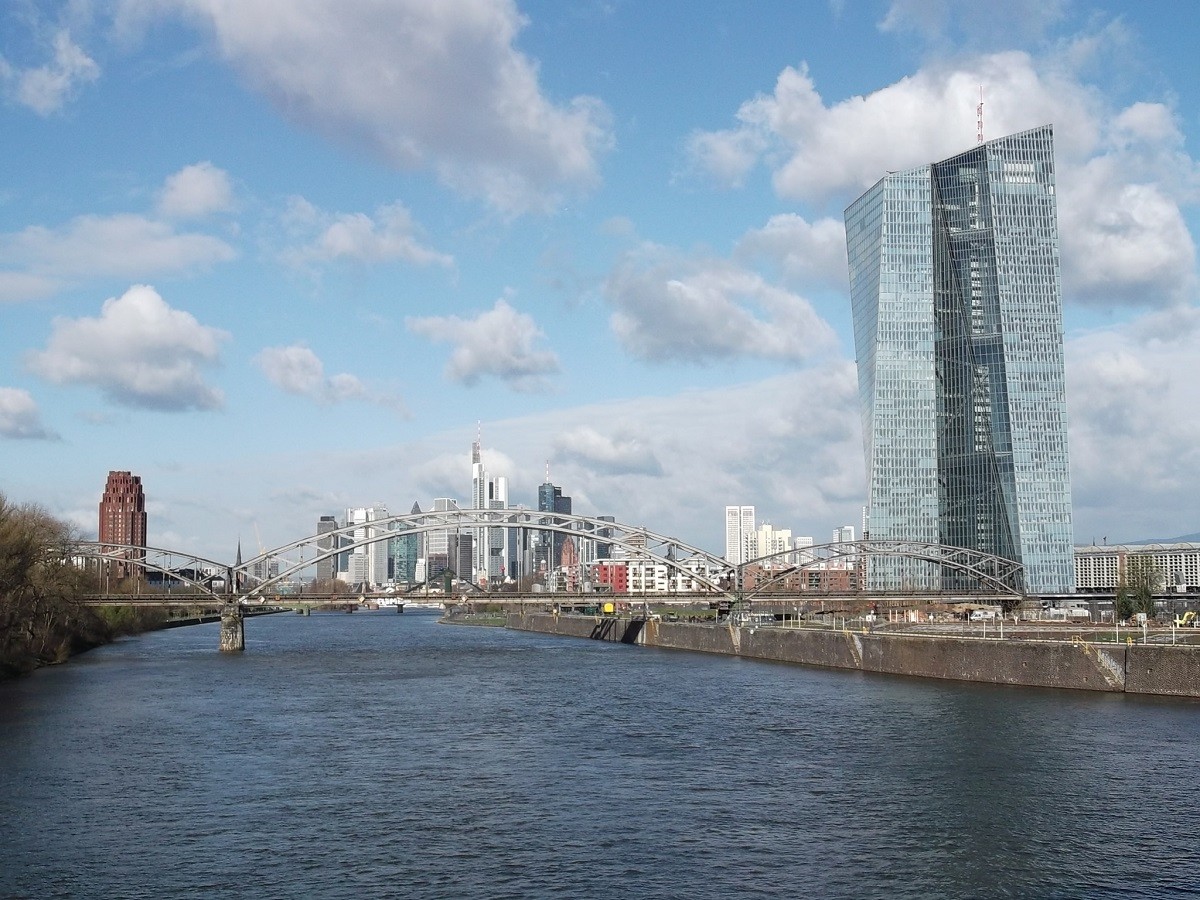 "Architecture has to burn, to sting and to pain" were once the provocative words of Coop Himmelb(l)au. The former wild Austrian, already known as the architects of the BMW delivery-center, beat some of the most famous architects in the world in the competition to design the new headquarters of the European Central Bank in Frankfurt. Painful were the riots during the opening in March 2015 and also some changes of the former large market hall from Martin Elsässer.
The protected building was used from 1928, the opening year, up to 2004 as a wholesale market. Famous for its large hall without any column (3000 m²), it was difficult to find a new utilization for it. Neither ECB had any idea for a new function for the old market-hall, but was very interested in the plot, which offered the possibility to establish a security zone between the river main and an elevated railroad track, as well as the possibility to build their new main quarter outside the high-rise area of commercial banks in the center of Frankfurt.
In the competition at the end of 2003 a lot of architects proposed twin towers as a symbol for the unification of the European community and in memory of the World Trade Center in New York. Also Coop Himmelb(l)au, who designed two sculptural shaped towers with a glass covered hall in-between. Both towers have very small corps, but connected with a steal framework according to the design of the structural engineers of Bollinger & Grohmann (Frankfurt) it becomes a stable construction.
At 165 m and 185 m high, the towers provide working space for 2500 people. The former large market hall is used for meeting rooms, press area and a public information center (still to be opened). It pains that the former elaborate brickwork at some points is replaced by a brown glass screen to get more daylight to the inside.
The towers and the hall are connected by a sculptural building part that interfuses the hall at a point that already was destroyed during the war. The entrance itself is a little clumsy. Fascinatingly, the glass skin of the towers reflect the city, clouds and light beautifully due to its curves.
The ECB is surrounded by European trees, planted by landscape architects from Zurich Vogt Kienast. In-between there is the entrance for a memorial (Design: KatzKeiser Köln) of the deportation of the Frankfurt Jews, who were round in the caves of the large market hall.
In comparison with the sometimes stiff appearing bankers, there is a joyful and happy atmosphere in the nearby new 'Osthafen' park, designed by Sinai.Freiraumplanung (Berlin). A skating rink, a sport ground for basketball and volleyball and a grassy area beside the river Main give space for the mostly young Frankfurt inhabitants from 178 nations to come together to play and to chill. This gives hope for Europe.
Text by Paul-Martin Lied, A-Z Architektouren
For more information please visit our Destination FRANKFURT