The James Simon Gallery by David Chipperfield Architects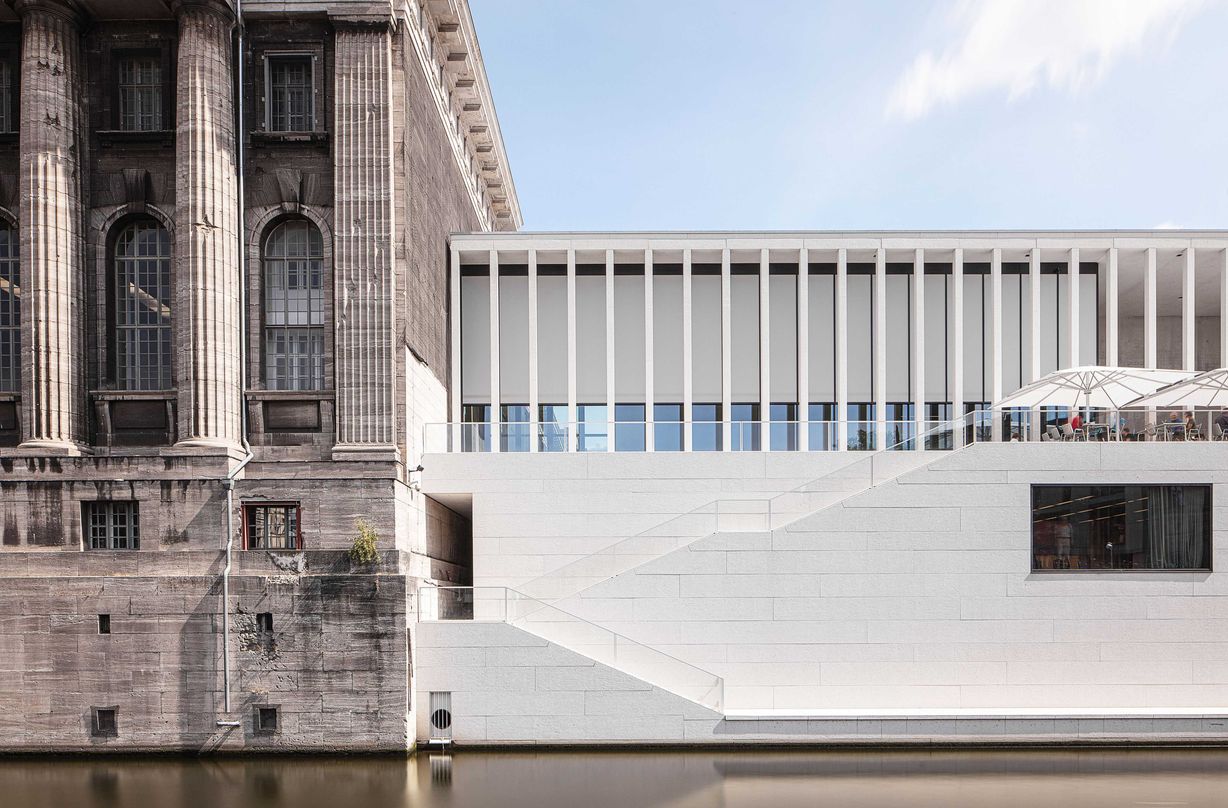 After a long time of waiting, a new contemporary museum building has opened in Berlin: The James Simon Gallery by David Chipperfield Architects. The new building was named after the Jewish merchant, patron and art collector James Simon, who was an indefatigable patron of Berlin's museums and a friend of antiquity at the time of Kaiser Wilhelm II and later during the Weimar Republic. For example, he financed the archaeological excavation that led to the discovery in 1913 of the world-famous bust of Queen Nefertiti of Egypt, which he later donated to the city of Berlin.
The Museum Island, a UNESCO World Heritage Site since 1999, consists of five museums that are being renovated and redesigned on a long-term basis according to a master plan. The Altes Museum, the Neues Museum, the Alte Nationalgalerie, the Bodemuseum and the Pergamonmuseum have now been given a new central entrance building, which will accommodate and better distribute the streams of visitors. Unlike the glass pyramid of the Louvre in Paris by architect I.M. Pei, a single, new, central entrance will not be created. Instead an additional service building that will provide space for the functions that were previously lacking and offer visitors not only sufficient cloakrooms, toilets, shop and café, but also the opportunity for temporary exhibitions and larger conferences.
"Eyes in the sky, feet in the mud"
For this rather unspectacular use, which has already been described in the press as the most expensive wardrobe in the world, David Chipperfield and his team have designed a housing that is both classic and ultra-modern, completing the heterogeneous ensemble of 200 years of Prussian architectural history with a kind of keystone.
The path was not easy, many competition procedures, various expertise and financing problems had to be overcome. Furthermore, the particularly treacherous sandy soil of Berlin caused foundation problems which delayed completion by seven years and resulted in a doubling of costs.
That is now forgotten. Now you are out of the mud and floating in the sky.
With rows of colonnades and a large open staircase facing south towards the Lustgarten, Chipperfield creates a radical urban redevelopment of the entire complex and an "invitation to the city society", as the architects call it. In addition to the generous and almost perfect organisation of visitor flows, the furnishing of a beautiful wood-panelled bookshop, a contemporary changing exhibition area and an elegant auditorium, the building is especially celebrated for the publicly accessible city balcony that is open even after the museums have closed.
Equipped with a café/restaurant with a view of the course of the Kupfergraben where the Federal Chancellor lives, it has already become one of the most popular meeting places for tourists, museum visitors and the culture-conscious Berliner.
Text: Thomas M. Krüger, GA Berlin